We want to guide our children to the good, but the beautiful is also important.
What can God do in your life with one Bible verse a day?
Subscribe to Aleteia's new service and bring Scripture into your morning:
Just one verse each day.
Click to bring God's word to your inbox
At a very early age, children have the ability to be amazed by the world around them, to be fascinated by a leaf on a tree, a shiny stone wet from the rain, a bright bird in the forest, a lovely face. If this way of seeing is not nourished, it can become blurred and lost forever.
"Nowadays, it's as if the whole world were blind," says painter, engraver, and mother Aude de Kerros. "We are surrounded by images, and yet we don't see them because we don't stop to decipher them. With paintings, we no longer think to ask what it's trying to say."
Everyone can appreciate beauty
For children to learn about beauty, the role of the parents is essential.
"It would be terrible to allow a child not to see," says comic illustrator and creator of The Adventures of Loupio Jean-François Kieffer. Consider first how a child perceives the world. Some children have strong visual perception while others are more sensitive to sound. For example, while Francis passionately enjoys the colors in a field of tulips, his brother kicks a ball around not interested at all. And when they return home, the soccer player is entranced by music playing in the background. It is useless to try to make a child take an interest in the visual if he or she is more attuned to sound.
Where do we find beauty? Everywhere!
"There are beautiful things even in advertising," says Kieffer. "On vacation, stopping at a pottery shop can be a good opportunity to admire different shapes and forms. Nature all around us is also fascinating. Why not invite the children to plant a rose, a bean, a strawberry plant, and together watch the leaves and buds and flowers develop? The older ones, for their part, might discover an interest in the harmony of stars moving across the sky, or in the proportion of a molecular structure … Photographs, movies, paintings … there are so many fascinating things to share."
But beauty is found in more than just material things. Children can see beauty in gestures, attitudes … Kindness, tenderness, sensitivity also shine. In Music of a life: a novel, Andréï Makine recounts how he spent a night in a train station waiting room in Russia. Contemplating his partners in misfortune, he saw only ugliness and heard … only snoring. And then, in the midst of a sea of gray, he saw one shining light: a mother breastfeeding her baby.
How can we familiarize our children with beauty?
"If the parents go to an exhibit and are left completely indifferent, the children will notice that," points out comic book writer Flore Talamon. "Interest in beauty is transmitted on the condition that we ourselves love what we are showing." A piece of advice: try to go in advance to an exhibition or at least get some opinions from others who have seen it. There is nothing worse than going to an inappropriate exhibit that ends up leaving a bad feeling or generates mockery or, worse, complete boredom.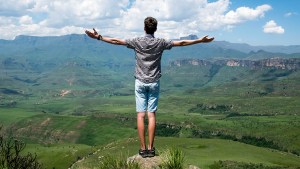 Read more:
How the beauty of creation can lead us closer to God
During vacation, the family has more time. For Anne Renon-Barek, mother of three, artist and art teacher, "a summer night on a boat is a fabulous time to contemplate." Aude de Kerros, who would take her kids on long leisurely walks in nature and museums, points out that "There is a lot to show." Flore, who believes that sculpture is a good means for getting the little ones interested in art, agrees. "A statue is alive. When you look at it, you can imagine lots of things." Telling a story about something beautiful is a fun and useful way to get the children's interest. Aude de Kerros learned mythology in order to explain the stars, and botany to talk about the origin of plants.
"But don't overdo it!" says Florence, mother of seven. "We make sure to leave a monument or museum before the kids get over-saturated." Anne Renon-Barek confirms this: "When I take my students to an exhibit, we look at only one painting and work on just that one." Another must-do: keep in mind the physical state of the children. It is useless to teach a hungry child to appreciate a Vermeer. Better to have a little snack than a huge crisis!
Todays museums are adapted to children and often present lively tours. Specific guides may be available. A well-prepared visit will be a guaranteed success. The Internet is invaluable, as are the cultural guides specific to children's visits: they propose the best plans, proven formulas and give a wealth of interesting information. But this does not exempt you from "preparing at home" whenever possible: leafing through a catalog of an exhibition, listening first to one of the pieces to be performed at a concert. Having seen or heard something previously helps to focus attention later. Introducing a play beforehand is indispensable for a trip to the theater. "Even a piece by Molière requires some explanation for a child," says Flore, who adds: "We choose our exhibitions according to the family's interests. For my 5-year-old son, for example, at the moment it's animals and hunting."
How can you train someone to judge beauty?
Loving what is beautiful is above all the result of setting the seed. At the Kieffers' home, the five children are sensitized to beauty in their everyday world. Setting a nice table for meals, presenting a dish well, making bouquets of flowers, singing or listening to music, there are many little things that ultimately leave an impression on the children. However, it is not easy, points out Aude de Kerros: "In these times dominated by ease and lack of limits, beauty is in exile, because it demands, if not an effort, at least attention." In fact, "I have always heard it said that elegance was charity towards others," says Florence. It's not a question of being overly "pretty" or spending lots of money on how we look, but it's up to each of us to find a way to dress that deeply resonates with who we are.
Observing things plays a major role. Anne Renon-Barek recalls the reaction of 4-year-old Henry to the moon on a summer night: "Oh, Mom! The Moon, we found it!" "I have encouraged his fascination by looking at the moon with him."
We should teach our children to verbalize why they are attracted to something. "I pay a lot of attention to using the right words," explains Anne Renon-Barek. "Beauty gives off a certain glow, a light that captures our attention much more than something that is merely pretty." For his part, Jean-François Kieffer insists that "Beauty is not pretty. Pretty is meant to seduce, it's packaging. In our conversations, we should help our children distinguish between authentic beauty and what superficially attracts our attention. We can point out the difference between someone who has a look that sells and a person who is lovely because they exude happiness, like Mother Teresa. In The Lord of the Rings, the hobbits are beautiful because they forgive, in spite of their hairy feet!"
"Appreciating beauty is like appreciating good wine," comments Flore Talamon. You have to train your palate. Having refined your sense of taste, you become able to differentiate between a gran reserva and a poor quality wine. "The more visual understanding we have, the more we analyze what we see, the better we can judge if something is good quality or not," explains Aude de Kerros. It's the same with music: our ability to hear can be trained and refined. Teaching critical judgment is an excellent tool to give children. It allows them to make sense of the multitude of images and sounds that inundate them.
What the child finds amazing does not necessarily interest us—but that's OK!
You need to know how to listen to your children and encourage their personal preferences. Six-year-old Colleen loves rocks. She has a special place in her bedroom for her rather large collection and her mother, Lucy, makes an effort to show an interest in her daughter's constant and enthusiastic chatter about the minerals. It is up to the parents to make sure that each child expresses their particular interests. According to Kieffer, "There is a certain prejudice regarding beauty" where we reject what isn't normally done or what we don't understand. "One person may like a simple drawing, and another may prefer something more complicated, more baroque." A child may like abstract art, while his or her family typically prefers figurative art.
Glitter, bright colors … we are often not thrilled with the things that attract little ones. "I don't think that children have good taste or bad taste," says Flore. Once your observation has been made, the child is free to appreciate it or not. "I find it hard to accept my children's taste," says Bernard, "but I think that if I oppose them, they'll get defensive." We may not like what a child presents to us but, above all, we should keep calm: taste evolves with age and experience.
Beauty, a road of contemplation
Why should we introduce our children to beauty? According to Florence, "because it helps the child open up, it creates a capacity to receive something that goes beyond us." To receive it, availability and silence are necessary. Certainly it is not easy when utilitarianism rules. But what is certain is that being in contact with beautiful things, even if they are subtle or hidden, contributes to our inner peace.
For Jean-François Kieffer, "beauty calms and soothes us, moreover, it elevates our soul." It is totally free and is the opposite of something that can be consumed. Even if at times it takes effort, creating opportunities to contemplate beauty as a family leads to great moments of shared joy.
Beauty is also a way to access hidden realities.Aude de Kerro explains: "The greater the non-rational realities are—the soul, the emotions—the more difficult they are to communicate. But through art, this can be achieved."
Art, for example, is able to make it possible for the faithful to experience something of the mysteries of faith—whereas logic and reasoning would have a hard time. And she continues: "I've told my children hundreds of times that what they see with their eyes is just the tip of the iceberg, the trace of an infinitely larger world. I tell them that we can read between the lines and that this means reading the signs, like deciphering the signatures of the divine."
Bénédicte de Saint-Germain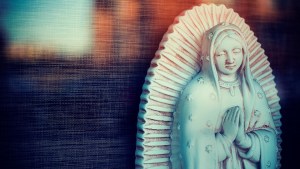 Read more:
How J.R.R. Tolkien spoke about the beauty of Mary