Living more simply means being able to distinguish your true needs from unnecessary accessories.
What can God do in your life with one Bible verse a day?
Subscribe to Aleteia's new service and bring Scripture into your morning:
Just one verse each day.
Click to bring God's word to your inbox
When we are around 20 years old, we start to become conscious of something, perhaps influenced by environmental awareness or by a genuine preoccupation with inner personal development: that consumption does not lead to happiness. And we rediscover simplicity. All over the world movements are popping up that laud frugality and moderation, in opposition to the "bigger and better" of consumer society. Initiatives such as "a year without TV," "a year without shopping," and "a year without cars" are becoming more popular. For some, simplifying life to the basic essentials appears to be too abstract or difficult, but taking steps to get there is not rocket science.
Simplification does not mean austerity or frustration
Emily, a 30-something mother of three, became sensitized to over-consumption through her work with the Boy Scouts. She and her husband decided to live in the country so they could have more contact with nature for themselves and their children. She buys second-hand clothes for her family. "All of us in the neighborhood share the vegetables and fruits we grow. We don't have a TV and that allows us to enjoy family and cultural activities together. We repair our own appliances so they last longer and we always spend our vacations in the mountains close by. It's a choice." Her fight against unnecessary waste has many fronts: sharing a car, planning out purchases in advance to avoid impulse buying, organizing "exchange days" with her friends for the things they no longer need. "Cleaning out all the clutter frees me up so that I can concentrate on the important things: love and service. Not to mention the enormous joy it brings me."
Simplicity is not austerity or frustration, it is "making the choice for asceticism, a mental state that finds more joy in being than in having," states Isabelle, doctor and simplicity practitioner. It doesn't mean being poor for poor's sake—it's more a way of distancing yourself from the material things that God has put under our care.
"More specifically, living simply means imposing restrictions on yourself," clarifies Protestant Pastor Cyrille Court. "You give up extraneous things and learn to be happy with the important, essential things." The basic concepts are to renounce materialism and be happy with what you have. These are the two sides to simplicity. Living this way is not painless but, strangely enough, there is a happiness to it, if we are to believe those who practice it.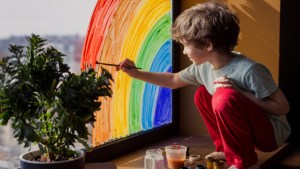 Read more:
10 Valuable lessons from the pandemic so far
But where does this vocation come from? There are several possible answers. Some want to protect the planet and keep themselves from leaving a carbon footprint. Others take to heart the wisdom of ancient philosophers to find peace, a way to be away from the temptations of the world. A Christian perspective goes even further — the reason for simplicity is, above all, to make room for love: love of God, others, and self. All Christians are called to distance themselves from their possessions, if we listen to what St. Luke says (14:25-35). For some, this will mean selling everything to follow Christ; for others, it will mean sharing their wealth, their time, or their talents. What do you have to do to get to the heart of this practice?
Looking at it from the perspective of simplicity
The first stage of simplification is to become aware that well-being monopolizes our thoughts and ends up distancing us from God. In our society of abundance, being able to wrench yourself free from the constant urge to consume is a formidable first step in resistance.
"Our society functions on the basis of programmed frustration," says Peter, engineer and father. Getting out of that dynamic means stopping and taking a moment to reflect on our relationship with material goods and put the brake on our compulsive consumption. Looking at it from a perspective of simplicity obliges us to ask ourselves some fundamental questions. "What is the real value of things? Who can afford that? Is this really useful?" is what Peter asks himself before buying anything.
Peter confesses to being obsessed with something St. John Chrysostum said: "The bread in your cupboard belongs to the hungry man; the coat hanging unused in your closet belongs to the man who needs it." One thing to keep in mind that we can all do, especially in the way we organize, for example, a dinner, a wedding, or any party: avoid going overboard—the indecent flaunting of superfluous luxury that feeds your vanity but scandalizes and hurts others. It is perfectly possible to be a good, yet simple, host.
Freeing yourself from the dictates of society
The second phase is freeing yourself from the society's pressure with its professional and social dictates. Working more to earn more, multiplying our leisure activities, becoming famous, personal development, etc., are things that we often engage in to the detriment of our surroundings and inner peace. Are we free from this social model, from the social pressures of others?
Little by little, reflecting on simplicity will naturally bring us to reconsider our priorities. Peter has decided to reduce his workday to 85% in solidarity with the unemployed. This also allows him to help in different associations and take hikes in the mountains. Sophie has given up work as researcher to be chaplain at a hospital and work in reception at an employment center. Isabelle has put her agency on hold for 10 years in order to raise her children more peacefully and participate in the small town life where they live. Stephan and Marie no longer go on "mundane outings where they return home feeling like they have wasted the evening" and now spend more time having friends over for dinner. Freeing up time also has the advantage of making us more available for the family, for the causes we believe in, and for friendships.
Empty out a little more inner space to make more room for God
The last phase consists of becoming free from ourselves. The more space we free up in ourselves, the more space we leave for God, if we accept self-renunciation. Our heart is a complex thing. Don't we sometimes feel torn, bouncing back and forth between our deepest aspirations and the distractions of our self love? Debating between so many different directions, our life gets complicated and loses coherency. Our heart and mind are divided. Our gaze gets cloudy, and the masks we wear multiply.
With the image of the lilies of the field, the Lord invites us to shake ourselves free of our worries and dedicate ourselves to his kingdom. It is necessary to discard the personalities we have created for ourselves. It means being willing to let go of the reins—a scary thing to do—but will be easier to accept when we see how flexible it allows us to be. This is the path to spiritual infancy that Jesus shows us: living like a child, unselfconscious, overflowing with confidence. Children do not fear the world—they marvel at it.
"When we live in opulence, lost in the rat race, we are blinded, we don't see the gifts that God is constantly giving us," points out Isabelle. "It is a delight to see the sun come up. In the country, praise comes to me and my heart calms down."
The simpler things are, the closer we are to God, that's true. But the other way around is true as well: "The closer we are to God, the simpler things become," as Mother Fébronie, sub-prioress of Carmel, said to St. Therese of the Child Jesus. We also get closer to ourselves, because our soul is cleansed from the complications of sin and appears in its true state. Simplicity is an end, the goal. It is before us, in the arms of the Father who awaits us. It is a gift from God that changes us. Simplicity leaves our complications behind us. Simplicity is the cure.
Florence Brière-Loth
Read more:
A few simple things you can do to resist the lure of money