We need to help our children learn to tell the truth when they are still quite small, beginning with this ...
What can God do in your life with one Bible verse a day?
Subscribe to Aleteia's new service and bring Scripture into your morning:
Just one verse each day.
Click to bring God's word to your inbox
Harmony, such as valuable part of family life, can only come from an atmosphere of trust and sincerity. Unfortunately, children have a high aptitude for lying that continues well into adolescence. What can we do to get off the merry-go-round of betrayals that undermine our confidence and put us into a toxic state of suspicion?
When a child turns 6, help him or her to verbalize the fear that pushes them to lie.
The seriousness of this attitude depends, of course, on how old the child is, but, as we know, if we let a bad tendency go, we are opening the door for it to become a habit. At about the age of 6, many children have a tendency to not tell the truth. Not telling the truth at this age is not necessarily lying, although, the child may try to hide the truth. This reaction is often a consequence of being taken over by fear when they realize that they have done something wrong, such as having hurt their brother or sister or having been punished at school. "Fear gives bad advice," and can trigger inappropriate behavior.
The parents' role, therefore, is to help the child verbalize the fear that is pushing them to hide the truth. and then to free them from that fear. "Fault confessed is half redressed," as the saying goes. For the child to believe this, we should start by learning how to stop from being overtaken by our own emotions, such as the anxiety we feel when they get a bad grade or if they are late, or being angry if they are disobedient or get in a fight. On the contrary, we should learn to accept those occurrences with the same perspective that any teacher would. Then, the child, liberated from the fear of parental reactions, will be more comfortable with the truth.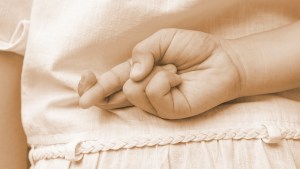 Read more:
3 Tips to encourage honesty in kids
Be an example for your children
Don't reduce the child to his or her action. Saying "You haven't told the truth" is different from saying "You are a liar." Take as much time as you need for the little ones to tell you the whole truth. However, just revealing the truth does not let them off the hook. You need to demand that they make amends in some way, which will allow them to be totally forgiven.
Nevertheless, how can a child learn to be sincere if we, the parents, allow ourselves to "color" the truth? How easy it is to make an excuse to hide the real reason for an absence! How many parents let their children miss a class by giving a fake excuse, (in other words, by lying)? While it is easier, it goes contrary to the truthfulness that sincerity demands. Should we be surprised then when our adolescent does the same in his or her life and attitude? Tainting the truth, lying, doing a favor … what kind of example are we ourselves setting for our children?
Inès de Franclieu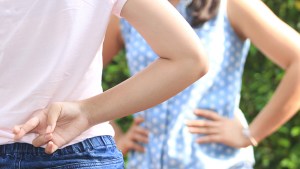 Read more:
The lie we believe about lying