We may consider the sacrament of anointing a type of medicine, but here's how it works.
What can God do in your life with one Bible verse a day?
Subscribe to Aleteia's new service and bring Scripture into your morning:
Just one verse each day.
Click to bring God's word to your inbox
Have you dared to bring up the idea of the sacrament of the sick to someone you know who is suffering from a serious illness? While anointing the sick does not take up much time in many priests' ministries today, the sacrament has much to say about the Paschal mystery and the presence of Christ the Savior in our lives.
Perhaps we should clear up our ideas about this sacrament now while we are at a healthy point in life, rather than having to request it when we are in the throes of suffering. It is not only for the moment when death is imminent. The anointing of the sick—just one of the ways this sacrament is used—can be experienced at any critical moment of a serious illness. But, is there any effectiveness to it?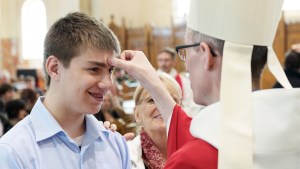 Read more:
Are the 7 sacraments mentioned in the Bible?
How can you know if the sacrament of the sick is effective?
When we talk about effectiveness, we often think about it in worldly terms, that is, if we can determine ahead of time that it will be useful. The anointing of the sick, like any sacrament, presents us with a possibility for deep change. So the question here is if God's freely offered initiative will be effective—that is, if we are able to disengage from ourselves and bring in the free gift God is offering; if we can shift our desire to be cured, to desiring God and salvation; to go from owning our own life to one that is connected to the Father who has given us life. The effectiveness of the sacrament of the sick and its consequences can be measured precisely in these changes. Welcoming in a deep feeling of peace, knowing that we are not alone, that we are loved, chosen, yet without knowing beforehand what path this peace and this renewed love will take.
The sacrament is effective when it does what it says. And what it says is this: "Through this holy anointing, and through his kind mercy, may the Lord help you with the grace of the Holy Spirit, so that, free from your sins, you will be granted salvation and comfort in your illness." It speaks to us of a comforting union with the Lord who suffered the Passion to save us. It speaks to us of liberation from the imprisonment of sin that holds us back. It speaks of a new dimension in life: choosing to fight our illness without knowing the outcome, but being open to the possibility of salvation from God. The Council of Florence states that the effect of this sacrament is "a healthy soul and from that, in due time, a healthy body." It is a matter of making the decision to give yourself over to the loving will of God. And it is also through our own love, our fragility, and God's infinite love, that we can see if the sacrament of the sick is effective!
Father Marc Fassier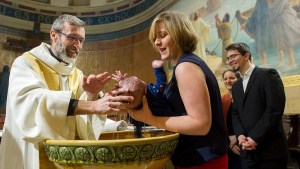 Read more:
What is a sacrament in the Catholic Church?