You can get close enough to touch it just by respecting certain important steps explained by St. Teresa of Calcutta. 
As part of his pastoral program for the third-millennial Christian, Pope John Paul II proposed a "high level of ordinary Christian life" that is holy. But how do we get there? Mother Teresa revealed her recipe.
The two stages to holiness
It was in Calcutta. With a mischievous smile, Mother Teresa showed us her two hands and invited us to count our fingers. On our right hand: "I / want / through the grace of God / to be / a saint!"; and then with the left: "You / have / done this/ within / me!" Then she put her hands together and, raising them to the sky, added "It is done!"
Mother Teresa explained that the first step toward holiness is, naturally, to want to be a saint: "It all depends on these few words: 'I want' or 'I don't want'." She continued: "Saying 'I want to be a saint' means 'I'm going to leave behind everything that is not God … I am going to give up my own will, my preferences, my fantasies, my instability; with all my will I am going to love God, I am going to choose what he would choose, I am going to run toward Him, I am going to reach Him and I am going to possess Him.'"
Read more:
12 Tips from Mother Teresa to inspire your daily life
She wrote: "I believe that there is no other person in the world who needs the help and grace of God as much as I do. I feel so poor and weak." Jesus would, in fact, confirm the impression she had of herself: "You are, I know, the most incapable, weak, and sinful person, but that is exactly why I want to use you for my glory. Will you refuse?" Once you have the desire, and have accepted and offered your poverty, God can then achieve within us, by the power of his grace, infinitely more than what we could ask for or even conceive (Ephesians3:20).
Accept the smile Jesus sends you
This intersection between nature and grace is still a mystery. On the one hand, we risk falling into quietism, passively waiting for the miracle that will transform our lives. On the other, we practice an energetic and exhausting voluntarism, often without much success! A more appropriate way to say it would be: "It is not just God and man, grace and freedom, but rather God through man, grace through freedom." In other words: "Act as if everything depended on you, knowing that it really depends on God (St. Ignatius). In the Litany of the Saints, we pray: "O God, You are glorified in the assembly of saints; and when you crown their merits, You crown your own gifts."
There was a group of professors from the United States who visited Mother Teresa, and they asked her: "Tell us something that will help us in life!" And she responded: "Smile at each other!" And she explained that she had to make an effort to keep a serious tone when "another one asked me: 'Are you married?' and I told him: 'Yes, and sometimes it is very difficult for me to smile at Jesus because He can be very demanding at times.'" And our saint concludes: "Holiness does not consist of doing extraordinary things. It means accepting what Jesus sends us with a smile. It consists of acceptingGod's will."
Father Nicolas Buttet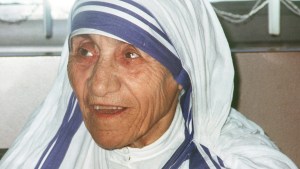 Read more:
Mother Teresa's simple (really simple!) trick for becoming closer to Jesus