Do you have a tendency to overreact to criticism? Discover how to better receive comments about how you act. 
What can God do in your life with one Bible verse a day?
Subscribe to Aleteia's new service and bring Scripture into your morning:
Just one verse each day.
Click to bring God's word to your inbox
Throughout our lives, unwelcome comments from others can unexpectedly throw us off. If we're especially tired, or we disagree about a situation, or if a comment was said in bad taste, it may provoke a biting reaction from us that can be quite hurtful. But, it may be the case that you're too easily irritated by critical comments, and if so, you should take a careful look at how you are reacting and search for the cause of your over-sensitivity.
It is completely normal for an unpleasant or even cruel comment to make you feel bad. But if this immediately pushes you into attack mode, isn't this a sign that your "detection radar and loudspeaker" for anything that hints of a lack of respect or understanding are set too high? It may seem like you have an open wound that is sensitive to the slightest insinuation by your loved ones. So, where could this capacity to be wounded so easily and deeply be coming from?
Learn to stay calm through self-analysis
Try to do a simple self-analysis, but don't worry about going back to your earliest childhood. Ask yourself, for example, if you have a good level of self-esteem, if you are unsure you are loved, if you think you are not important, if you despise the lack of respect or vulgarity, etc. In whatever way works, you need to become conscious of your tendency to be so affected by unpleasant words. In doing so, you are giving others power over you: the power to unsettle you, destroy your peace and charity. Therefore, learn to stay calm, which is something that can often disarm the one who hurt you. Thus, you don't just calm the situation down—now you are the one controlling it. If you give this disarming serenity a try, you will definitely stick with it.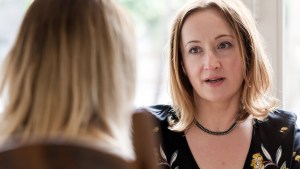 Read more:
St. Bernardine's advice for handling criticism gracefully
Understanding the other person without judging them too quickly can also help you master your reactions. Too often words come out faster than we can think. How many times has it happened that a spouse or a teenager who's had a bad day comes home and takes it out on the first person they run into? Afterwards, they're usually the first one to admit they didn't mean what they said and, maybe clumsily, say they're sorry. On the other hand, if it happens more than once, you may have to look more deeply into the issue about why the aggressor is complaining. Ask yourself: "Do they have some valid reason for criticizing me so frequently?"
For family criticism, adopt the right attitude
Within the family, there is a way to nip these unfortunate wounds in the bud. Regarding the couple, a clearly expressed, even written out, contract could be adopted — for example: "My Dear, it will inevitably happen that I say things that hurt you, that I make gestures that bother you, but please understand that I don't really mean them. If it happens, it will be out of sheer clumsiness or uncontrolled nonsense on my part and not out of cruelty, because I have no intention of making you suffer."
Even with your child, especially if he or she is an adolescent, do not take what they say at face value. Make sure they are not suffering for something that would explain their aggression. And if necessary, if they are consistently unpleasant, have them talk it out with a family therapist, where it is taken for granted that everyone, even the mother, has a right to say what they feel without being judged or scoffed at.
Things can be said simply. Try to avoid over-dramatizing too quickly, as you run the risk of getting trapped in avicious cycle of escalating aggression. And when one person realizes they have hurt someone they should be quick to acknowledge their mistake and apologize immediately. Finally, please allow yourself, in the name of love, to show a little humor!
Father Denis Sonet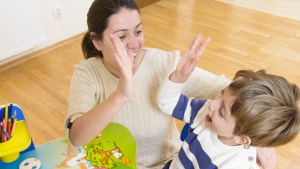 Read more:
If you want your kids to be open to criticism, do this first …