Turn the liturgy into a moment for connecting your life to Jesus.
What can God do in your life with one Bible verse a day?
Subscribe to Aleteia's new service and bring Scripture into your morning:
Just one verse each day.
Click to bring God's word to your inbox
For those who say they get bored at Mass, I would love to tell them that wisdom only comes to those who have learned to persevere in boredom, to patiently engage with the density of things without expecting immediate results.
Wise people have the virtue of those who tirelessly work the land. Man is not made to hop from flower to flower in an "unbearable lightness of being," as the title of Milan Kundera's novel goes. Man is made to bond himself to his rose, to cultivate it, to fill himself with it. It is essential to learn how to accept tedium, the monotony of the days that pass, and to refuse to measure life according to the egocentric pleasure of immediate consumerist gratification.
Sundays anchor time
What's the point of going to Mass? I respond with the words of writer Georges Bernanos: "The demon of our heart is called 'What's the use …?'" And I especially like to answer with the words that converted St. Francis Xavier: "What's the use for a man to gain the whole world if he forfeits his soul?"
If we don't set the anchor to mark time, our life will drain away like blood flowing out of a wound. Sundays anchor time; it is a moment when we learn to extirpate ourselves from the visible in order to cultivate the invisible. We need to "live according to Sunday," as the Church Fathers say, because we cannot live without memory or without hope, without stopping to remember God's salvation through the Cross, without entering into the light of the Risen One.
Read more:
8 Reasons to go to Sunday Mass
Memory is what makes it possible for us to live in the present, and hope makes it possible to get closer to Christ, who orients our lives. "Whoever eats my flesh and drinks my blood has eternal life" (John 6:54). The French philosopher Gabriel Marcel said: "Loving someone is telling them: 'you will never die.'" Yet only God can say this, and the Mass is a promise to our mortal body that we can attain immortality—in listening to the eternal Word, in taking communion, and through our desire, because God is not stingy with the graces of the risen body of Christ. The Eucharist guarantees our resurrection and is what makes it possible for us to "anticipate the watches of night" (Psalm 119:148).
The Mass takes us beyond the transiency of things
Sunday Mass marks the rhythm of Christian life by virtue of the ritual. Rituals order our existence; they put controls on passing time. "But if you come at just any time, I shall never know at what hour my heart is to be ready to greet you . . . One must observe the proper rites. 'What is a rite?' asked the little prince. 'Those also are actions too often neglected,' said the fox. 'They are what make one day different from other days.'"
If we go to Mass every Sunday, it is to "sync into Sunday" in body and soul, beyond the fleeting nature of things, and to make ourselves endure, as Blessed Elizabeth of the Trinity would say, "unmovable and peaceful, as if [our hearts] were already in eternity."
Father Luc de Bellescize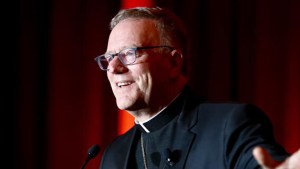 Read more:
Bishop Barron: The Book of Exodus and why coming back to Mass matters