It's prevalent in society today and can hit anyone. Here is some helpful advice and guidance from specialists. 
What can God do in your life with one Bible verse a day?
Subscribe to Aleteia's new service and bring Scripture into your morning:
Just one verse each day.
Click to bring God's word to your inbox
After a six-month sick leave, 47-year-old Louis has begun to recover from burnout. The executive has joined a new department in the bank where he has been working for 20 years. With fewer responsibilities, equal pay but lower bonuses, his new position — negotiated with upper management — allows him to "gradually get back on his feet." Still trying to take as much rest as he can, he's on antidepressants and regularly sees a psychiatrist, with whom he tries to understand how he got to this point.
Louis can trace his burnout to when he started taking his work computer home on weekends and reading his emails until 1 a.m. He stopped hugging his children, often responded to his wife in an aggressive tone, and finally got to the point where he "lost his motive for life." Always a good family man and an enthusiastic employee who didn't count his hours, Louis was seen as a fighter by those around him. "I would never have thought it could happen to him," confides his wife Laura.
"Today everyone knows someone affected by burnout," says psychiatrist Patrick Légeron. This phenomenon is not confined to the professional world: we hear about mothers burning out, or priests admitting to extreme exhaustion and breakdowns. Christina Maslach, author of Professional Burnout, professor of psychology at the University of Berkeley, and creator of the Maslach Burnout Inventory — a measurement tool used to diagnose burnout — describes it as "a real epidemic in many countries."
Could we all be at risk for burnout?
How is burnout making its way into the workplace?
"It's not about people, it's about the world and the nature of work that has fundamentally changed," Maslach says. While this may sound a little simplistic, it is difficult to draw a picture of the typical burnout candidate, because the profiles affected are so different.
"Before looking for so-called at-risk personalities, start by listing the major stress factors responsible for this syndrome. Burnout is a psycho-affective response of the individual confronted with moderate but chronic stressors," says Dr. Philippe Rodet, author of Se libérer du stress (Freeing yourself from stress).
Burnout in the workplace is caused by over-busy days and a lack of control over one's activities, training to do them, reward and recognition for efforts made, and team cohesion, as well as the feeling of unfairness. In Louis' case, it was also the lack of autonomy on a daily basis and the need to "always do better with less and less" that pushed him over the edge. In his department, dozens of people have been laid off in three years, and despite "several calls for help, we had to do without," he continues. This situation is becoming widespread in a large number of companies.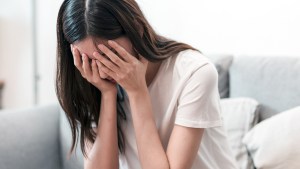 Read more:
Is it depression or burnout? Here's how to tell the difference
The stages that lead to maternal burn-out
Burnout is also easily applicable to mothers. A woman with several children doesn't stop for a second. Violaine Guéritault, psychotherapist and author of the book La fatigue émotionnelle et physique des mères: le burn-out maternel (Emotional and physical fatigue of mothers: maternal burnout), has taken Maslach's model and applied it to mothers. "We find the same three stages that lead to the onset of burnout," she points out. "First of all, we find emotional exhaustion. Through so much giving and being available to everyone, the mother ends up exhausted. To cope with all the demands, she will draw on her capital energy. But it is not inexhaustible!" saysGuéritault, herself a mother.
The first sign of maternal burn-out? "When you cry out 'I can't take it anymore!' as soon as you jump out of bed," says Guéritault. However, a mother, unlike an employee, cannot take a few days of vacation or quit. "To bear up, she will therefore put herself on emotional 'stand-by.'"
"This is the stage of distancing. I'm sometimes indifferent to what can happen to my children," says Stéphanie Allenou in her book Mère épuisée (Exhausted mother). If one of them stumbles, instead of rushing to help them up […] I don't react." Then comes the stage of self-deprecation. "I feel completely alienated from myself and out of sync with my idea of what a mother should be," writes this mother of three young children, who has taken to writing after suffering through some very difficult times.
Some people are at more risk of burnout than others
For maternal burnout, some profiles are more affected than others. In the front line are solo moms — moms who are single or doing everything alone even if they are married. But there are also those who have an idealized idea of motherhood. "Inevitably they will not reach their 'objectives' and will more easily be disappointed with themselves," says Guéritault.
What about stay-at-home mothers? "More isolated and less recognized by the outside world, they also run certain risks. But those who do work outside the home risk overwork and lack of control: it's not easy to feel in control when your child has a fever and you have to go to work," Guéritault says.
Whether she is a mother or not, the victim of burnout is first of all "someone who is very committed and very serious," notes Philippe Rodet, who takes up the idea originally developed in 1974 by the American psychoanalyst Herbert J. Freudenberger, who coined the term. He considered that certain people more than others are at risk of falling victim to this syndrome, in particular, people who demand a lot of themselves, with strong ideals linked to the mission they carry out. For Davor Komplita, a Swiss psychiatrist and specialist in work-related disorders, this mainly affects 40- and 50-year-olds, because "they have interiorized the values of work and their dignity is at stake here. My role is to help them distance themselves from this notion of idealized work that they can no longer achieve."
Little things can help prevent burnout
 in priests and religious
"We priests are also right on target for burnout," says Fr. Joel Pralong. Ten years ago, he suffered from a mild episode. After a "euphoric" phase during which he never felt tired, writing even at night, he cracked. "I only wanted one thing: to be alone and sleep … But I couldn't even sleep anymore," he says. With the help of medication and after several weeks of forced rest, he was able to get back on his feet … and question himself.
"Unlike employees in a company, I was not under any pressure. But I didn't know how to say no," he admits. "As a result, I was living at 100 miles an hour." I told myself: "You shouldn't listen to yourself … It's the Lord calling. But the Lord needs strong healthy men to help Him! He does not ask us to make ourselves sick by carrying out our mission, but to distinguish what is necessary from what is superfluous." Since then, Fr. Pralong has stopped justifying himself with "good spiritual reasons to do more and more and become dependent on the law of perfectionism." His advice to his fellow priests? Be careful to put the priesthood back in its rightful place. "We are channels for divine grace. Do not allow your conscience to accuse you of not doing enough."
The issue of perfectionism has also been pointed out by Anselm Grün, the famous monk writer, who welcomes exhausted priests for rest cures at his Bavarian monastery. "If I draw from a troubled source like perfectionism, I will waste my energy in trying to conform to what is expected of me," notes the philosopher.
It is a temptation that does not spare the mother of the family: "This one is intimately linked to the image of the perfect mother widely conveyed by society," notes Violaine Guéritault. To reduce the tension between a high ideal and reality, she advises every mother to ask herself: "What's the worst thing that could happen if I didn't iron, if I didn't cook tonight, etc.?" A question that might easily be applied to the overly-scrupulous employee or an overly perfectionist priest.
Psychological twists and turns explain, according to Philippe Rodet, why some people are worn down when faced with this kind of stress. "However, if we know how to motivate and reward them for their work at a time when they have given a lot, we could avoid much drama. Thank your priest for his homilies, congratulate a subordinate for a project well done, thank your mother or wife after dinner — warm and easy-to-do gestures."
Anna Latron
Read more:
Burn-out, insomnia, unemployment … there's a saint to turn to in every circumstance