The Bible offers us guidance for making sure we are consuming only what we need.
What can God do in your life with one Bible verse a day?
Subscribe to Aleteia's new service and bring Scripture into your morning:
Just one verse each day.
Click to bring God's word to your inbox
On the occasion of World Food Day, October 16, we should ask ourselves about our habits of consumption. When thousands of people are dying of hunger in the world, how can we transform our way of living and consuming? Here we present some answers with Fr. Olivier Lebouteux, professor of the Sacred Scriptures.
We throw away many pounds of food a year. What is the reason for this negligence?
Food waste is probably due to a loss of awareness of the value of things. When Jesus tells the parable of the dishonest steward (Luke 16:1-8), he invites his listeners to reflect on their relationship with money. The mission of the steward is to manage goods that he does not possess. However, this unscrupulous steward squanders them, a sign that he does not know the measure of their true value. When the owner demands an explanation and fires him as the manager of his assets, he wonders what other activities he could do (work, beg), but he rejects them all because he does not think he is capable of doing them. So he returns to his initial job — management — having become aware of the value of the products, such as oil and wheat, which required hard work by the people who produced them.
In the parable of the prodigal son we find a similar conclusion: "He wasted his goods in a life of licentiousness" (Luke 15:13). Since his inheritance had been effortless, he did not appreciate its value and squandered it. Wastefulness can also reveal a lack of trust in the Father who, on the contrary, knows exactly what we need. Jesus, in fact, says: "Do not worry about life, wondering what you will eat, or about the body, wondering what you will wear. For life is worth more than food, and the body more than clothing" (Luke 12:22-23).
At a deeper level, waste often comes from a fear of not having enough, and therefore from a fear of the future, which is ultimately a fear of death. We should reflect on this kind of behavior and try to overcome our fears—not so much through courage but through trust in God.
What is the link between our fear of the future and wastefulness?
Accumulation. Jesus illustrates this with the parable of the rich man who builds bigger and bigger barns to store all his provisions. The man says to himself, "You have many goods laid up for many years to come; take your ease, eat, drink and be merry. But God said to him, 'You fool! This very night you will die; and now who will own what you have prepared?' (Luke 12:16-21). He is "foolish" not so much because he did not take into account his own death — who can predict that day? — but because he will not be able to enjoy what he possesses or even let others take advantage of it.
Hence the invitation to consider the goods we possess from a new perspective: that one day we will have to abandon everything. This gives life more density: it is no longer interpreted from the perspective of uncertain projects, but from the strength of the present moment, seeking first the kingdom of God.
When we have too much, isn't understandable to throw it away?
No! Waste is a cause of scandal, particularly for the poorest. It is unacceptable to throw away anything while others go hungry. In the story of the multiplication of the loaves (Matthew 14:13-21), the fact that they collected the leftovers indicates Jesus' unwillingness to waste that bread and those fish. Those seven or 12 baskets, depending on the story, indicate that God's gift in his overabundance is meant to be transmitted and shared with those who were not present or who will come later. Jesus' gesture comes from his perception of a need in this crowd. He does not want to return these people to their homes on an empty stomach and works a miracle from what is available and directly accessible.
This need, this lack, can be experienced when we decide to fast. Voluntary deprivation makes us more sensitive to the needs of those who lack what is necessary. It opens up our awareness and our willingness to share what is available to us. It also helps us see that very often we consume more than what we need.
It is not catastrophic to need something or to go hungry, but it is serious to waste. If there are people still dying of hunger when the Earth could feed up to nine billion individuals, we all have a responsibility to change things.This will, no doubt, require our focused attention and giving up certain things, but it is the way of the Gospel. Making an effort with food is already an act of charity: fasting is always associated with almsgiving.
So, does the fight against waste begin through personal awareness?
Yes, it is useless to blame society, structures or regulations. It is true that action must be taken at the level of societies and states, but each Christian is invited to make a personal commitment: "We must practice this, without neglecting that" (Matthew 23:23).
We need to transform our way of living and consuming. Waste signals a way of consuming that is sick and must be healed. Awareness begins with the most essential thing: our daily food. Then we can reflect on the way we use water and electricity, but also consumer goods (new technologies, furniture, etc.). Fighting against waste is quite simple to apply, without disrupting our lifestyle, as long as we are attentive.
So, let's start by considering our consumption of bread, a basic element of the world's diet and one that, unfortunately, we often find in our garbage. Let us make a firm decision to stop throwing bread away, as a non-negotiable and life-long goal. Maybe one night we will have to eat hard bread, but at least we will not have wasted it.
Interview by Bénédicte de Saint Germain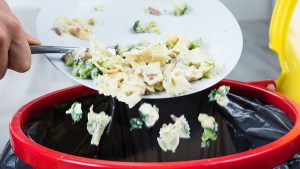 Read more:
5 Simple ways to avoid wasting food