A few instructions for how to pray effectively as parents.
What can God do in your life with one Bible verse a day?
Subscribe to Aleteia's new service and bring Scripture into your morning:
Just one verse each day.
Click to bring God's word to your inbox
Do you want to have more confidence that praying for your children will be fruitful, especial with so many worrying things facing them these days? Follow these tips from Carmelite Father Thierry-Joseph.
Does parents' mission begin with praying for their children?
Of course. Not only do they transmit life, but in praying for their children, they go back to the root of their paternity and maternity. The source of what they transmit is found in this relationship with God. It is the parents' job to make it possible for the children to grow in all areas of life: educational, emotional, intellectual. And the gift of the Holy Spirit is the engine for growth par excellence.
Is this intercession particularly effective?
How could we not associate St. Monica's prayers and tears with the conversion of her son who, after a long and complicated life, would become St. Augustine? The strength in parents' prayers lies in assuming their powerlessness yet maintaining hope. It leads them to consent from a position of trust. It is the contemplative experience of Carmel. We do not give ourselves to God, we receive Him by opening ourselves to Him.
Preserving hope is difficult when you see a fragile child follow a dead end or even move away from the Church. God does not promise us that all will go well in life, but that He will always be there. Similarly, parents experience this from not being able to know exactly what their children are going through. They do what they can, but then that mystery of freedom prevails.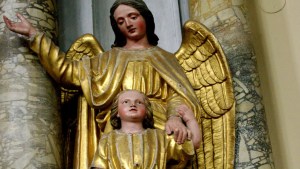 Read more:
Prayer to your children's guardian angels
Do you recommend that spouses pray alone or together?
Stronger intentions are best carried out together, when possible. But at the same time there is a personal dimension to the relationship with God that must be respected. In the face of a particular difficulty, a father and mother may have different perspectives, as a man and a woman, and also have different styles of intercession. Furthermore, the rhythms and stages of spiritual life are specific to each person.
What type of prayer do you propose?
For me, the model of intercession is that of Lazarus' sisters, who call out to Jesus and say, "Lord, your dear friend is sick." The intercessor disappears and does not impose their own view. The person we are praying for is placed at the center. At Cana, Mary has the same attitude, she does not make a specific demand of the Son of God, she only tells him: "They have no more wine."
Prayer is not magic, but it has its special fruition. It always brings an increase in life. In the end, it doesn't matter how we pray: praise, Rosary, intercession … The form evolves along with the different moments of our existence. It is enough that they are, as St. Therese said, "an impulse of the heart."
The world and its difficulties have reason to worry parents: will our children resist the temptations of adolescence? Will they prosper in their marriage? Will they find a job? Through regular prayer, parents receive the confidence to achieve what is right for them.
What can we expect from prayer for our children?
Gather a sea of grace at your child's door, to put it visually. While only the child can open his or her heart to God, who allows us to be radically free, the day the young person makes up his or her mind, God will then enter more easily.
The enemy to prayer is discouragement, often in the face of life's difficulties. With young children, prayer is simple. As the teenager grows, increasing demands put more pressure on them. Sometimes we stop for a moment to see the results of our requests and often don't see them. But the Lord works, of that we can be sure.
Can we repeat the requests that are most important to us?
We must not force the Lord. But often repetition is necessary for us, because it solidifies our act of trust. And hope, like all the graces of God, is only given in the present. In short, if the repetition is an act of love, then perfect!
Interview by Bénédicte Drouin-Jollès and Stéphanie Combe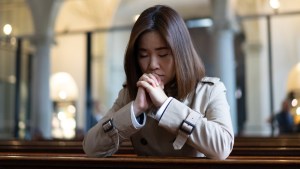 Read more:
11 Tips from St. Theresa of Avila to live a life of prayer