We say them without thinking, and yet sometimes what we say can gradually push our child away from God. 
As little Anna says in the book, Mister God, This Is Anna, we can put God into little boxes. Too often we present children with a "useful" God, such as a reward giver, miracle worker, all-purpose explainer, or even the boogeyman. Such phrases can affect our children forever. Here are a few examples of sentences to avoid using.
Avoid commonly referring to Jesus as "little"
It's not actually wrong to speak of "little Jesus" since Jesus was made man and was first, naturally, a little child. However, it is not a good idea to commonly refer to Him as such because for the child, Jesus will only be "little Jesus," the Baby Jesus of the Nativity scene, or the house of Nazareth. He will become the "little Jesus for children" to be left behind in the museum of childish things and childhood memories. "We must not learn anything in childhood that later we have to forget."
"Jesus doesn't love you when you act like that"
This formula should be absolutely prohibited because it is completely false. Jesus infinitely loves each one of us, even if we are the worst of sinners. A child who hears this will grow up with the fear of losing God's love and will be convinced that this love must be earned, that God does not love the sinner. What parents say in the early years has such an impact that the child, as an adult, will remain marked by an image that God loves us only when we behave properly.
Similarly, we should never say, "I don't like little girls that lie (or little boys that always yell and scream, for example)," as a shorter way to say that we don't like it when they lie. But what the child understands is that we don't like them when they lie. This may seem like a minor point, and in a way it is, but education is made up of little things, and in this case we must remember that the way we love our children, the way we show them our love, helps them to perceive and live God's love.
"God is punishing you"
While it is true that suffering is the consequence of sin, it is false and dangerous to present suffering or failure as the direct punishment of a specific sin. Remember how Jesus answered His disciples who asked Him about a blind man: "His disciples asked him, 'Rabbi, who sinned, he or his parents, that he was born blind?' Jesus answered, 'Neither he nor his parents sinned. But it was so that the works of God might be made manifest in him'" (John 9:2-3). If, when a child is hurt in disobedience, he hears that it is a punishment from God, he will think that suffering is always "deserved" and, conversely, that happiness or the idea he has of it (health, luck, absence of suffering, pleasure) is always a sign of conduct that pleases God.
"Jesus is not happy, you hurt Him"
Ambiguous: this statement is true and false at the same time. Claire, with the gumption of a 10-year-old, remarks: "Jesus cannot be sad because he is happy forever in Heaven!" Logical. However, we can point out to Claire that it was also her sins, her sins of today, that crucified Jesus. Jesus suffered in advance for all the sins of all men past, present and future. Even if it had been only her sins, Jesus would have given his life. So to say that our sin makes Jesus suffer is not false. But we must be vigilant: what counts is not what we intend to say, but what the child perceives and understands. The child may think that Jesus' happiness depends on him, on his good or bad behavior, which is false. In reality, it is not the happiness of Jesus that is destroyed by sin but the happiness of the sinner. Likewise, the quality of Jesus' love for us does not depend on our response. God loves us freely, totally and unconditionally. It is this love that we need to transmit, over and over again, to our children.
Christine Ponsard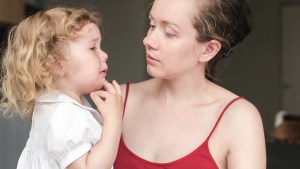 Read more:
3 Essential elements for effective parenting