A psychologist shares his wisdom with parents.
What can God do in your life with one Bible verse a day?
Subscribe to Aleteia's new service and bring Scripture into your morning:
Just one verse each day.
Click to bring God's word to your inbox
As parents we have the delicate task of teaching our children that life is not always rosy, yet we must do it without diminishing their capacity to be fascinated by the world. Psychologist and business consultant Yves Boulvin explains several key points to parents in this regard.
Is the joy of living a matter of innate character or can it be learned?
God puts his joy for life deep in all of us, without exception. However, the burden of what we inherit, the habit of seeing everything in a negative light, memories of suffering, grief, anguish, and break downs can bury this joy.But this potential of life remains intact in the depths of our being. Going on an inner journey can help it re-emerge from underneath all those successive layers.
When they are small, children marvel at everything. What role should we parents play so that this burgeoning spirit is not overshadowed?
Each child has their own particular vocation, and it is up to parents to reveal the specific treasure that dwells in their heart. Hence the need for a positive pedagogy. For example, when you reveal a fault — and it is your role to do so — I suggest you respect three phases: stick to the facts, give a goal for change, and then congratulate for any progress made, however minimal. You should be careful to banish toxic phrases such as "You're so bad," "You'll never get it!" It is better to make constructive comments such as: "You kicked your sister. I understand that you are not happy because she has broken your car. You have the right to scold her, but otherwise, no crying and no hitting. The most important thing now is to get your car fixed."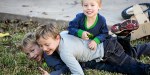 Read more:
3 Survival tips for parenting boys from St. John Bosco


Do children often adopt their parents' attitudes?
Parents' behaviors structure children's behaviors. If parents frequently feed on bad news that they are constantly going on about and doing nothing, they foster a tense and discouraging atmosphere. A mother who does not take care of herself enough and fails to replenish her strength ends up yelling at the children at night and scolding her husband, and then risks either feeling guilty or justifying her anger. A tired husband who becomes too authoritarian or blunt … Parents who speak negatively of an absent person … What example are they setting for their children? Later on the child will have to free him or herself from this negative emotional climate.
What resolutions can parents make to maintain the joy of living?
God believes in us and helps us believe in our children, whatever they do. This faith in them helps them develop. Appreciating progress means that parents act in this way towards themselves as well, and that they have found their own capacity for fascination. Good self-esteem consists of receiving God's love and giving thanks for the qualities He has placed within us. Thus, overflowing with gratitude, we feel like making this treasure bear fruit. "This is my beloved Son, with whom I am well pleased" (Matthew 3:17): this is a path of resurrection for us all.
But how can we not fall into overprotection and succeed in educating them about a reality that is not always rosy?
"Be as shrewd as snakes and innocent as doves" (Matthew 10:16), invites Christ, who cured but who also knew how tostrongly oppose. Here, there is a double educational mission: to support your children's fascination for the world while at the same time teaching them to discern the dangers of their environment in order to protect themselves. This will strengthen their character, enabling them to evaluate what we tell them, re-direct others when necessary, to say no, to overcome difficulties.
Parents cannot (and should not!) spare their children the hard knocks, the suffering, the consequences of grief. The essential thing is to teach them to get back on their feet. The sooner they learn to extract the lesson from the things that happen, the better prepared they will be for life. This implies that the parents themselves have learned to go through life's trials—not as victims who lament "I should have done this … what a pity things didn't work out the other way …," or become indignant "It's all their fault!"—but with the certainty that from every evil God draws good. God is present in the present. Just as he proposed a question to the sinful woman, Christ does not invite us to return to the past as we compulsively tend to do, but asks us: "And now, what are you going to do, what do you choose?
Interview by Stéphanie Combe
Read more:
9 Smart financial habits that are also effective parenting hacks