Heartbreak can help your teen mature, but only if you give your teen a chance to deal with it on their own. 
What can God do in your life with one Bible verse a day?
Subscribe to Aleteia's new service and bring Scripture into your morning:
Just one verse each day.
Click to bring God's word to your inbox
"You learn a lot from heartbreak. But most parents want their children to avoid it at all costs," says educational psychologist Bruno Humbeeck, author of Un chagrin d'amour peut aider à grandir [A heartbreak can help you grow up]. In a comfort-loving society, how difficult it is to cope with a young person suffering from heartache! When kids are small, parents easily find ways to console them and do so with gusto. How many parents rush in to cut short frustrations and regrets, without giving the child a chance to face them on their own? This attitude, according to Humbeek, only increases the impact of the first real experience of grief.
Faced with such drama, how should we react?
Regardless of the impact on the family, it is important to let the young person live his or her story through, because grief is associated with the passage to adulthood. At this moment, the separation that the child experienced on the first day of daycare or school is reactivated. It is a key stage for the parents who, this time around, have no teddy bear they can give to make their child feel better. The young adult is alone, and will have to find within himself or herself the resources and capacity to heal.
Transition to adulthood
"The parent should be empathetic, and thus welcome their child's emotions, be available to talk and, above all, respect the time of grief," insists Sophie Benkemoun, who specializes in adolescents. In an effort to ease the pain, parents are sometimes tempted to criticize the lost person, or to put the situation into perspective with clichés like "there are plenty of fish in the sea." Doing this denies the happy moments of the relationship and questions the judgment of the unhappy person: "You don't know how to choose, since he made you suffer so much!"
In reality, a heartbreak is a mysterious place, where the adolescent passes from childhood to adulthood. If so many teenage relationships end badly, it is because they are based on a distorted reflection: each person loves himself through the other, without really accepting the other. The breakup is all the more important here because it is coupled with a break from adolescence: it will be the occasion to really free themselves from a sterile kind of bond to become their authentic self. But for calm to return, it will take time, listening and availability.
Let time do its job and trust in God to accomplish His work at the darkest moment: "In the face of my daughter's heartache, I said three things to her: 'We are here; pray that the Lord will enlighten and comfort you; and cry because you are suffering,'"Elizabeth confides. A broken heart can learn to love.
Anne Gavini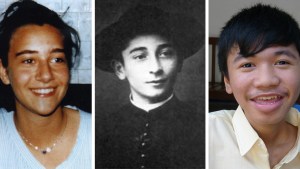 Read more:
8 Remarkable saintly teens to inspire your family