Consider these 5 stages and the opportunity each one is for your child to grow in their relationship with God.
What can God do in your life with one Bible verse a day?
Subscribe to Aleteia's new service and bring Scripture into your morning:
Just one verse each day.
Click to bring God's word to your inbox
How can we talk to children about God in an age-appropriate way? Fr. Philippe de Maistre, chaplain general of the Collège-lycée Stanislas in Paris, clarifies the different stages of the spiritual life of children and adolescents.
Up to the age of 2, awareness of love: Seeing its mystery
From the moment of conception, a child is in a relationship with God. At the mysterious moment when God breathes the soul into a child, He creates, as it were, a "direct line." Contrary to what Freud thinks, the baby's first consciousness, vitally connected to its mother, is therefore entirely a consciousness of love and unity. It is in this first language, in which God speaks.
The child perceives an interiority and also an exteriority. This is why the parents' prayer with the child is important from the womb. The child is sensitive to the voice of the father, who should not hesitate to speak to his child, to bless him through his wife's womb, with an audible word.
From birth, the child therefore has a spiritual life. Didn't Jesus say: "Let the children come to me" (Mark 10:14)? Like the dying who are no longer intellectually consciousness, the baby cannot yet conceptualize, but has a consciousness of love in and through the body. It is through that love that the child has the foundational experience of an encounter with God.
From 3 to 7 years old, awareness of light: The foundations of faith
Before the age of reason, a child separates from the mother and realizes he or she lives within a community. They learn how to behave and situate God within this large relational fabric composed by the family and loved ones. From the age of three, the child's "little self" appears; the child leaves the original communion to enter into opposition. It is the "I" of sin, which parents see as disobedience. The challenge of early education is to place this "I" within the original covenant sealed by God with the parents.
As children grow up, they need to be read the Old Testament: the sacrifice of Isaac, the story of Cain and Abel, of Joseph and his brothers, and so on. They are fascinated by these stories that tell the first dramas of the covenants, while their relationship with God is built up in a context of affection. Joseph's feelings of wanting his father's love all to himself, or the anger of Cain who is jealous of his brother, will strike a chord with them.
Through these relational and family problems, they can learn that everything does not end in tragedy. Forgiveness, mercy and blessing still occur, and in the end reconciliation is the solution. They should hear the stories of the Patriarchs. They should feel that Abraham, Isaac and Jacob could be their grandfathers or cousins. Let them dive into the Bible with the same passion they have for fantastic stories; there they will find the key to all the spiritual and emotional issues in family life! They will then learn to name their inner 'dragons' (theft, lies, jealousy, etc.) and learn how to conquer them. You can also talk about Creation, Adam and Eve, and tell them that they are created by God, in his image.
Above all we need to talk about Heaven. The age of light is the optimal time to talk about Heaven. The child perceives death as a passage to Heaven more easily than the adult, who comes up against it like a brick wall.
Between the ages of three and six, one cannot yet speak of an autonomous spirituality, but interiority is awakened within the context of a loving relationship with Jesus. In the first grade, we can talk about our soul that comes from God, this invisible dimension that the child conceals within him/herself. We can talk to them about their body that you can see, that parents can take in their arms, but that there is also a relationship with God. The child can feel their soul by concentrating, eyes closed, and addressing God directly — this is the intuition of "young worshipers." It is then important not to talk to the child about "God in general" but to address specifically Jesus, the Father, and the Spirit.
From 7 to 10 years old, the age of reason: The development of interiority
This age opens up what is called in psychology the latency period: an age that unfolds within a context of harmony, because God aims to develop within the child an inner dimension. It is the age of inner light that is furthered by knowledge. Coloring in pictures is not enough; this age requires a catechism very much nourished with the chronology and life of Jesus, learning prayers by heart. They will become aware of sin and learn to ask for forgiveness. They should feel free to ask for confession as often as necessary.
During family prayer, even if it is led by the parents, take a moment of silence. The child can confide in Jesus and adore Him. Up to that point, the child has basically followed his or her parents, but now the sense of good and evil speaks directly to him. By asking them how they feel after a good deed or a confession, we help our children verbalize this "great light" received in the intimacy of their conscience. The same rule applies to bad actions: why does he or she feel sad? The voice of their conscience speaks to them, they feel that they have spoiled something. In spiritual life, a true mystical life of prayer can emerge. In some children, the privileged relationship with Jesus is more than a friendly relationship, it becomes nuptial. This is often the age when true vocations are born.
The child must make the Gospel his or her own. Parents can read, or give them to read, the life of the Curé d'Ars. The child will become aware that a part of them belongs only to God. It is for this reason that St. Pius X recommended first communion just before the age of reason, before the awakening of the rational conscience, when a theological conscience and a moral conscience appear. This pope also asked that they be given access to prayer and confession. The child has an autonomous moral sense, he can be turned toward this inner life and understand that Jesus is always present there.
From 10 to 13 years old: The conscience of life: the time of friendships
In the child's development, this is the age of hope, where God shows Himself to be abundant with life. God calls to the open sea—not everything can be lived within the family. The young person needs to go beyond the family and school circle, to seal alliances, to develop a sense of camaraderie, to meet religious guides, recognizing a larger family. They need older brothers and sisters, such as the amazing associations of scouts or sponsors. With older boys or girls the desire to grow together through play and friendship now takes on a spiritual dimension. In discovering fraternity, it is finally the Church that they discover. In the 6th grade, the child should learn how to use the Bible. In middle school, the child is intellectually stimulated and also wants to be spiritually motivated.
Friendship—a moral and spiritual experience—calls up fidelity and makes one grow. In the examinations of conscience, we can ask them how they choose their friends, suggest they read the life of St. Dominic Savio, which speaks volumes. What responsibilities can your child take on at school, in what way does he or she feel responsible for others, how do they think they help others grow?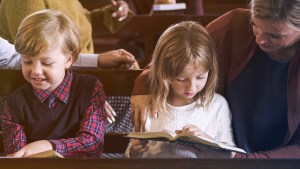 Read more:
Teaching children the Faith should be a family affair
From 13 on, the conscience of fire: Adolescence in the conquest of true freedom
It is fundamental to recognize that adolescence is above all a spiritual event. It is an initiative of God that upsets the consciousness of the child, even before the onset of hormonal and psychic upheaval. Adolescence is the age of fire that takes the child's heart and draws it outward. Hence the tensions that exist, even between Jesus and his mother. "How is it that you sought me? Didn't you know that I need to be at my Father's house?" (Luke 2:49), He answered his parents at the age of 12.
Adolescents learn that they are not made only to receive love, to live and grow quietly in God's light. The desire of their heart is greater than the world they are now finding to be too small. They are made to love, and for an absolute that the world cannot give. Now that the fire of God has been ignited, we shouldn't reduce their adolescence to an "ungrateful age." God is in control, sexuality is good, the desire to love is good, and it is God who confronts them with the perception of limits. The child needs a Moses to cross that Red Sea, those spiritual experiences of fire: the child needs confirmation.
The Mass remains a base of operations. If the child grumbles about going, the parents can say that on their wedding day and on the day he or she was baptized they committed themselves to the responsibility of transmitting their faith. On the subject of sin, make sure to give them time to meditate on this verse: "I want to do what is good, but I don't. I don't want to do what is wrong, but I do it anyway" (Romans 7:19). At the age of ten, children are more legalistic, a bit moralizing. Later on,they feel divided, having impulses, no longer feeling unified. They need intense readings, such as the Apocalypse. Indeed, life appears in a somewhat tragic light. There is a tension between the desire for the absolute — this new impulse — and the awareness of irreducible limits, weaknesses, the perception of ruptures caused by death or separations. This is the explosive cocktail, analyzed by Freud, between Eros and Thanatos, the call to the absolute of love and the limits of death.
To the adolescent, life seems too narrow to satisfy the impulses of their heart. To get out of this impasse, the teenager needs strong role models, who have themselves gone through this stage and opened up hope. They need heroism. They need to be read the lives of the martyrs; they need to be told about Saint Maximilian Kolbe, Blessed Pier Georgio Frassati or Chiara Luce: identifying with their favorite stars or athletes is not enough.
More than living per se, it is about loving and finding meaning. Adolescents are trying to figure out who they really are and will not find themselves by looking in the mirror, by putting themselves out on social networks or by settling themselves into a "little couple." They need to get out of themselves through intense experiences of evangelization, service to the homeless or others in need. They need to go beyond themselves, to experience true inebriation from the joy of giving him or herself; otherwise, they may look to false paradises such as sex or drugs.
A fulfilled Christian life is not a life for oneself, but a life made to be given. This can be experienced by being a scout volunteer or by giving catechism classes to the youngest. In this way, they help the younger ones down the path that they also went down and helps them both mature. They are then in a position of transmission; those who transmit are adults. When you give a teenager responsibility, they become an adult — and stop bothering us with their petty teenage problems!
Beyond the ruptures, the mourning of childhood and dreamed paradises, the young person can enter into the gift of him or herself, go beyond the limits of death and separation through intense experiences, experiences of fire. Jesus transformed water into wine, and the adolescent must experience the sober intoxication of the Holy Spirit.
Olivia de Fournas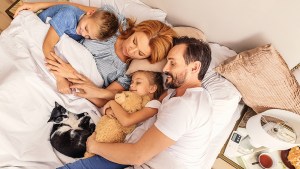 Read more:
7 Montessori-inspired ways to teach your children the faith at home