How can we welcome them back and help them return to God without driving them away? 
What can God do in your life with one Bible verse a day?
Subscribe to Aleteia's new service and bring Scripture into your morning:
Just one verse each day.
Click to bring God's word to your inbox
Her eldest daughter warned her when she was 18, giving her back her Bible: "Mom, I don't need all this anymore, it's over." A few years later, her youngest daughter radically cut off all contact with the Church and her religious friends, without giving any reason. "A stab in the back," says the 56-year-old mother, "and I have to live with it." "What did we do wrong?" worry parents whose children raised in the faith are distancing themselves from a practice they say "makes them drink the Kool-Aid." How can we believe that God no longer means anything to them when he has been everything for them? Of course there is plenty of guilt and tears, as Louise, 82, confides in a trembling voice: "My heart is broken. My four children have stopped practicing. My grandchildren never hear about God."
On the other hand, children who have rejected the Lord may take side paths that worry their parents. Some sink into materialism and the quest for "more and more." Today, Mary Jo's two daughters in their 30s "live with their boyfriends and have no plans for a religious wedding—the opposite of what she had hoped for them. "How do they find meaning in their lives? I suffer, because I know that there is no happiness," she laments.
This takes a toll on the moments spent together. Without being able to share their faith, parents regularly feel at odds with their own children. "If I talk about Christ, they lock themselves away and keep me at a distance; if I say nothing, I am so unhappy that I don't know how to share the only treasure that could help them," sighs Isabelle. Parents come to fear that their children will drift away from them. "At Christmas, they go to their in-laws to avoid midnight Mass with us," notes Michael, a 64-year-old retiree.
Discuss faith, but avoid repetitive scenarios
There are as many variations to the story as there are in people! Some no longer go to Mass on Sundays, yet maintain their faith in the Lord. Others wonder about their existence, but have no hostility towards the Church—having their children baptized and catechized does not bother them. And then there are those who feel a violent aversion to God, the practice, and the whole institution.
Approaching the subject in the family is not an easy thing to do. Paradoxically, it is perhaps simpler to open one's heart and talk about one's relationship with Christ to strangers than to those in one's close family. Under your own roof there is a risk of repeating scenarios where each party knows in advance the "opposing" position. One criterion you can consider when a discussion opens up: are they really asking, ready to receive, or are they just looking to provoke us? If it is basically provocation, it is better to cut it short or add a hint of humor rather than engage in sterile rhetoric. An invocation to the Holy Spirit helps to put an end to a bitter exchange and find the right words to position yourself, or simply ask for mutual respect. In any case, parents should be careful to "refrain from counter attacking" recommends Marie-Madeleine Martinie, author of Communiquer en famille [Communicating as a family] (ed. Le Sarment-Fayard). Even if parents feel flabbergasted or indignant, she recommends banning all signs of disapproval and adopting an approach of benevolent listening and acceptance.
Let's face it, there are objective difficulties to believing, of an intellectual nature. And others of an existential, often implicit nature. These young adults repeat the objections they hear from society: the evil in the world, whether priests should marry, the "homophobic" Church … it's all there. Behind these criticisms are often deeper reasons that have to do with the meaning of life. The stumbling block is often that of the sexual morality advocated by the Church. In their eyes, it prevents them from living the way they want to live. From there, the step to rejecting it is quickly taken.
Other reasons may lead them to question their beliefs: for example, a death they do not accept, a prayer they believe is not answered, suffering for which they hold God responsible, counter-testimonies from Catholics … the list is long. Reacting to these objections forces one to really think things through, and may even require some research. Don't panic if you can't answer them all in a straightforward manner. Beware, these adults will not be satisfied with a "the Church says," hence the importance of developing a reflection in the name of natural law and the search for happiness. In this area, realistic philosophy — Thomistic or Aristotelian — is of great help.
The first priority is to welcome
When talking about religion and the convictions that flow from it is no longer possible, it's hard. "I've made mistakes by missing opportunities to keep quiet," says Claire. "The older you get, the more you realize it." Fatigue and fear are very bad counselors. If the tone rises, some parents are met with spikes and bitter remarks about the Church, sometimes open criticism of them. They are taken down a real path of humility and opening themselves up. Under these conditions, it is important to maintain your bond with them and to manifest your love through gestures, attention, compassion. Often, a violent rejection of the Church hides a wound. Even parents do not know all the hidden dramas. One mother recently had the opportunity to show all her maternal tenderness towards her 30-year-old daughter. Following a depression, she confessed that she had had an abortion 10 years ago. "The earth opened up under my feet! How could she have suffered so much alone?"
"Love and truth": it is difficult staying faithful to these two principles!" Marie-Paule Mordefroid, a graduate in psychology, reminds us of the importance of distinguishing the person from his or her actions: showing unconditional love for one's son or daughter does not prevent one from disagreeing with some of their choices. "In the past, a child in sin (divorced, homosexually active) was repudiated, which reduced them to their act. Nowadays, the risk goes to the opposite extreme: for fear of losing the relationship with their son or daughter, parents no longer allow themselves to judge their actions." How can a person welcome their own children whose life choices go against their deepest values?
For long-term cohabitants, for example, should a common room or separate rooms be prepared? "In this area, we are fumbling around for a clear answer!"exclaims Fr. Francois Potez. "Depending on family traditions and personalities, I advise parents to be very strict or very flexible. There is no absolute rule, except that of mercy. And that goes hand in hand with justice." Rather than making a hasty decision the day before receiving them, he suggests that parents establish a dialogue: "Who is he/she for you? We are happy to welcome them and get to know them. But since we do not consider them your spouse, we will not offer you a marriage bed."
There is a hierarchy in charity which consists first of all in protecting those who are growing up. Nephews and nieces, especially around the age of 10-14, need strong guidance. To treat couples living together, fiancés or married couples in the same way is to present them with a situation of absolute relativism. When the situation arose, Michael, father of four children in their thirties, preferred to make this clear to the couple who was living together, before proposing a common room. "We showed them that this was not a matter of course," he says, "and took the opportunity to testify to the happiness of getting married." The young adults thanked him for his welcome. Living together, remarriage … Of course, the parents will take into account the stability of the couple; when a baby is announced, it shows their will to last.
"Just because a child has moved away from the Church does not mean that they no longer have values," insists Marie-Paule Mordefroid, who encourages them to "value their values. Michael approves: "My youngest, perhaps the most obstinate in his rejection of the Church, decided not to have his daughter baptized. But he is also very altruistic and invested in the Red Cross." In the same way, Fr. Claude Courtois invites us to distinguish between faith and practice: "I know a young couple who presented themselves as non-believers. Both were raised by Christian parents. For their third child, they refused the therapeutic abortion advised by a doctor and chose to have their baby. Let's not label people." Only God can see into hearts.
Recognizing imperfections without despair
If those who reject the Church are quick to point out the shortcomings of Christians, don't play the game of perfectionism. "When we think we should be examples, we tend to put ourselves in a favorable light and hide our shadows. But to transmit the faith, we must be absolutely honest," says Benedictine Odilo Lechner in his book Grands-parents, transmettez votre foi [Grandparents, transmit your faith] (Salvator). For the parents, this means knowing how to recognize their wrongs, and asking forgiveness for possible blunders—to say quite simply that they have not yet achieved holiness as they aspire to it. How far along the path of coherence and humility must each one of them be to silence criticism about the parish priest, the Mass, the neighbors? Michael emphasizes this permanent need to convert oneself: "Despite our willingness to read, to think, to pray, we live like everyone else: preoccupied with tomorrow, with the car, with little daily worries." However, let's not wait until we are "perfect" to say what is right and what makes people happy — we would risk keeping silent for a long time! And the Lord's grace also rushes in to fill our weaknesses.
Love, but also give witness with delicacy
Brother Roger of Taizé urged us to "speak of God only when we are asked, but to live in such a way that we are asked." Far from a narrow and restless morality, living as a loving and joyful Christian makes the witness of faith credible. For example, one couple, whose three sons aged 17 to 21 rejected religious practice, paid particular attention to returning from Mass happy and in love. This "Sunday happiness" seeped in little by little. After two years of perseverance, the boys returned to church. Through the peace, joy, and goodness they radiate, the parents manifest God's love. "Let us embody our faith," continues Fr. Lecuru. "Witness is through word and example."
It is up to the parents to discern when to keep quiet and when to talk. To his four married children, Michael doesn't hesitate to send a few signals, such as a proverb or biblical verse placed on each plate at Easter. With his grandchildren, bearing witness to his faith is easier. When he has them over on vacation, he recites the evening prayer with them, tells them "stories of Jesus" that they ask for before going to bed. He answers their questions, especially about death and the afterlife, while their parents are evasive on these issues. This evangelization is only possible on one condition:with the parents' consent. Grandparents are not a substitution for the parents and, of course, should not devalue their choices.
Cling to prayer, act through trust and conversion
"My tragedy is that in spite of my teachings, they did not find the Lord," says Patrick, a divorced father of two children and catechist for 30 years. "It seems to me that my children have only retained faith in its rituals." But God reveals Himself as He wills. At the right moment, he knew how to touch the sinful woman, Paul the persecutor, and Augustine the rebel. He has a thousand ways to manifest Himself, and yet just one thing is certain: He chooses the most appropriate way for each person! And leaves them free to respond.
Parents cannot interfere in this act of personal love with Christ. Just pray tirelessly, like Louise whose prayer rises constantly: "Night and day, I beg Our Lady. I pray to their guardian angels to visit them, to accompany them. I commend them into the heart of God." Others pray for their children to meet believers. "I would like to be a witness, but I cannot. It no longer pertains to me," admits Mary-Jo. "I pray that a believing stranger will become their friend." "The Lord always gives support in times of trial; He doesn't let us go forward alone," consoles Claire, who finds her strength in a prayer group for mothers and find support in her sister-in-law. "Sharing one's suffering is a grace and lightens the burden all the more," gently confirms octogenarian Louise, who prays the rosary every week, accompanied by a few retired people from her village. As Claire realized, it is her own relationship with God that must grow, through adoration, Mass and the sacraments. "Living in the intimacy of the Lord helps me bear this great trial," Louise confided. "It also makes me perceive the suffering of Christ who sees his love refused by many." It also helps one see their children through the gaze of God and to enter into His great patience. The more you receive God's mercy for yourself, the less you doubt his clemency toward your sons and daughters. "It is up to parents to keep faith in the Holy Spirit," Marie-Paule Mordefroid concludes. "He has lived in their hearts since their baptism. Only He can guide them from within without constraining them."
"Above all, hold on and keep hoping!" encourages Fr. Claude Courtois in conclusion. "God sees into the heart better than we do. He does not abandon your children. They are not lost: Jesus knew how to deal with the Samaritan woman, to give her back her dignity and her faith." While Louise lets the tears flow out, she keeps her trust intact: "Children of so many prayers and tears cannot perish. Nothing is impossible for God. He cannot deny a mother the salvation of her children. He gave his Son for that!" Mary-Jo echoes this: "I have the impression of having missed everything. But I trust in the Lord: I put the roots in the ground and I ask Him to water it so that my flowers can blossom. For if it is for parents to sow, God alone knows the time of harvest."
Stéphanie Combe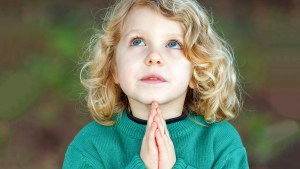 Read more:
How to help children develop their spiritual life, no matter their age