It is important not to deprive our children of the knowledge and company of these true friends.
What can God do in your life with one Bible verse a day?
Subscribe to Aleteia's new service and bring Scripture into your morning:
Just one verse each day.
Click to bring God's word to your inbox
It is difficult to talk about angels, so sometimes children are unaware of their existence, and perhaps do not even think about praying to them. However, there are manysimple ways to help them discover these friends that God gives to accompany us on the path to holiness.
It is not necessary to find graphic representations
We can begin by invoking the guardian angels during family prayer, asking them to watch over us. Then, we can tell children about passages in sacred history where angels take part in the story. For example: the story of Tobias guided by Raphael, "one of the seven angels who stand before the glory of the Lord and have access to his presence" (Book of Tobit 12:15).
Jesus also speaks of the angels and converses with them: "The angels of God rejoice over one sinner who repents" (Luke 15:10); the Son of Man "will send his angels, that at the sound of the trumpet they may gather his elect from the four corners of the earth, from one end of the horizon to the other" (Matthew 24:31).
And of course let's not forget the Christmas story in which the angel announces to the shepherds the birth of Jesus: "Glory to God in highest heaven, and peace on Earth to those with whom God is pleased" (Luke 2:14).
When we talk to children about angels, it's a good idea to be concise, simple, and truthful. There is no need to look for graphic images at all costs. Explain that the angels are pure spirits and therefore we cannot see them. We do not hear them in a physical sense. It is true that sometimes angels take on human form to intervene in people's lives, but this is only a mask; angels do not have bodies. If they are often depicted with wings it is to show their function as messengers (the etymological origin of the word angel is "messenger").
Illustrated representations (except for certain specific episodes such as the story of Tobias or the Annunciation) may seem to be an easy solution when children are young, but there is the danger that when they become adults and reject the image, they will reject the reality of angels along with it. In other words, if the relative value of these pictorial representations has not been sufficiently explained to them, the day they realize that angels do not have bodies, even with wings, they may conclude that angels do not exist. It is always best to refer to the Word of God and the trust created through it.
Christine Ponsard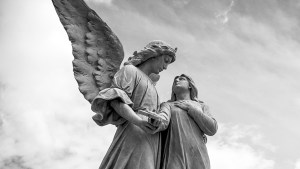 Read more:
How to let angels be more involved in your life