Reconciling work and kids can feel like you're walking a tightrope.
What can God do in your life with one Bible verse a day?
Subscribe to Aleteia's new service and bring Scripture into your morning:
Just one verse each day.
Click to bring God's word to your inbox
For many, reconciling work and children is like walking a tightrope. The demands of a job, keeping social ties, the need to recharge their own batteries, and others commitments draw on adults' time and the ones who pay the biggest price are the children. How can we remedy this? Etty Buzyn, French psychologist and psychoanalyst, offers some thoughts from her experience working with families.
Have you ever noticed that parents do not spend enough time at home?
I advise against this, based on the various complaints I hear from children. In one family the mother came back from Brussels on a Sunday evening and on Thursday morning left for Sydney. Her 10-year-old son described how he is constantly confronted with his mother's suitcase in the hallway. His father, as well, is very busy with work, so this child always says he is sick and feels abandoned.
What is the impact on children?
The consequences can be severe. Some develop symptoms, like this little boy, and end up losing confidence in their environment and in adults in general. As adults themselves, will they reproduce this type of abandonment or, conversely, will they become hyper-protective parents?
As far as toddlers are concerned, it can be even more damaging because a baby or toddler, confronted with an absence he can't understand, will be more traumatized by it than an older child who can process it better. If the parents' absence is too long, the toddler may take this as a disappearance, because, until the age of two or three, a child has limited control over their sense of time. Memory capacity gradually increases from the age of three on, when children begin to better master the concept of time.
For those children who are suffering from the absence of a parent, you can tell them: "Close your eyes and imagine their face in your mind; do you see it? Tell yourself that Dad/Mom sees your face too, and they see your face in their head, just like you do." This process makes it possible for the child to make their parent present, and has the advantage of calming them down.
How can parents make up for their absence even further?
When I worked in the neonatal unit, I suggested to parents who were anxious at the idea of leaving their baby to entrust him or her with a personal object. Both the child and parents felt better with this symbolic link. I still advise it today.
Fathers are often more absent than before, because couples separate more frequently these days and it is important that they entrust the child with an object (a photo, a scarf, etc.), which is a link, like an extension of themselves. The child, who is in the stage of magical thinking, feels confident that the father will come back to retrieve what belongs to him. It is also possible to leave little notes, send text or voice messages—very practical for children around 7-8 years old.
Telephone calls are to be avoided with toddlers because they don't understand where the voice is coming from and this can be upsetting to them. On the other hand, the telephone can be beneficial for older children, as long as the parent doesn't call at night, and risk making them miss them even more and end up disturbing their sleep.
You say that we force our children to be "reasonable," demanding that they understand that their parents have to be away.
Yes, and they're being asked to do that earlier and earlier. Because, while it is true that every child is worthy of respect, a child is far from being a grown-up. We think that by explaining things to them clearly that everything is resolved. This is a mistake. While it is good to verbalize the situation, one should not say too much and fall into explanations that do not concern the child. This will only make them more anxious.
Isn't it actually up to the parents to understand their child's emotional needs?
When parents have important professional responsibilities, it becomes very difficult for them to give them up, in spite of the fact that the children are unhappy. So before starting a family, it might be a good idea to ask yourself how much time you will have to be with your children.
I recently had a woman — a mother of three, who had a prestigious job — come in for a consultation. Her children were always running away and the youngest was doing quite poorly. They had tons of activities, but never an afternoon with their mother or father. The current tendency to keep children busy at all costs is a way of avoiding the problem.
The common solution is to have someone else look after the child. However, it must be a very trustworthy person, because I see some toddlers with nannies who don't take very good care of them: in the park for example, the children are strapped in their strollers while the nannies chat with each other. In my book, La Nounou, nos enfants et nous [The Nanny, our children and us], I suggest that we tell the nanny, so as not to catch her off guard, that we will stop by now and then, before the scheduled time, to see how things are going. It is essential to be very vigilant about what these little ones are going through, because they can't say anything about it themselves.
What is the limit for how much time we give to work?
Ideally, at least one of the parents should be present with a toddler, to compensate for the other's absence. In order to build self confidence, children need to draw "basic security" from their environment. If they don't find it, the resultant symptoms multiply, especially when it comes to sleep.
Sharing time with your child should be a priority. I involve fathers more and more, and make them face up to their responsibilities. Educating means accepting family constraints and, if you have the choice financially and you want to have a full-time job, it's better to wait until your children are much older. It would be good for parents to realize that a child's psycho-affective balance depends largely on their presence and the time they devote to their family.
Florence Brière Loth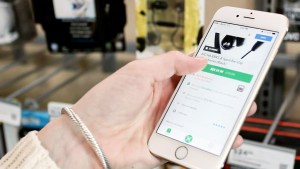 Read more:
3 Sanity-saving apps for working moms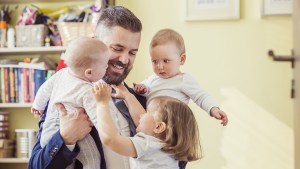 Read more:
5 Ways to avoid working parent FOMO (fear of missing out)