What priority should we give to each of our commitments?
What can God do in your life with one Bible verse a day?
Subscribe to Aleteia's new service and bring Scripture into your morning:
Just one verse each day.
Click to bring God's word to your inbox
What mom has never felt guilty for not spending enough time with her children or her husband? For not being available to help out at school or go see a sick friend? For not impeccably managing her home or job … the list could go on forever! How should you set your priorities?
Listen to God for guidance
"When I'm at the office," sighs Sophie, a mother of three, "I feel bad for not being with my children; and when I'm with them I think of all the things I haven't done at the office." Dorothy, who has five children between the ages of 5 and 12, regrets that motherhood is taking over her life at the expense of her partner: "We hardly have any time alone anymore. When my husband comes home in the afternoon, I'm so tired that there's only one thing I want — sleep!"
It is clear that no woman can be available 24 hours a day, 7 days a week. Besides, the Lord doesn't ask that. He never demands impossible things from us. When we have the impression that we have to do a thousand tasks at once, it's because we add them: in addition to God's will, we tend to carry out our own projects. We want to do too much, while the Lord asks only what we can peacefully accomplish every day. In order to figure it all out, we should pay attention to God, listen to Him: He speaks to us in the silence of (daily) prayer, in His Word (to be enjoyed without limit) and through our brethren (in particular our spouse and our possible spiritual father).
Married love comes first
The moments we spend with our spouse are not time stolen from our children — quite the contrary, as they are the first to benefit. They are the ones who most need parents who love each other. However, love does not come all at once, on the wedding day, like receiving the keys to a beautiful new home. We get married to love each other: it's only just the beginning! Building love, day after day, requires time and availability. For starters, it is essential that simple rules clearly define the space of the parents in the house. They have the right to have dinner alone without being interrupted every five minutes, for example.
We should find a way to relax, and enjoy some time together. It is not always easy, but it is possible in most cases. But you have to really want it: how many people dream of a weekend with their spouse yet find a thousand excuses not to put the idea into action? There's not enough money, the grandparents live too far away to babysit, etc.? You don't have to go far away to enjoy time alone: even staying at home you can enjoy the pleasure of uninterrupted conversation, going to Mass at a nearby church, having a picnic in the woods or dining by candlelight. In short: make a change in the daily routine.
To give of yourself, there must be something there to give
Driven by generosity, many moms forget to take time for themselves. It's time to silence this demon. It doesn't mean being selfish; it means treating ourselves with fundamental charity, which requires that we recharge our batteries.
Every woman is responsible for seeing to what she needs: prayer, of course, and a minimum of silence and alone time. But also leisure that renews us — reading, drawing, karate, swimming, visits to museums, walks in the countryside, whatever it may be. These times of reuniting with ourselves allow us to then be better wives and mothers. Let's not forget St. Bernard's advice: "We only give what we can give: if you want to be a channel, you must first be a reservoir."
Christine Ponsard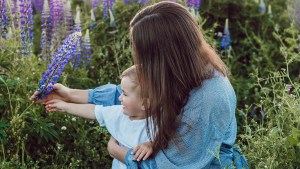 Read more:
This monastic approach can transform your motherhood