Some practical advice for reducing a young child's anxiety and fear. 
What can God do in your life with one Bible verse a day?
Subscribe to Aleteia's new service and bring Scripture into your morning:
Just one verse each day.
Click to bring God's word to your inbox
Leaving the safety of parents, especially the mother, is a necessary but difficult step for children. Psychologist Bernadette Lemoine, author of Maman, ne me quitte pas! [Mom, don't leave me!] and L'Apprentissage des séparations [Learning how to deal with separation] provides parents with real solutions for a smoother separation for their children.
You state that separation anxiety is at the root of most psychological problems experienced by children and adolescents.
Nine times out of 10, the root cause of their psychological difficulties is separation anxiety. This is an anxiety disorder, which psychologists call "SAD" [Separation Anxiety Disorder], and is mainly observed during childhood and sometimes adolescence.
We are made to be together in communion, and children grow through loving relationships. Sometimes they may experience early separation as trauma, abandonment, or loss of love. Anxiety is then born, similar to the fear of death, more so the earlier it occurs in the child's life or if the separation lasts a long time. This anxiety may reappear with each new separation, even if it is minor, and provoke different types of disorders. Understanding the underlying mechanisms at work is like having a key to re-open the doors of life that have been closed in your child.
What separations, specifically, can block a child's growth?
If the birth process prevents the mother from welcoming her child (for example, after a c-section under general anesthesia) or if the child is separated from the mother because he or she is in an incubator or in the intensive care unit, they may feel abandoned. However, the child cannot yet rationally understand that the separation is only temporary, that it is not life-threatening, and that it is not a sign of maternal non-love. So we run the risk that in future episodes when the child is separated and then reunited with the mother, he or she will again manifest anxiety. The child will cling to her in any way, physically or psychologically. Unless, on the contrary, the child now refuses to cling to her at all for fear of having to suffer again in the event of a new separation. It is as if he reacts to betrayal, and can no longer enter into trust, into attachment. He isolates himself and becomes independent, that is, non-dependent.
Another decisive step is weaning. For the child it is a loss, a separation. If it takes place in bad conditions, the child risks experiencing it as rejection. There can be many other, seemingly commonplace, causes of separation anxiety: the mother's overwhelming tasks, the illness of another child or of the mother, changes in the house, hospitalization, sudden or frequent change of nanny, bereavement, an insufficiently involved father, the arrival of a little brother or sister, the parents' absence, the child starting daycare, school, etc.
There is also the feelings of the mother. She may be hurt by her child's necessary and normal detachment. She may react by overprotecting the child, by treating him or her like a baby. A child will inevitably will react against this "imprisonment," which seriously disrupts the relationship and fails to prepare the child for future separations.
Every time one of these situations occurs, will the child feel hurt and then suffer fromanxiety?
No, of course not! It depends on their temperament, on how sensitive they are; on the first fragility in utero; on how the surroundings frame the event; on the degree of uncertainty; on personal freedom, etc. Sometimes one cause is enough; sometimes several are needed. Nothing is automatic or mathematically predictable! In any case, don't worry; everything is likely to evolve favorably as long as you know how to listen to your child and recognize the signs of SAD. It will then be a question of speaking honestly, through the heart, by feeling the pain that made him or her doubt love, doubt life.
Living, then, means learning how to separate?
Definitely. A person's capacity for autonomy, maturity and balance depends largely on their experience of separation and how they internalized detachment. This is an essential but delicate part of education. Throughout life, opportunities to experience separation multiply. Whether it is related to the growing phases or to unplanned circumstances, the ordeal of separation is always like a small death … until we reach the ultimate separation that is death. As long as this happens in a positive environment, the child will overcome their suffering quite easily, and even become more autonomous: they grow up, they are happy to live. However, in a long line of positive separations, it only takes one negative experience for the child to be at risk of remaining in pain or finding him or herself blocked from growing up. Any situation the child feels is similar to this traumatic separation will trigger and reinforce this blockage and the reactions linked to the initial suffering.
How is this anxiety manifested?
In sleep or food disorders, personality, refusing to go to school, deep sadness, school failure associated to paralyzing anxiety, psychosomatic pain, compensation through food, drinking, drugs, relationship difficulties, etc.
It seems that every child eventually manifests at least one of these symptoms! When should we worry?
When the child is suffering, and when they make those around them suffer. We typically see two types of reactions in children: those who are in opposition, rupture, who show a "tendency to rebel" and want to do everything alone, who engage in risky behaviors. They are suspicious of love and do not want to owe anything to anyone. Some constantly "test" their parents' love by seeking to oppose it, and put the parents in impossible situations with their constantly provocative and unacceptable attitudes.
On the other hand, others, not wanting to take the risk of suffering a new separation, refuse all autonomy and demand exclusive attention and love. They take refuge in dependency. There are also those who detach themselves from life and give up on themselves, becoming passive: "I'm not loved, life doesn't interest me, I'll just go along with whatever."
If separation is necessary for growing up, why does anxiety seem inevitable?
Separation anxiety is linked to the wound of abandonment. This inner wound is a lack in relation to the infinite desire to be loved that dwells in everyone. It is at the root of all our wounds, and it is inevitable as an immediate consequence of this separation from God that is Original Sin. Indeed, from the very womb we are wounded, since we are separated from the love of God for which we are made; and so we become vulnerable to any lack of love andanything resembling it, notably separations. Created in the image of God, we aspire to perfect love, but we are deprived of it because no one—not even our parents—is perfect. These inevitable absences of love, added to the original wound, lead to suffering, anguish and doubts about love.
Before Original Sin, separation did not involve any suffering. It even allowed Creation: we see in Genesis that God, in order to create, begins by separating light from darkness, water from earth, woman from man by taking a rib from Adam. And "God saw that it was good"! But after the sin, it was spoiled. And education is the art of learning to accept the separation and the resulting frustration since, in the end, one will have to separate from everything and everyone to achieve total communion with God. Preventing our children from suffering any wound of separation means that we are not educating them.
So we cannot avoid hurting our children?
Correct. I insist on this point: perfect parents do not exist. But of course they will try their best to love, because it is love that heals wounds. It is important for the child to understand that his or her parents are not God, that they are not perfect, but that with the love they receive from them, even if there isn't much, they can grow up and live happily. The cult-like obsession of raising a child perfectly can be disastrous. Parents want the way they raise their children to be "successful," but it takes time, and that time is not ours. Our job is not to "succeed" but to love as best we can. And the Lord does the rest.
Can the wounds of birth, or those caused in utero, be healed?
They can be greatly minimized to the extent that the mother, as soon as she feels better, or the father, or another deeply loving person, responds to the child with his heart and consoles him. Even in the mother's womb, the child has an awareness beyond words—an innate ability—to feel that he or she is loved. The impact of the injury can then be mitigated.
What if later reactions reveal a wound that does not heal?
There will still be a way to relieve the child of the weight of anxiety, sometimes with the help of a third person, like a therapist for example, and on the condition that these explanations are given with love and compassion. It is never too late. But the sooner we intervene, the better.
Is it necessary to go so far as to provoke opportunities for separation?
Yes, but only if you prepare for them, regardless of the child's age. We must always forewarn them, tell them, for example, that we are going to go away but that we will be back, and thatthey have the right to be sad, but even so, life doesn't stop. Appeal to their thirst to grow up to allow them to accept this temporary separation. This can begin around 8-9 months of age, at the sensitive age when anxiety appears, when we gradually begin to learn about separation with daycare, nursery school etc.
And then?
From 2 or 3 to 7 years of age, separations will multiply, diversify and lengthen. If the first separations before the age of 2 have gone well, the risks of anxiety diminish; however, there must be no traumatic events (mourning, divorce) or handling it badly. The father has an important role in this, too.
In general terms, what is the best way to get through separation, the "little death"?
We have a choice. Either we refuse to go through the ordeal, turning in on ourselves, destroying ourselves and others, directly or indirectly — and we choose a path of death. Or we accept having to go through the anguish and suffering, remaining faithful to love — and we move forward on the path of life. We have to gradually move from the painful feeling of abandonment to abandoning ourselves to the hands of Love. This is the hard path followed by Christ who, on the Cross, went from agonizing abandonment ("My God, my God, why have you abandoned me?") to surrendering to trust ("Father, into your hands I commend my spirit"). This is the way of the Resurrection.
If Love is our companion in suffering ("By His wounds we are healed," Isaiah says), we can cross the valley of death and the separations: this path that would seemingly have destroyed us instead makes us grow and become more alive. Our wounds, the place of our fragility, will become an opportunity to love better. It is up to us to ensure that "our separations are tears filled with love."
Agnès Flepp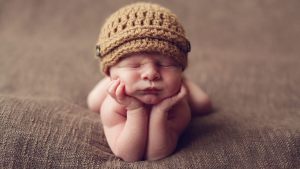 Read more:
9 Names for autumn babies that are rich in spiritual and seasonal meaning