Be aware of what may be preventing you from making a marriage commitment.
What can God do in your life with one Bible verse a day?
Subscribe to Aleteia's new service and bring Scripture into your morning:
Just one verse each day.
Click to bring God's word to your inbox
Single men and women face painful questions while they wait to find the right person with whom to share their lives in marriage. French priest Fr. Geoffroy-Marie and marriage counselor Élisabeth Content look at five major concerns that keep singles from committing.
1. "I still haven't found that person I resonate with." Audrey, 30
Father Geoffroy-Marie: The love impulse is a very beautiful thing. However, it does not create love. At the risk of sounding rather provocative, I would say that you don't get married because you love. To build the edifice that is a couple and a family, you must have more in common than the feeling of love, which is only the foundation. It is very important to allow sufficient time to verify that there are enough things in common between you to commit together.
Elisabeth Content: Experiencing that passion helps to get involved in the somewhat crazy adventure that is the relationship. But you also have to be careful not to look only for emotional density, because there is no barometer that tells you when you are in love or not. Some people feel very intense emotions, others less so. So it depends on each one to determine: Do I feel like being with him/her? Am I physically and morally attracted to him/her?
2. "Loving in marriage scares me." Allen, 28
Fr. G.-M.: Nobody knows how to love, except Christ. No couple can say they know how to love. On the other hand, the couple, in the end, will be able to look back on their life and say: "We tried to love each other every day." As there is no happiness without love, Satan aims to destroy love. We must accept the spiritual combat that this entails. The other enemy of love is lack of self-confidence. Because, in order to love, one has to pass from the temptation of fusion to the communion of people.
É. C.: It is possible to have been wounded in the capacity to love and be loved. If this is the case, it is necessary to become aware of this. We learn to love others by knowing them. On the day of the wedding, love is only a tiny plant that must be continually watered. To love is to perform acts that tell the other that I love him or her. At first it is easy, but then we come up against our limits. Fortunately, carrying out acts of love is good for the other person, but also for ourself. It feeds the feeling of love. It's a virtuous cycle!
3. "Women don't need us anymore." Samuel, 36; "Men don't know how to make up their minds." Laura, 29
Fr. G.-M.: It is difficult for contemporary men and women to no longer know how to relate to one another. At the same time, it is an incredible opportunity, because never have men and women been so able to enjoy a real relationship of communion. To get out of this relational difficulty, there is only one way: by daring to speak, expressing your fears, and talking through the misunderstandings.
É. C.: Many spouses feel responsible for each other's happiness. This is a false image of love, because the happiness of the other doesn't depend on you, but on the relationship you both are going to live together. If I go through a period of unemployment or illness, the truth is that it will have an impact on the other. However, do I have to feel guilty about it? These are the vicissitudes of life. Every relationship faces them.
4. "I cannot forget a great love." Ethan, 40
Fr. G.-M.: Disappointments in love are among the greatest sufferings of life. For many men, the difficulty is that he feels humiliated; his intelligence is confused and he does not understand. The great temptation then is to react with pride. However, you need to do just the opposite: accept the situation humbly and open yourself up again to love. For a woman, this is a kind of wound. She may no longer feel worthy of being loved. However, the worst thing would be to fall into despair.
É. C: Breaking-up brings on a phase of mourning. We often cling to the idea of wanting to understand. But we cannot understand everything, because we are not dealing with the rational, but rather the emotional. And then there's what concerns me and what concerns the other. We need time to experience this suffering, to go through it. When we can finally think of the person without bitterness, resentment or violence toward them, when our thoughts are no longer invaded by memories, it is the sign that we can add "the end" to that story.
5. "There is no place for mistakes, because marriage is sacred." Olivia, 32
Fr. G.-M.: Marriage is not a game of Russian roulette! There is a moment of discovery, of friendship, then courtship… And then, once the leap is made, the couple is not alone. For Christians, God is there. The only security in marriage is to make the decision every day to lean on each other, to need each other. A couple is two people who choose to enter into a dependency of love.
É. C.: To say that is very distressing! That would imply that it would be necessary for everything to be perfect in the couple, which is impossible. Some things will always be difficult throughout one's life. This is part of life as a couple. You learn to live with these difficulties, to take steps to solve them. For example, there may be issues that we don't talk about because it's too complicated between us. And if we can't solve them, we will make sure that they don't invade the whole territory.
Emmanuel Pellat and Guilhem Dargnies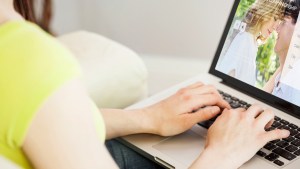 Read more:
5 Tips for using online dating to find a Catholic spouse