These tips will help your little ones enjoy delving into books in no time.
What can God do in your life with one Bible verse a day?
Subscribe to Aleteia's new service and bring Scripture into your morning:
Just one verse each day.
Click to bring God's word to your inbox
While all young children love books, things get more complicated when it comes to learning to read. It all boils down to this stage. Moreover, our children no longer know which book to choose: children's literature has diversified enormously in recent years. Between the ones who devour books and those who are book-allergic, it is up to us, as parents, to be informed guides. Reading is much more than a hobby, it is one of the best schools for life!
If you read when you're little, you'll read when you're big
Remember: The cover of that tale that you loved so much as a child, the crackling of your favorite book when you opened it … What adult does not have memories of what they read as a child? A book is much more than an object made of paper. "It's a collection of ideas, emotions, feelings, something that can turn our life upside down and help us grow," says Hélène Montardre, a researcher specializing in children's literature and author of Mais que lisent-ils ? [But what are they reading?] Those "Doctor Seuss" or"Harry Potter"s that cradled our young years are rich with powerful emotional charge. What could be more natural than, when the time comes, offering this world that has left such an impression on us to our children? Books are an extraordinary passport to escape that every parent wants to give their child.
It is no easy task, at a time when our time for the library has been dangerously hijacked by television, video games, and other attention grabbers. At a time when the screen has triumphed, it is not easy to convince our young ones to sit down with a book. "I have a heck of a time trying to get my son out of his favorite shows," complains Isabelle, who admits: "It's so much more tempting to push the button than to grab a novel." It is hard to get past how seductively easy it is! However, we shouldn't necessarily demonize new technologies. They have an unquestionable educational role, and are part of our young people's daily lives. Media and reading complement each other, yet books have an irreplaceable value: they allow for reflection,develop creativity, and promote initiative.
Anyone who has experienced the joys of being read to as a child is more likely to be passionate about books. This is  a wonderful way to awaken little ones. "I advise parents to show their children books as early as possible, as early as 8 or 9 months," she advises. It's so important to introduce children to the fun of books before they learn to read. By handling the object, by touching it, by making it their own, the toddler experiences emotions and is imbued with new sensations. The child is a sponge that absorbs everything the adult gives them.
Sharing some unforgettable moments
But the interest in the book-object does not stop there. Looking at an album is an opportunity for any child to enjoy a tender and complicit time out with the adult. "Think of the little child sitting on his mother's lap to hear the story she is going to tell him: in her reassuring arms, he will enter into the mystery of reading," explains Marie-Brigitte Lemaire, an educational psychologist whose teaching method "Jean Qui Rit" has worked wonders for years with apprentice readers. "The role of parents is essential for awakening the child's interest in reading: the child will become imbued with the words read by their mother and discover the meaning of beauty through her eyes," Lemaire says. "The colors of the pictures, the message of the story, and the way it is read, will all open the child up to beauty."
It is up to us, the parents, to take to heart the literary awakening of our offspring. To each one his own method and rhythm; the key is believing in it and devoting time to it. "Look at Marlaguette, she has tamed the wolf and is walking with him in the forest!" Your child follows the image you reveal with their eyes and their ears. There is no doubt: these mysterious signs are directly related to the words that come out of your mouth. What's more, the moment of reading isolates the two of you in a bubble where he or she feels good. "In your child's memory, these moments of complicity will be forever associated with tenderness," promises Hélène Montardre.
Create a kind of ritual for story time, often reserved for the evening. "The children brush their teeth, we say the family prayer, and then everyone settles down around the book," says Anne, whose happy trio has time to calm down before falling asleep. At Sophie and Xavier's, there's no missing the ritual: Antoinette is 3 years old and lives for the characters she meets every night with the same pleasure. There is also no question of changing even one word in the story — our little audience stays awake and dutifully calls the distracted or hurried parent to order: "You forgot a word, Mommy!" They hear and memorize every word, making it their own. Approaching written language gives them a glimpse of the immense possibilities it offers. "The child instinctively feels that this second language is more elaborate than the first," explains Hélène Montardre. Seduced by the magic of storytelling, they will get caught up in the game and assimilate even the most garbled syntax without a blink.
What child is not moved by the music of words? It may not even matter what the meaning is, but your little one can be enchanted by phrases that follow one another like a melody: "Once upon a time there was a king who ruled over a green and prosperous country …" Like nursery rhymes and oral stories, books contribute to the exciting discovery of language. "Big A, little a, what begins with A? Aunt Annie's alligator, A A A," recites 2-year-old Louise rhythmically, visibly charmed by the sound.
Being familiar with the written word and having been lulled to sleep by the many stories, a child will grow up enriched by this true heritage. The characters and landscapes they know by heart become their own, and it is they themselves who live the adventures of their heroes. Whether they're terrifying ogres or beautiful princesses, good guy or bad guys, evil step-mother or fairy godmother, the characters they meet allow children to see themselves there, resolve their conflicts and fears: books have undeniable psychological value. How deliciously scary to follow Little Red Riding Hood in the big woods, at the mercy of the wolf. This is one of those tales that makes children grow up: the multitude of characters and animals teach the child about him or herself, their feelings and emotions, but also about the great events of existence. They help them master reality and envisage the future… In sum, to become great!
"Tales begin where the child is at in his psychological and emotional being," Bruno Bettelheim explains in his book The Uses of Enchantment: The Meaning and Importance of Fairy Tales. Whether he feels like the Ugly Duckling of the brood or vulnerable like little Tom Thumb, the child will learn that nothing is inevitable and that everything can be resolved if one takes the trouble. The characters encountered in all these tales symbolize feelings or situations the child knows: fear, death, courage or abandonment, and the formidable adventures of the heroes teach them much about themselves! Let's not forget that a tale always ends well: a perfect way to learn about self-confidence!
Are they learning to read? Keep reading them stories
Finally the child starts school and it is time to decode those letters that have become so familiar. Marguerite, a kindergarten teacher, gradually initiates the little ones in deciphering letters throughout the year. And the young class enjoys the game: "We learn to recognize everyday words from posters, cereal packets or cafeteria menus—the children love it!" It's up to the parents to take over from the teacher at home: "Reading should be a joy and a pleasure for the child," says Marie-Brigitte Lemaire, who is passionate about it. Let's offer them attractive books so that reading is not a boring chore.
How can we do this? "Above all, continue to read stories to your children, even if they already know how read," insists Hélène Montardre. It's very tempting to leave our "big" primary schooler struggling with a good book, with the excuse that: "You're not a baby anymore, read by yourself!" How many children then quit, discovering, at this delicate stage, that the book is no longer pleasure shared with the adult but an object of learning?
"The year she was in first grade," recalls Marie, "my daughter often asked me to read her a story in the evenings. In the beginning, it annoyed me, I thought it was just a whim. But then I understood that Alice was afraid to go it alone and that she needed me. Today, she is 12 years old, and I still sometimes read a novel with her … for fun!" The initial period will take a few months for our apprentice reader: think about how to support them, give them a break if necessary, to keep them from getting discouraged. Anne found a solution with her first-grade daughter: "It has become a game between us: Allie reads one page and I read the next."
Choosing a book as a family and reading it for all is another effective way to stimulate a timid little reader. The book thus becomes linked to moments of togetherness and joyful laughter. Clearly any and all means are good, as long as the child feels that we are there and does not feel like they are taking a leap with no safety net!
Snooping around the bookshelves together …
Stories of adventures, detectives, animals or traditional tales … the apprentice reader needs the adult to guide them into the jungle. Think about how you will guide their choices and awaken their critical sense. Beware of books that may do more harm than good.
Exchanging ideas on something you have both read is a great opportunity for dialogue and sharing; snooping around a bookstore together can turn into a moment of celebration. Corinne regularly takes Blanche to choose a novel: "She's only 9 years old, yet she finds it difficult to switch to books of her own age," the young woman laughs and observes: "This little gift stimulates her, it gives her so much pleasure to open a new book!"
Less expensive and just as educational, the library is an incomparable place to create memories: "Our greatest readers are … the little ones!" Jacqueline Goachet-Marc notes with humor, who is responsible for new initiatives for attracting this young audience. The youth area is a resounding success: "Parents search for books with their children, they find, compare and choose the books together. Reading is often a family affair. After these guided expeditions to the land of books, you can bet that your apprentices will quickly become avid readers, with the conviction that reading sets us free!
Pascale Albier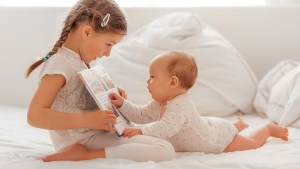 Read more:
6 Books for a child with a new baby in the family