What can you do to grow together spiritually in your marriage?
What can God do in your life with one Bible verse a day?
Subscribe to Aleteia's new service and bring Scripture into your morning:
Just one verse each day.
Click to bring God's word to your inbox
Every true prayer introduces us into the communion of saints, into the communion of the heart of the Trinity. This communion can be visibly translated into the life of the family, for example, when all its members go to Sunday Mass together, or it may be invisible, when each one prays in his or her bedroom. So you pray "as a couple" from the moment you actually pray, even if it's not at the same time or in the same place.
"Love is a great thing, as long as it draws on its origin"
It is in the nature of prayer to be solitary: a dialogue is for two, not three. Jesus also tells us: "When you pray, go into your room, close the door and pray to your Father in private" ( Matthew 6:6). Marriage, however holy it may be, does not escape this rule, to the extent that the only reason St. Paul allows the suspension of married life is precisely "to devote oneself to prayer" (1 Corinthians 7:5). And this sets aside for each one a secret garden which only God can penetrate.
Guillaume de Saint-Thierry, in his Letter to the Brothers of Mont-Dieu writes "The spiritual man should not to brag about his spiritual wealth, but keep it hidden in his cell as well as in his conscience, with both cell door and conscience inscribed with:'My secret is mine, my secret is mine'" … Did the monk who wrote this look down on sharing in marriage? Not at all, but he does indicate its place in us by inviting us to connect the love of our brethren — and especially marital love — to the source of all love, that is, from the heart of the Father: Love is a great reality, and if it remits to its beginning, to its origin, seeking the source, it will always draw afresh from it, and thereby flow freely" (Saint Bernard, Sermon 83, on Song of Songs).
Husbands and wives pray as a couple even if each one prays in their own corner
Therefore, for the spouses to live their marriage "in communion" and not merely "together" it is necessary that Christ gives them to each other and, for this, "he must detach himself and untie the souls of the spouses, the souls of the bride and groom. Otherwise, there is no love possible, only a selfishness sought through the other. At the end point of love is the love of God, a total and reciprocal gift of one to the other; whereby God is the Other, the other that in the end will reveal, through love, the being of our being" (Yves Raguin, Paths to Contemplation).
It is clear: there is no shorter path between spouses than through Christ himself. And what husbands and wives can do to help each other on this road is, first, to facilitate the other's ability to find a time and place for their heart-to-heart with Christ. That is where they will receive each other from the One who is "the being of our being," that is where they will receive each other at the root of who they are. Perhaps you will live these moments together, as in some monasteries where prayer is lived in community rather than in the cell, but, in any case, it is in the silence and the invisible communion of the saints that you will live the grace of being united by God in marriage.
Father Max Huot de Longchamp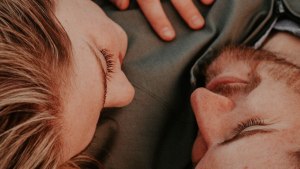 Read more:
Marriage, sex, and prayer: what the Scriptures say