Here are some tips to help consider when to correct and when to support.
What can God do in your life with one Bible verse a day?
Subscribe to Aleteia's new service and bring Scripture into your morning:
Just one verse each day.
Click to bring God's word to your inbox
It doesn't take long before a verdict on the new teacher is handed down: "My teacher stinks!" How much attention should we, as parents, give to these rash, often simplistic, and sometimes cruel judgments?
Do not be too quick to judge your child; they may be right
Supporting your child means always listening, showing interest, letting them express their thoughts fully and only then, if necessary, making them think about what they have said. The mere fact of having been heard is sometimes sufficient to make them realize what they have just said, and dissipates the emotion. On the other hand, if you cut them off, the frustration ("It's always like that, they never listen to me!") only increases their anger and reinforces their attitude.
After having listened to your child, you should question him or her because they may certainly be right and you may not know the teacher in question very well. If their explanation is well-founded, it should be discussed with the teacher. But if you realize that their opinion is unfair, you should suggest they step back from what they have heard from, for example, their friends, because it is difficult for them to disregard other people's opinions.
Set a good example
The same thing happens with friendships. It takes time to discover the richness of each person—teachers as well as classmates. Our children need to understand how destructive judgments are, and how they restrict not just the person being judged, but also the person judging, since it does not allow you to see that person in another way. Such words against a teacher hinder any desire to learn. A positive outlook, a welcoming attitude towards others, is essential for academic success and personal development.
Likewise, we as parents need to be careful of what we say. Once we have chosen a school, we must support the work of the teachers, accept their demands, understand their way of acting. Our criticisms have the effect of pulling the rug out from under our children, taking away their motivation to work hard. "Why should I work on my French, since the teacher is bad? Even my parents say so!" It's not a question of blindly trusting the teacher, but of exercising prudent and open-minded judgment in the interest of true parent-teacher cooperation. Our child will be the one who most benefits!
Inès de Franclieu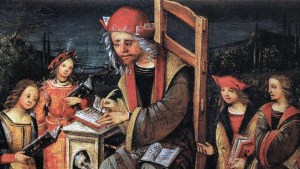 Read more:
Saint-teachers to help us with this crazy difficult return to some sort of school