Some tips for ensuring your early days as newlyweds are only the beginning to a meaningful life together.
After the excitement of preparing for the wedding, the euphoria of the big day, and the joy of the honeymoon, the daily routine settles in. Yet sometimes, not everything is as simple as you might expect. Father Alexis Leproux is experienced in supporting engaged couples and newlyweds and shares with us how "marriage blues," annoyances, and learning to open up to life must be met with passion and frankness from the very beginning of marriage.
After the wedding day, some couples experience what is called the "marriage blues." How do you deal with this if it occurs? 
This feeling exists, indeed, and it is natural. When you are in the phase of preparing for marriage, you are in a special kind of energy. Once the event is over, it is necessary to transition into a new dynamic. Some trees take longer to bud than others, but this does not mean they are dead. It is simply that the seasonality of our soul is different from that of our head. In addition, there is always a gap between our imagination and reality. This gap can be pleasantly surprising, but it can also be disappointing. However, being disappointed does not mean that we have made the wrong decision.
The first year of marriage is the year for discovering the joys of life together, but also the little annoyances. How can you keep them from becoming toxic?
The annoyances we experience when living with someone provide us with an opportunity to stand back and make a serious evaluation of our self-centeredness. From the noise of a mosquito to a crying child to the irritating behavior of a spouse, these annoyances are actually an invitation to recognize that we do not live in a bubble of "my own little self." To internalize means practicing what we might call a form of resilience; it allows us to soften our soul, to train our intelligence and our will to handle reality. One thing is certain: the more we get used to overcoming the little annoyances, the better we will be able to overcome the big challenges.
Should we ever try to correct our spouse's behavior?
First of all, be careful not to confuse the small everyday worries with unacceptable behavior. Secondly, not all annoying habits are inevitable. Using pedagogy laced with humor, you can try to improve some things. But in certain situations, in-laws for example, you may be irritated by attitudes that will probably not change. There are two possible outcomes. You can become obsessed with what is annoying you and end up being annoyed by it all the time. Or you can turn it into an opportunityto take yourself out of the focus of annoyance, and be happy about being able to do so.
Is learning to communicate well the secret to a successful marriage?
Listening and speaking are indeed the foundation of spousal communion. And this is something that needs to be worked on. In the first year of their marriage, a couple that throws themselves into their jobs, spends their time seeing friends or keeps the relationship on the surface, loses strength and puts themselves in danger. The early stages of living together are essential for establishing the habit of giving oneself to the other and of communication. A small pebble in the shoe can make a hike painful, if not impossible. If one spouse does not take the time to communicate with the other to explain what is bothering him or her, that little pebble can do great damage. Just imagine what will happen when the big stones come along …
Entering into life with another person is an exercise in listening that again requires real effort. Each spouse must be able to say to each other: "I feel heard." From high quality listening, and speaking — which strengthens the heart to heart connection — also flows the quality of the communion of bodies.
What do you mean?
Heart to heart is the foundation, it builds intimacy, trust and joy. The gestures of the body translate the heart to heart. They are the bodily sign of what has been worked on in the heart. A carnal union of the spouses that does not translate the intimacy of the two hearts would betray the truly personal dimension of sexuality. There is no great future for sexual intimacy that is not rooted in a personal gift of self.
So a sexual relationship that is not going well would indicate an underlying problem?
Not necessarily. Giving oneself to the other without total love is obviously a serious problem. But a beautiful sexual intimacy involves a learning path that can take time. Once again, it is normal for there to be a gap between your imagination and reality. On the other hand, the important thing is for spouses to be able to talk about it freely with one another.
In everyday life, are there any red flags that might alert newlyweds to a problem?
Fatigue. Spouses must seek a balance between the healthy fatigue of work and the rest necessary for their communion — which supposes having energy. It is therefore good to remove anything that exhausts us and which is not of essential interest.
Also, I think it's dangerous for career to take over. Nobody even knows if they will still be alive in two years. The idea that you don't see much of your wife or children to earn more money makes me think of the rich man who hoarded all his wheat in storage and ends up being told, "Tonight you will die …"
Like the pope, do you also recommend that we shouldn't go to bed without forgiving each other?
Think of it like this. No one leaves an open trash can in their kitchen where fruit flies will multiply. Because everyone knows that it will be very difficult to get rid of them afterwards. It's the same with our souls. As a couple, there are a thousand little communications that don't translate well; those moments when we have talked too much or not enough, when we sulk, when we get angry. Like taking out a rancid bag of garbage, we must get into the habit of getting rid of everything that is not healthy. If everyone keeps it all locked up in their own private world, swept under the rug, I can assure you that on a windy day, all the stench will spread and the air will be unbreathable.
How should we think about children during the first year of marriage?
This is a crucial point. In many young households, I hear them say: "First we'll get established in our jobs, then we'll see about children," as if the appearance of a new life was in opposition to the growth of the couple. We must be careful not to move forward by excluding one of the two fundamental assets of a couple, namely openness to life. Otherwise, the risk would be eliminating from their married life an essential dimension of generosity, freedom, and the unexpected. This notion is often a miscalculation, especially in the first year, which can lead the couple to withdraw into themselves. I also pray for those who, during this first year of marriage and afterwards, encounter difficulties in conceiving a child.
But sometimes couples have good reasons to postpone having a child … Humanitarian reasons, for example?
If a couple gets married, it is to live the sacrament of marriage, and therefore to live the communion of the spouses, to open themselves to life. The Church never ceases to recall this inseparable link between the union of the spouses and openness to life. Going off to do humanitarian work should not prevent a couple from living this promise of total giving.
This does not mean that a couple should feel pressured into having children the day after they get married. But openness to life remains a vital point, which reflects the maturity of the couple, called to participate in God's creative work. Be careful, then, to give things their rightful priority.
How can couples who lived together before marriage experience a true beginning?
That's a good question. One of the solutions they can try is before getting married, return to a state of life corresponding to that which the Church asks them to live during the engagement. The work is therefore done mostly beforehand. The celebration of the sacrament, however, still has its own strength. It gives the spouses the Holy Spirit who unites them in the truth of their love and keeps them forever in this sacred bond with God.
Hugues Lefèvre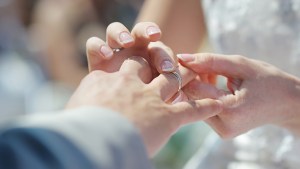 Read more:
The surprising challenge men have as newlyweds