This stage of life can be lived in a very positive way by everyone, on one key condition. 
What can God do in your life with one Bible verse a day?
Subscribe to Aleteia's new service and bring Scripture into your morning:
Just one verse each day.
Click to bring God's word to your inbox
There are those who don't believe in the concept of "teenage crisis." They consider it a modern invention of societies that produce immature adults. Father Vincent de Mello is such a skeptic: "The alleged teenage crisis is only the revelation of a world of adults who are anxious and timid. Instead of rejoicing in seeing children grow and develop, adults look at them with fearful eyes and keep them back in the world of childhood. It is inevitable that the children revolt," he says. Psychiatrist Xavier Pommereau has a different opinion: "It should be remembered that etymologically speaking 'crisis' does not have the negative meaning that we attribute to it. It means critical moment, that is to say, a decisive moment when one goes from one state to another."
What is an "adolescent crisis"?
Change includes tension, but in itself it is good. This is exactly what happens in adolescence: between the ages of 13 and 17, on average, children begin to exist as themselves rather than as extensions of their parents. In order to assert their autonomy, they distance themselves from them and want to break away from their position. Taking the opposite side of their parents inevitably gives rise to conflicts." Pommereau, however, warns about the indispensable distinction to be made between the classic adolescent crisis and the adolescent in crisis. Even if this concerns only 15% of young people, it is important for parents to differentiate between conduct that is certainly annoying but normal, and behavior that goes past a certain limit such as: running away, insults, suicidal thoughts or attempts, etc. which are clearly much more dangerous.
For Pommereau, adolescence is an obligatory and necessary passage, seen from early on in most traditional societies. The manifestations of adolescence are different according to cultures and times. This is one of the difficulties that parents have to face: their children's rebellions are different from those they may have committed "in their time." Internet and cell phones did not exist. Because of their lack of objectivity towards their children, it is also not easy for parents to discern between behaviors that are part of normal adolescence and adolescents who are doing badly. For Patricia, mother of two teenagers aged 15 and 16, the word "crisis" is exaggerated: "I would rather speak of a passing phase, of maturing. It's an extraordinary age where they can do everything and at the same time they are not yet mature enough. For example, they can give life but they cannot yet be a father or a mother."
Arielle, a mother of five children between the ages of 9 and 21, shares the same opinion: "During adolescence, a lot of things change in a child. There are the physical transformations, the most visible, the concern for what others think, but also an incredible amount of questioning." The way she detected the start of adolescence among her older children: to the most trivial request, the reply was always "Why?" While Arielle does not necessarily consider adolescence a problem, she admits that with her second daughter, it was not easy to manage.
Don't over-dramatize conflicts
If adolescence is a positive phase, why do parents experience it as a complicated period? Father Vincent de Mello has his explanation: "A child who is passing into adulthood has an immense thirst for the absolute. He quickly sees in his parents the halfway decisions they've made in their life, their inconsistencies, and he confronts them with it. Because teens are so full of life, they don't want the small world that the adults around them offer. Of course, it hurts the parents, who are confronted with their shortcomings. Patricia agrees: "Teens are ruthless, they don't let anything go by. They're always questioning me. It's exciting, but hurtful." The doors that slam, the discussions that systematically turn sour … "it's a constant struggle, and it wears you out," confirms Arielle. Both families have experienced the conflict over Sunday Mass: "You have to fight every time, which means being systematically late."
For Pommereau, one should not over-dramatize conflicts. And there are two current factors that especially contribute to making these dramas even more difficult to handle: "We live in a very individualistic society, where each person must assume their responsibilities on their own, without being able to rely on the support of others. What used to be shared with grandparents, uncles, and aunts, can no longer be shared because of geographical distance or because the family relationships are not close, and so must be dealt with alone. Parents alone now bear the entire burden of educating young people, while it is impossible for them to be objective about their own children. Secondly, the rites of passage, which still exist in traditional societies, have disappeared in our society, even though they have an important function of structuring. Today's society offers only rites of consumption: tobacco, alcohol, etc."
Look at teens in a positive way, even if they exasperate you
Father de Mello also denounces the disappearance of rites, even within the Church itself. Nevertheless, the role of the parents remains difficult: for example, where to draw the line when a child is insolent, where to set the rule for how late they can be out at night, or if we should oblige our teenagers to go to Mass. Pommereau advises first of all to "exchange" your teenagers with other families. Rely on family and friends. Young people will be more tolerant there than with their own parents. And the parents will get a more realistic picture, that is, that their children are not that bad or, perhaps, that there is a problem.
The psychiatrist also recommends looking at them positively, even if they are insufferable, to recognize their potential, without restricting the judgment to their grades at school. Because school often puts very strong pressure on young people without necessarily taking into consideration their individual abilities, it is often felt to be a form of constraint.
Arielle, like Patricia, has learned to let go: "We must safeguard the essential and let go of the accessory." For example, tolerate impertinence, but not certain vocabulary, in short, teach them to be polite. Insisting they go to Mass, but letting them choose which one theygo to. Above all, Arielle insists, "to maintain the dialogue, we must welcome their arguments, even if they try to get our goat with statements that challenge us. If teenagers provoke their parents, it is also to test the solidity and coherence of their convictions."
Adults can get through the transition of adolescence well
For parents, letting go means accepting — and this is difficult — that their children do not belong to them. For Arielle, teenagers test the strength of their parents' relationship: "I have been very critical of my husband for not supporting me with our daughters in conflicts. I later realized that he was right, but it was hard."
So what about mothers who have to face this alone because they are separated from their husbands? For Father de Mello, this is not a major problem: "It is more difficult, but it is possible. Even if the person is divorced, they can be solid and coherent. And parents are not the only educators of their children. It's important to have people around that your child can identify with. The Church can offer good examples."
Another place to help young people grow up is in groups such as the Boy Scouts, where they are gradually given more responsibility. Adolescents like to give of themselves and they become adults by making commitments that give them responsibility. Yes, the passage of adolescence can be experienced in a very positive way by the adults around them. As long as they accept that their children will learn to fly by themselves towards the future they have set for themselves … accompanied by confident adults.
Frédérique de Watrigant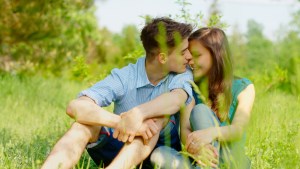 Read more:
A few tips for parents of a teenager in love