Developing a generous spirit is one of the important aspects of a Christian education.
What can God do in your life with one Bible verse a day?
Subscribe to Aleteia's new service and bring Scripture into your morning:
Just one verse each day.
Click to bring God's word to your inbox
"It is more blessed to give than to receive," we read in Acts 20. In his message for Lent in 2003, St. John Paul II  said, "What we have here is not simply a moral exhortation, or a command which comes to us from without. The inclination to give is rooted in the depths of the human heart." In this season of generosity, let us reflect on how we can teach our children to share.
Education in giving cannot be reduced to a few dollars
We have all experienced the joy of giving. But we also know that it doesn't happen without struggle: giving requires that we prefer the love of others to the charm of profit. It is something that, in the context of our lives, is particularly demanding. And perhaps it is especially difficult in these times when the desire to accumulate goods is increasingly compelling.
Children do not escape these urges. Advertisers well know that one of the best ways to encourage parents to consume is to seduce their children. They thus arouse innumerable desires for which ever more money is needed for their satisfaction. St. Paul reminded us that "the love of money is a root of all kinds of evil" (1 Timothy 6:10), while the prevailing discourse hammers us with just the opposite. This makes teaching our kids generosity particularly difficult. On the other hand, modern media shows us the misery and suffering of entire populations. Children are sensitive to this and willingly participate in donation campaigns and other invitations to solidarity. But is this really an act of sharing?
Education in giving is not just about a few dollars (often taken from the wallet of adults) or a passing enthusiasm for a demonstration of solidarity. At the end of the day, it's about discovering the gift of oneself. We can give many things and yet miss what is essential. This is what Jesus explains to us when, sitting in the temple, he watches people place their offerings. Of the poor widow who only threw in a few small coins, the Lord says: "Truly I say to you, this poor widow threw in more than all. For all of them gave to the offerings of God out of their abundance, but she gave out of her poverty all the sustenance she had" (Luke 21:3-4). Although it is fundamental to teach children to share, it is not only because there are people in need. Moreover, their donations seem insignificant compared to the sums needed to alleviate the world's misery. Rather, sharing is a way to start "giving your life for your friends."
How can we encourage children to share?
As always, the first thing is to set an example. Without needing to make a show of our generosity, children are conscious of whether or not we are greedy with our goods, our time, our tranquility, etc. This can be seen, without our necessarily realizing it, through our comments, the way in which we welcome an inopportune friend, our reactions to a person in need, and even our attitude at the dinner table. The school of sharing begins in the small things of daily life: offering the last slice of cake or the best place to another, a favor discretely given, turning off thecomputer to play with a child…
Follow the progression of each child according to their age and personality. Something that will be relatively easy for one can be very difficult for another; avoid comparisons! Otherwise, pride and envy will soon poison their hearts. To avoid such temptations, let us teach our children to share without emphasizing the fact, so that "your left hand knows what your right hand is doing" (Matthew 6:3).
Moreover, let us not forget that the great generosity of some children may sometimes be a strategy to "buy" the affection of those around them or perhaps hide an intense sense of guilt by seeing the pain of poor people. It is convenient to be attentive to this, in order to calm them down and help them see things from an appropriate perspective.
Christine Ponsard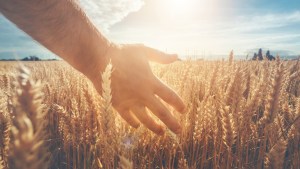 Read more:
This Bible passage reminds us that generosity leads to thanksgiving