The idea of spending your entire life with the same person is scary. Here's how to overcome this fear.
What can God do in your life with one Bible verse a day?
Subscribe to Aleteia's new service and bring Scripture into your morning:
Just one verse each day.
Click to bring God's word to your inbox
Is there anyone who has never been afraid at least once in their life? Fear is an emotion, but also a survival mechanism that originates as far back as time, when our ancestors had to protect themselves from predators. Within the realm of relationships, we should look at what we feel are threats and how we are configuring these "predators."And, in particular, let us examine those fears in relation to, for example, commitment.
What if I'm not the right person?
John has come in for a consultation because he can't make up his mind about asking Sophie to marry him. He would like to, but he is afraid of making a mistake. What if she is not the right person? What if the relationship fails? What if he meets someone he connects with better? Will he be a good father? Will he be able to meet the needs of a family?
John fears that he cannot honor a promise for a future he does not know. All these fears crystallize and prevent him from committing. However, by living in this state of mind, he risks ending up completely alone and missing out on life … and, no doubt, sowing grief in Sophie's heart.
Having the courage to take risks
How can a person get out of this distressing muddle? Empathetic listening from of a trusted, emotionally stable friend can help you find or regain self-confidence and the ability to make decisions and to chase away fears.
Lack of confidence often leads to a downward spiral that can block all enjoyment of life because life is inherently a succession of risks: there is no such thing as zero risk, and only those who take risks win! John has done well to realize that he had to get beyond his barriers, and his being proactive in seeking out help will certainly allow him to identify his fears, which is the first step in overcoming them. Living is about taking risks. It takes courage to make this decision. The courage to have confidence. Because this is the key word that will dominate fear. To commit is to have confidence. In oneself. In others. In God, the Master of life.
Marie-Noël Florant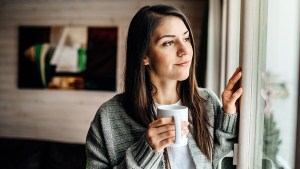 Read more:
How to make the most of single life instead of just enduring it