Take time to think it over carefully and make sure you ask the right questions.
What can God do in your life with one Bible verse a day?
Subscribe to Aleteia's new service and bring Scripture into your morning:
Just one verse each day.
Click to bring God's word to your inbox
We are often solicited from all sides: the parish is looking for volunteers for the liturgy, the flowers, or the daycare; the local Catholic school is recruiting catechists; the sports club or humanitarian association is looking for a treasurer … Often, the invitation is launched into the wind, making it easy to dodge, but sometimes it's asked very directly: "Would you accept such and such a responsibility?" And then that little inner voice reminds us that just a few months ago we were thinking of joining an association to help the most destitute. Whatever the way a new commitment is presented to us, we need to take time to think it over—alone and within our family—before jumping in.
On the occasion of International Volunteer Day (December 5), Father Xavier Lefebvre proposes some specific criteria to nourish this reflection.
Why get involved?
You cannot be a Christian without getting involved. It develops the virtue of charity, and love for the Church and our brothers and sisters. As St. James said: "I will show you my faith by my deeds" (James 2:18). Withdrawing selfishly into yourself, believing that the parish or the school is the business of others, is not an option. Christians are not profiteers but actors. By carrying out a mission, we better understand the "reality on the ground." Christian commitment makes us bear authentic fruit in the communities that weave the social reality of our lives (the family, the parish, the school, the neighborhood, etc.). Do we believe that we are part of a community and that it counts on us? A parish does not develop with just priests, nor a school with just its teachers and administrators
How do we know if we are capable of fulfilling a mission that they want to assign to us?
By asking yourself very specific questions:
Do I have the skills to do what I am asked to do, or do I lack some knowledge or experience that I need to acquire? Telling yourself that you are not capable can hide false modesty and even real pride. The Virgin Mary never said "I am not capable"! Commitment is the authentic sign of self-fulfillment through service to others.
How much time do I actually have? You have to be very clear about what you want to do and what you can do. Volunteer work must be clearly defined in terms of tasks and time. In my former parish, there are volunteer sheets that look like small contracts. They state, for example: "You will be in the reception service, you pledge so many hours per week for such and such a period of time with such and such a goal to achieve." Being a volunteer certainly doesn't mean you can take your responsibilities lightly."
What is, for me, the meaning of this commitment? For example, if I don't have many skills to start with, the fact that it will train me can be a good reason. There is no better school for catechists than to catechize: it is in catechizing others that one becomes interested in one's own faith. It is often by passing it on that we make it grow. Parishes do not expect great theologians or specialists, but rather people who wish to grow through their commitment and who want to bear witness to their life of faith.
"If I don't do it, no one will"
This is the worst way to decide. And yet, one should not remain insensitive to a call for help. To be clear, remember this guiding principle: a Christian life is not a restless life, it is a fruitful life. What is a restless Christian life? It is doing many things for the Good Lord but not where He is waiting for you. There are people who get restless, over-give of themselves and in any way that comes along, and then they get tired of it and you don't see them anymore.
"If I stop, there won't be anyone to take over"
If you are no longer there, who will do it? Finding a replacement might be a challenge, but remember, no one is indispensable. And for others, it's very easy to fall into the habit of always relying on the same people, who tend to do everything. In a parish, it is more a question of the parishioners knowing each other well enough to ask for help and recruit each other. It will never feel like a trap if everyone knows what he or she can give. It is up to the persons in charge to make sure needs are met — it is not all up to you.
What are the criteria for a good decision?
For me there are three:
First of all, commitment must be a response to a call from God. One thing is to do things for the Good Lord, another thing is to do what God expects me to do. I do not commit to compensate for a lack of social recognition or to gain power.
Second, it must be compatible with my standard obligations. If my commitment takes me away from my time with my husband or wife, or my family duties, it is not appropriate.
Finally, the investment of my time, my energy, and my skills should not be a cause for stress. It should open the path for me to progress spiritually. Spiritual life passes through charity. This charity is, indeed, a very good gauge for indicating the temperature of our spiritual life!
How do we know where God is calling us?
By taking advice from your wife, your husband, people who already provide the service. And from your parish priest. Our loved ones can help us first of all to get some perspective on ourselves, our capacities as well as our limits. It is also through them that God will be able to make his call known.
Finally, after the necessary consultations with relatives, it only remains to entrust yourself totally to God. On one condition: if the choice I am making makes me feel peace and joy, it is a good sign. We can ask Him to give us the grace to commit ourselves without fear and without false humility, and to bear the fruit of charity for the Church and for the community.
Interview by Bénédicte de Saint-Germain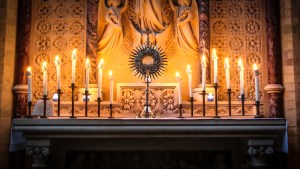 Read more:
6 Reasons why young people should volunteer for Adoration