To prepare for the great feast of the Nativity, let's turn to this powerful prayer.
What can God do in your life with one Bible verse a day?
Subscribe to Aleteia's new service and bring Scripture into your morning:
Just one verse each day.
Click to bring God's word to your inbox
We couldn't find a more appropriate guide than the Virgin Mary to lead us into Christmas. She waited for Jesus in a double sense: first as a daughter of Israel, whose entire hope was turned towards the coming of the Savior; secondly as a mother, and a mother who knew that the little child she was carrying was the Son of the Most High. To prepare for the birth of Jesus, Mary did not do anything extraordinary; above all she turned "the eyes of her heart" to Him, to use the beautiful expression of St. John Paul II. She teaches us to wait for Him with her, in faith, silence and listening. So let us rely on the riches of the Rosary to prepare for Christmas.
The right way to wait for the Lord can be summed up in one word: "Yes"
We are not preparing for the birth of Jesus in Bethlehem — He was already born there, once and only once, two thousand years ago. What we are preparing for is his coming: his coming in glory and in us. Jesus promised us: "Anyone who loves me will obey my teaching. My Father will love them, and we will come to them and make our home with them" (John 14:23). He wants to be within us: but are we ready to receive Him? Do we have the desire to receive Him? Or is this desire stifled by all kinds of material concerns, greed and worries? Are we vigilant watchmen waiting in hope for the definitive encounter with Jesus — at our death and at the end of time — knowing "neither the day nor the hour"?
Contemplating Mary's life and her mystery, we understand that the right way to wait for the Lord can be summed up in one word: "Yes," an unconditional "yes": Mary gave herself entirely. A confident "yes": Mary accomplished God's will one moment at a time, without worrying about the future. A "yes" embodied in the little things of each day: Mary lived the ordinary existence of a wife and mother. A "yes" full of humility: Mary never counted on her own strength, but counted entirely on God. A joyful "yes": the song of the Magnificat expresses the thanksgiving that flows from her heart, even though she would have had plenty of reasons to be troubled and worried.
There are a thousand ways to say the Rosary
To prepare for Christmas with Mary, let us recite the Rosary. This is what St. John Paul II insistently invited us to do: "Praying the Rosary for one's children, and better still with one's children, educating them from an early age at this daily moment of pause for prayer, is certainly not the solution to all problems, but it is spiritually helpful and should not be underestimated" (Apostolic Letter Rosarium Virginis Mariae of October 16, 2002, § 42.). St. John Paul II also insisted on the importance of silence, so as not to dismiss the Hail Marys one after the other without reflection. He suggested that every decade we begin be followed by the recitation of a passage from the Bible. He added: "It is fitting to pause for a good moment to fix one's attention on the mystery being meditated on, before beginning the vocal prayer."
We should keep it simple and flexible: adapt it to the age of the children, to their capacity for attention (which can vary from day to day), so that the prayer of the Rosary is certainly an effort, but not a chore. "If the Rosary is well presented," said St. John Paul II, "I am sure that the young people themselves will be able to surprise the adults once again by making this prayer their own and reciting it with the enthusiasm so characteristic of their age." (Apostolic Letter Rosarium Virginis Mariae of October 16, 2002, § 4).
"There are a thousand ways to say the Rosary," explains one priest, "so choose the one that suits you. The Rosary can be a prayer of meditation, of adoration, following the mysteries of Jesus' life. One can simply pay attention to the sweet names of Mary and Jesus. At each Hail Mary, you can pray for someone you have met during the day. And we can even repeat this prayer in monotony: thus, little by little, the Good News of the Incarnation enters our hearts."
Christine Ponsard †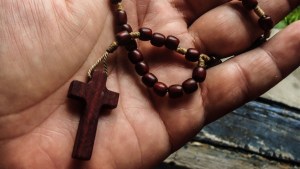 Read more:
Do you wish you could make a habit of the Rosary?