It's never too late to get back in touch with your kids.
What can God do in your life with one Bible verse a day?
Subscribe to Aleteia's new service and bring Scripture into your morning:
Just one verse each day.
Click to bring God's word to your inbox
Some children don't know how to have fun anymore, and many adults have lost the desire to play. As Christmas approaches, psychiatrist Patrice Huerre, author of the book Place au jeu [Time to play],invites us to rediscover the virtues of games shared as a family…
How did you make the connection between the struggling teenagers you treat and the lack of play in their childhood?
Games act as an intermediary between us and reality. People who do not engage in play are unable to put a distance between themselves and the outside world, between themselves and others. They find it difficult to deal with reality.
Take the example of a child who is frustrated when he/she doesn't get what they want right away because their parents have refused to give it to them. They will reproduce the scene with their doll or their little cars and "settle the score" with their "mean" parents without any consequences. Someone who doesn't have this ability will only think about it, brood, and will be unable to overcome this annoyance. Hence, and this is quite common, teenagers will verbally or even physically assault their parents when they have not gotten their way. Others will use fighting and violence as the only way out to express their displeasure.
The same is true for learning at school. A child who does not know how to play will feel hurt by a bad grade. Conversely, another child who has learned to adapt will understand that the teacher only judges their results without understanding them personally. This child will still have the desire to learn.
For many parents, pleasure, flexibility, and fluidity have no place in their schedules. With good intentions, they stimulate their child from a very young age and shower him or her with toys. They would help their child much better by having fun with them and by taking the time to play. The real motivation for learning is to have fun. But I see unmotivated children, closed off, refusing new learning through an overdose of parental stimulation. They often have a seemingly satisfactory childhood. But in middle school, everything goes wrong. The absence of play has sterilized their desire to think.
You talk about the pleasure of learning: do educational games make it possible to discover the pleasure of learning?
Yes, but they will never replace a world imagined by two or three people with pieces of string and cardboard, moments of exchange and creation without a clear objective. In playing, each participant speaks. They participate in creating something together. And what's more, these moments of sharing are a source of pleasure.
What are the benefits of playing?
In addition to stimulating creativity and curiosity, play has a socializing function. It teaches the appropriate way to live with others, without resorting to avoidance, without being aggressive. It also develops skills that prepare one for adult life. The child is then like the chick that learns to make its nest by watching its parents. This is how little boys and girls play "make-believe" games. Playing is also a way to get to know each other. Look at how things start happening as soon as children have started playing together. Two minutes before, they were staring at each other like statues!
Moreover, playing makes it okay to make mistakes because you can reshape situations ad infinitum, invent new adventures as you like, depending onyour mood or the mood of the other person. Nothing is set in stone: the little girl who was a teacher yesterday will be a student the next day, the evil ogre will turn into a king and marry the princess. But if, on the contrary, the distribution of roles is always the same, if a child seems to lock himself into a pattern (that of victim for example), the parents must intervene, talk about this situation with him or her and, if they want to get out of it, give him or her the means to do so.
Finally, as adults, play gives children the ability to better regulate their aggressive impulses, while avoiding having to resort to withdrawal. The child who is having fun invents intermediate spaces; likewise, the adult will find pleasure and comfort in transitional-type activities such as music, contemplation of a painting, a play, etc. Cultural objects are a bit like adult toys!
Does there have to be more than one person to play?
Having fun alone requires having discovered the joys of group entertainment. From a young age, parents open the doors to the game. The mother grabs her baby's hands, makes noises, etc. The child himself discovers his mouth, hands and feet. From the age of 6 months, the object (rattle, teddy bear, cloth ball) becomes a source of pleasure that allows the child to wait for other satisfactions (food, caresses, words). This object serves more or less as a substitute. Later on, playing is continued and perfected. You can have fun in any situation: preparing food in the kitchen, bath time, with cardboard boxes lying around in a hallway. The use of sounds, words and ideas (humor) also appears very early. In addition, everything that the parent or adult transmits in this sense encourages the child.
Do teenagers still have the ability to play?
Preoccupied by the physical changes that occur, sometimes encumbered by emotional immaturity, the adolescent is not very predisposed to playing. Their lack of inner security makes it difficult for them to play free form games that require a minimum of flexibility. Notice how easily fights and conflicts break out because they take things at face value.
Parents are not in the best position to suggest play activities. Adults who enjoy the outdoors are often more successful. But that's no reason for parents to give up. At the risk of being told off, offer games, otherwise the teenager will feel abandoned. Ideally, parents should find activities that allow for exchange and communication, such as sports or cultural excursions.
Are there children who don't play?
Yes, unfortunately, either because no one has ever proposed it to them, or because they have a mental illness or have suffered a trauma. Every child has a potential for play; it may take a variety of forms, depending on the personality and the abilities of the child. It needs to be developed.
Parents must also accept that children will spend time dreaming or simply doing nothing. This is not a waste of time. Immersed in their inner world, they play with their thoughts, with elaborate scenarios.
Children are very active. The alternation of quiet time and activity is necessary and beneficial: our life is not in constant state of frenetic flow like the automobile industry! How many adults can't stand being alone and fill the void with all kinds of activities and noises (TV, music)? Inaction causes anxiety, a probable resurgence of a lack of security in childhood.
How can an adult regain the desire to play when he or she is absorbed in his or her activities or simply doesn't like to play?
If playing is a chore for a busy, stressed-out parent, it's best to abstain. The child would then experience any playtime as boredom. But there are plenty of opportunities to play. For example, have fun answering the question "Why is the sky blue?" together, or organize a treasure hunt during a walk in the forest. Start by identifying what makes you happy. Do you like literature? Tell stories, make them up together! Are you a gourmet cook? Try some recipes that you can make together.
Rather than how much you play together, it is the quality of the together time that you should look for. These moments bring shared joy and nourishing memories. How our first time cooking a dish with our mother or grandmother can mark us to the point of wanting to pass it on to a child!
Can video games, which offer children a world that is already constructed, hinder their imagination and their ability to play?
The problem with TV, video games, and any other toy, is how they are used. What is the child's relationship with them? To find out, I encourage parents to go and see what it's all about. Become familiar with their video games, their TV programs: you'll be better able to regulate their use afterwards.
Some parents let their children read for five hours a day. Even though reading is valuable, it can be a sign of a break from reality, or even an addiction. But as soon as their little one spends half an hour in front of the computer, they protest. If the child is spending more and more time in front of the computer, if he or she can no longer do without it without getting angry, if they become withdrawn, then it becomes something to worry about. But if the use remains moderate, why deprive ourselves of this technology?
Are there good and bad games?
Apart from games that are amoral or that explicitly exalt violence or sadism, I don't see any bad games. I notice in passing the amazing ability of children to turn any object into a toy, any place into a playground. As for very sophisticated games, the child often uses them once and then leaves them in a corner.
So for Christmas, you're more in favor of minimalism?
Toys are useful when they facilitate play relationships. How frustrating it is for the child to be told, "I don't have time!"
Parents are currently under pressure to find psychological recipes and complicated solutions when they have a very simple way to spoil their children: with their presence and the time they give them.
Bénédicte de Saint-Germain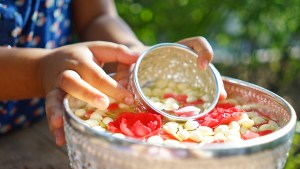 Read more:
This simple outdoor activity will let your children play like a saint