Friendships gently teach children to love, but how does a parent help them to make true friends? 
What can God do in your life with one Bible verse a day?
Subscribe to Aleteia's new service and bring Scripture into your morning:
Just one verse each day.
Click to bring God's word to your inbox
Do you remember your first friend? When you ask this question, a slightly blurred face may come to mind; it is rarely forgotten … We remember games, shared secrets, crazy laughter. Now it's our turn to help our children live this essential experience of childhood friendship, "one of the great joys of life," says family and marriage counselor Françoise Sand. This is the first time that a child is chosen and loved by someone outside the family, and moreover, recognized by someone their own age. It's an exciting experience!
The first lesson on human relationships
"Eddie, he thinks I'm funny," Arnold says with surprise. Through friends' eyes, children see themselves, discover themselves, learn about their talents, as well as their shortcomings … because being young isn't easy! "A friend comforts, gives confidence to the other person by helping them discover qualities that they are not aware of; a friend helps them to develop into who they are," says Sand.
For children, making friends is the first exposure to society. "I used to go to Sophie's house on Thursday afternoons," recalls Christine, 62. "I was 8 years old at the time. She was my first great friend, in life and death. I was struck by the relaxed atmosphere of her family, by the kindness of her brothers and sisters, and I realized that there was a different way to be." Through these friendships, the child understands that there are rules to be accepted in this society: he or she will have to make concessions, take into account the other person's opinion, wait their turn.
The friend, whether a classmate, neighbor, or cousin, occupies a special place in the hearts of children. With this friend one learns the basics of human relationships, of love, in all its facets: attraction and rupture, betrayal and tenderness. And this is true whatever the degree or number of relationships they may have. For child psychiatrist Catherine Jousselme, it is not serious if the child has few friends: the most important thing is that the child has at least one friendship. The absence of any friends, on the other hand, is worrisome. It calls for a consultation.
Lead the way by setting a good example and initiating generosity
So, how can we help our children? By our attitude, first of all. "Very early on, they will have an easier time building quality relationships with their friends if they grow up in a climate of openness to others: trust in others is sown in the family," says child psychiatrist Stéphane Clerget. That's probably a good reason to cultivate our own friendships. How? By being kind when we talk about our friends as a family.
Children observe their parents. Making a phone call for a birthday, sharing regular news, but also knowing how to confide, being a good listener, supporting our friends in prayer, or being a welcoming home for others … these are all things that children will imitate if they have seen them done at home. "I've always hated the unexpected: when someone came to our house at the last minute, it was an intrusion for me. Because of this, my children didn't have many friends over," regrets Brian.
The family is also the ideal place to train the child in charity. That is to say, to teach the child to give without expecting anything in return. This is not easy at an age when they are rather focused on their own needs. Invitations between children are a very concrete opportunity to refine generosity and delicacy of heart in friendship. "Peter had invited his friend Louis over," says his mother Helen. "After a while, wondering why they were so quiet, I saw that Peter was immersed in a comic book while Louis just sat there not knowing what to do. I had to make a small adjustment." Snack time, especially for the little ones, is also a perfect moment to learn about sharing and paying attention to others: making suggestions, waiting for others to help themselves first; and when they are a guest, learning to take what is offered without asking for their favorite dish at the risk of offending their friend. Parents can help with this.
Helping your child meet new friends
Parents can also help in other little ways: car trips, invitations, and various get-togethers, especially after a move or a change of school. "When we moved to another city, my 8-year-old daughter left her best friend and it was very difficult for her," says Beatrice. "Since then, we've been trying to invite her to come with us on vacations, even though it is not very convenient for us." And child psychiatrist Clerget advises: "Suggest that your child write to their friends; writing can develop the friendship."
Parents can also help their child meet new friends. "Encourage group activities, because friendships are often made by doing things together," says Jacques de Singly, a family sociologist. Group sports, choir, scouting … many activities bring children together around a common point, beyond differences in personality or social backgrounds. Group activities also lead them more quickly into enriching relationships: "William was dragging his feet about starting soccer because he only knew one boy there from his school, who he thought was really 'lame,'" says Xavier, his father. But with the help of this sport, they became great friends!"
But beware: helping does not mean forcing. "Under the pretext that Mom's best friend had a daughter my age, I had to get along with her at all costs," recalls Patricia. We had nothing in common and I have horrible memories of those endless afternoons with her." And when a little boy is friends with a little girl? Don't put the label "love" on a friendship between two children of the opposite sex. How many parents translate their own experience into a simple childlike friendship…? "This mistakenly puts them in a position that is not appropriate," warns Dr. Catherine Jousselme.
Grief should be taken seriously
Friendship among the young is never a long, quiet river, as we know. Disputes, big sorrows, reconciliations … each year has its share of ups and downs. And sometimes it can be painful: for the shyest, who find it hard to make friends; for those who can't keep them (think of the overly authoritarian or manipulative, exclusive or stifling companion who sooner or later wears out their friendships, and "often finds themselves alone," notes Sybille, a school teacher); or for the more sensitive ones who, always on the gloomy side, end up discouraging their friends.
So, what should you do if your child is suffering from grief? First of all, take it very seriously, because "these sorrows are often real and painful," says psychoanalyst Danièle Brun. Then, as Françoise Sand advises, we should simply show our compassion: "I understand that you are suffering, I am here and I love you." Amy found herself in this situation. When her 11-year-old daughter was "abandoned" by her lifelong friend, she told her about a similar experience she had when she was her age: "So she realized that she was not alone."
For children who already have a closeness with God, why not invite them to confide in Him? This can be done as a family. For example: "Tonight we pray for Mary and her friend Cecilia," without adding anything more.
At an age when friendship is versatile, it's also good to make children think about fidelity. "Marion, 10, is a little inclined to let her friends down," notes her mother, Susan. I can't force her to like them, but I try to show her the pain she causes with her impulsive, short-lived outbursts. I advise her to be more careful with what she says so she doesn't regret it afterwards."
Read them stories of friendship — the little ones love it. It's up to each parent to find the one that will resonate the most with their child: stories, comics, family anecdotes or the lives of saints who had a strong friendship in their life (Cosmos and Damien or Claire and Francis of Assisi).
Knowing how to apologize but also accepting forgiveness
If children's friendships are so up and down, it's probably a matter of personality. But not only that. Childhood friendship is captivating. Even if it is deep, it is first sought after for self interest. It should not be forgotten that a small child is by nature egocentric. This is why friendships can sometimes turn sour. Parents also have a role to play in helping their child find his or her place in a friendship.
The child must "know how to say no, to assert themselves, to say what they think to an authoritarian friend," explains Françoise Sand. With simple, sometimes naive and very direct words, children manage to keep each other in line. Like 9-year-old Marie, who, after a game, tells her cousin: "I'm not going to play with you anymore, you don't play fair," or 7-year-old Cesar, who explains to Raphael that he doesn't want to be his friend anymore because he fights the whole time at recess. Hence the importance of honesty in the friendship
After the bickering comes time for forgiveness. Apologizing or, conversely, accepting forgiveness, is often the most difficult thing for them. It is an aspect of friendship that is often forgotten but which parents would be wrong not to insist on. For forgiveness expresses the will to love the other.
What if the relationship with God were to give another dimension to these childhood friendships? One father shared: "My 8-year-old daughter came home one evening, all sad, and said 'Monica asked me what my medal represented and I didn't dare to answer her, because I think she doesn't know Jesus.'"  Her father reassured her: "You have the right to talk to her about it, you know." The next day, she came back delighted: "We talked about God and she told me that she had already been to a baptism." These childlike relationships can be edifying, as Ophelia relates: "Before making her first communion, my eldest daughter had asked her friends to pray for her." We just might discover that our children's friendships are quite deep and spiritual.
Alexandra Ronssin and Florence Brière-Loth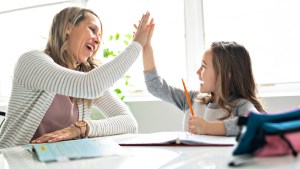 Read more:
4 Things you need to know to give your children self-confidence