With a little guidance, children can overcome timidity.
What can God do in your life with one Bible verse a day?
Subscribe to Aleteia's new service and bring Scripture into your morning:
Just one verse each day.
Click to bring God's word to your inbox
Adam is 6 years old, and has just entered the first grade. He dreams of being a professional soccer player, but on the playground, he prefers to watch the other kids play. "I can't run fast enough," he explains to Priscilla, his mother, as he passionately tells her about the game after school. "Talkative, sometimes too talkative at home with people he knows well," says Priscilla, "he is a happy little boy, easy to be around, and liked by his friends. Yet he spent his three years in preschool with barely saying a word."
Recently, Adam has started to raise his hand and participate in class. "I was astonished and extremely happy when his teacher told me that," says Priscilla. Attentive to Adam's behavior without over-dramatizing, Priscilla attributes his shyness to several factors: "As a child, my husband was also perceived as shy, but he wasn't uncomfortable; he simply preferred to observe." His temperament may have been accentuated by the fact that he was raised alone for a long time with a nanny.
Catherine Nivet has shy children in her class every year. A kindergarten teacher for about 30 years, she distinguishes between reserved students and shy students. "A reserved student, by temperament, doesn't open up to the first person who comes along, and needs time to observe in order to make the right connections. The shy student will really withdraw, make themselves very small, as if they wanted to disappear, afraid of giving a bad impression, or of doing the wrong thing."
As a parent, what do you do when your child stays in the corner while others are playing together, refusing to say hello, or having incomprehensible anxiety attacks in innocuous situations, when they are away from home?
Do not panic, and pay attention to small signs
"I try not to rush him," says Priscilla. More than ordering him to get out there, to play with others, she prefers to reassure him and put him at ease, convinced that shyness is a symptom of anxiety: "I know that rituals are very important for him: so I'm careful not to forget the morning hug when I drop him off at school, because I know that the morning depends on it." She watches to make sure, however, that her son doesn't get too caught up in this shy persona, because she feels that it may be a "temptation to take the easy way out."
Catherine Nivet advises parents not to panic, and to be attentive to the small signs that show that the child is doing well: "When you observe a child on the sly, there is always a moment when they relax and come out of their shell to become themselves again. That's when you can encourage them, and see what interests them. I think it's good to create moments that the child likes, with activities such as reading, sports, drawing, or whatever where they are comfortable expressing themselves. Little by little, the child will get to know and love him or herself." Through the kindly gaze they receive, shy children need "to know that everyone has their part in the world: they are important, they have things to bring to others.
Avoid projecting your own views onto your child
What if supporting your child were to start by working on yourself? Anne-Astrid is convinced of this. Her 7-year-old eldest daughter "starts to gesticulate, chew on the sleeve of her sweater or hardly looks new acquaintances in the eye. I have noticed that many shy children I know are older siblings. Perhaps, unconsciously, too much pressure is being put on them," she wonders. "We all want our child to look good, to say hello. But I feel that it's better for me to stay out of it, even if some people might find it rude. I am naturally tempted to help her out, but the most important thing to help her grow is the love we give her, without judging her."
Avoiding projecting your own ideas onto your children is something Helen, a mother of three, two of whom "have difficulty reaching out to each other, difficulty with the community and speaking in class"has had to face. "At first, I had a hard time accepting it," she says. "But then I felt that I was caught up in the prevailing thought that adults are more attracted to children who are daring, even insolent, than to children who are more discreet. Among adults, there are leaders and followers. Why wouldn't we admit the same thing among the younger ones?" Helen talks a lot with her children: "We try to put everyone's fears into words. We talk about them and laugh about them, without mincing words!" Because shyness is also a symptom of a difficulty with self-esteem, she repeats to her children: "You are not what others may think you are." She is convinced that the reserved temperament of her children has many positive aspects: "Thanks to the discussions that we have as a family, I hope that they will gain in freedom of spirit, and that they will be aware that no one should ever be reduced to how we perceive them."
Sophie le Pivain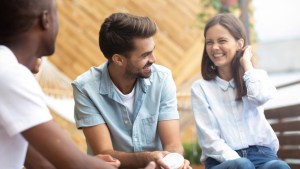 Read more:
How to overcome shyness and make friends