We are meant to take the feast of the Nativity and carry it with us in the months to come.
What can God do in your life with one Bible verse a day?
Subscribe to Aleteia's new service and bring Scripture into your morning:
Just one verse each day.
Click to bring God's word to your inbox
Christmas Day was just yesterday … what's left of it? New toys scattered around the house, happy memories, thoughts a little foggy from lack of sleep, crumpled pieces of wrapping paper lying around, and Christmas cards displayed. And perhaps, the weight of loneliness is a little heavier, the wound of grief a little more acute than usual. Christmas, yes, it is also that, in the specifics of our lives … but is that all it is?
Christmas invites us to marvel at God's love for us
Christmas, as we know, is the grace offered to us to welcome the Word made flesh. The truth of Christmas is the Good News announced by the angels: "Today a Savior is born." And this is what gives meaning to all aspects of the feast. Christmas morning cannot be like the days after the holidays, sad or joyful, inevitably marked by a certain nostalgia for what has been and will no longer be. For the joy of Christmas has not been given to us only for a few hours or the short time of Christmas Mass. And the celebration of the Nativity is not a simple birthday that only lasts as long as it takes to blow out the candles. Leaving behind what God has given us at Christmas is not an option. We should explain to our children that it would be a bit like putting all their new toys away in a closet or in the garbage. At Christmas, we received a gift that was much bigger and more beautiful than all the others, but since it is not visible, we risk forgetting about it until next year. But what can Christmas change in our lives?
God loves us so much that for us He became man. He who is the almighty Creator was born poor and destitute like all babies who depend entirely on their parents. God gives Himself to us and reveals Himself to us, not in magnificence, wealth, or power, but in smallness and poverty. How then could we seek honor, wealth and power when God Himself was born in poverty, when He became a little child? God teaches us to deeply accept our limitations, our dependencies. Jesus did not suffer his human condition: He loved it. He leads us to love our human condition, with all the limits, demands and dependencies proper to each age. Jesus did not pretend to be a little child, He really was. God makes Himself very close to us. He is the "ultimate other" and yet He puts Himself within our reach. His love seeks to win us over gently, without frightening us. Christmas invites us to marvel at this love and to let ourselves be carried along by it, to never forget — even at the end of the year when we celebrate other liturgical feasts — all the tenderness, purity and simplicity that are revealed to us at the manger.
At the Nativity scene, we see beyond appearances and we believe
God becomes flesh. Very specifically, this implies that it is allowed for us to meet God, to serve Him and to love Him through everything that constitutes our life as human beings. It is not that God is on one side and our carnal existence on the other. In our lives there are notmoments for God and moments that do not concern Him. We are not beings cut in two—the soul for God on the one hand and the body external to God on the other. It is essential not to forget this, especially regarding religious education.
The education of faith does not concern only one part of the existence or personality of our children: it is truly a lifelong education. Nothing that children do, nothing that they experience is foreign to God: everything is likely to bring them closer to or away from Him, including the most material concerns and gestures. That said, it is important to emphasize that education in faith cannot be a simple education in life: it requires an explicit proclamation of the existence of God who, incarnate, is no less than the "ultimate other." It is not uncommon, for example, to hear that the first awakening to faith must be an awakening to life, to the world around the child, to others, and so on. This is true if we mean that the awakening to faith must not be disembodied, cut off from the child's daily life. But it is false if this "awakening to life" replaces all religious instruction and all life of prayer.
On the other hand, if it is true that God allows us to meet Him and to love Him at every moment of our days, through all that we live, we must not forget that what gives "breath" — the breath of the Holy Spirit — to the least of our gestures, whether it is brushing our teeth or peeling fruit, is prayer. It is through devoting at least ten minutes a day to prayer, just for God, that we will be able to meet Him and love Him the rest of the time.
Education in faith must not in any way divert children from their childhood, it must not turn them into disembodied beings, but it must also lead them to live at the level of daily life, to sense the supernatural dimension of their existence and to orient all their choices according to this dimension. For this is also what Christmas teaches us: at the Nativity scene, we see and believe beyond appearances. Facing this little child, we are asked to believe that we are in the presence of the Son of God.
And the one who can best lead us on these paths of faith is the Virgin Mary. She knew that her baby was like any other, since she was the one who fed him, taught him to speak, to walk, etc. But she also knew that this little child, who depended entirely on her, was more than that, too. He was truly her Savior.
Christine Ponsard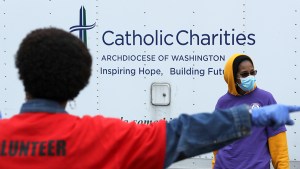 Read more:
8 Great ways to help others this Christmas season