Sometimes hardships, weariness, and fatigue bring us into a cold and lonely place.
What can God do in your life with one Bible verse a day?
Subscribe to Aleteia's new service and bring Scripture into your morning:
Just one verse each day.
Click to bring God's word to your inbox
Winter is an austere season. When nature sleeps, the bare trees seem to have lost their sap and the frost-hardened soil shows no sign of the coming spring. The cold numbs the body, posing a deadly threat to the poor, while the light, too pale and weak, seems to have been devoured by the night.
Our spiritual lives, too, experience periods when the soul is numb, without passion, no longer interested in prayer, immersed in persistent darkness; lost in somber hours where an accumulation of failures, disappointments, and hardships destroys hope; periods of loneliness where we no longer know where to find the warmth of tenderness, or a heart that is willing to listen and understand.
Every season has its importance. And we know that, despite appearances, nature is still at work in winter, preparing for the dazzling outbreak of spring. Periods of cold, silence, darkness, and waiting, where everything seems to die, are never easy to go through, but they are necessary. The trick is to live through them in hope, without letting adversity harden us, without locking ourselves up in nostalgia and regret, without letting ourselves be trapped by appearances. Then, sooner or later, perhaps when we least expect it, spring arrives, with its procession of joys, its luminous cheerfulness and the promise of summer. How do we live in winter? At home, near the fire, in the intimacy of the hearth. In the same way, spiritual winters are an invitation to enter into ourselves to find the fire of the Holy Spirit that will melt the frost encrusted in our hardened soul.
Don't be afraid of winter
The problem, you may say, is that at such times, you feel like you no longer know how to pray. You no longer feel love or joy in yourself, nothing but a frozen desert from which God seems to be absent. Yet the fire is there. The burning love of our God only asks to warm us. To find it, we must accept the need to descend to the depths of our darkness, our wounds, our fragility. We must recognize that we are poor sinners.
Don't be afraid of winter: Jesus himself wants to join us there to free us from it. In spite of appearances, these long weeks, even these years—when all prayer seems to us to be in vain, when we have the impression that God is very far away—are in reality a time of choice: we are given the opportunity for intimacy with Him who, out of love for us, descended into the blackest of agony. The night of winter is an open door to the Light, if we accept to be immersed in it. Even if we feel nothing at all, we are very close to the burning fire of God's love and the apparent wall that separates us from it is for our protection, so that we can be close to it without being burned.
Lord, you are our hope
It is hope that teaches us this. If hope were the fruit of our reasoning, our impressions or our experience, it would not withstand the rigors of winter for long. But hope is a gift from God. In the darkest night, in the deadliest of frosts, we can untiringly repeat: "Lord, you are our hope. Whatever the words, regardless of whether we address them directly to God or ask the Virgin Mary to convey them through the Rosary, what counts is the plea to him who is "the resurrection and the life," the plea that speaks of both our poverty and our trust.
Spring is already here. The resurrection, Jesus' absolute victory over all the nights and winters of evil, is already here: "with him you were raised to new life," says St. Paul. "God made you alive with Christ, for he forgave all our sins" (Col 2:12-13). This is not just a future reality: it is a reality that is here today, even if we cannot yet live it to the full. We need to be attentive to the signs which, in the very heart of our winter, reveal the presence of spring—even if it is only the smile of a friend, a moment of deep peace or a small unexpected joy—and we should give thanks for them. There is nothing like praise to hasten the arrival of spring days.
Christine Ponsard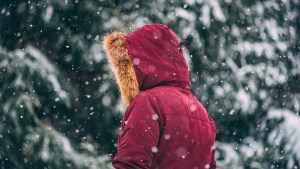 Read more:
The hidden promise of winter