How to find the right balance between meddling and over-permissiveness. 
What can God do in your life with one Bible verse a day?
Subscribe to Aleteia's new service and bring Scripture into your morning:
Just one verse each day.
Click to bring God's word to your inbox
Adolescence is the age of forming groups and new friendships. It is an essential stage and should be respected: "These friendships allow you to develop your personality, to forge your identity, your self-esteem, in relationship to others," says Fr. Arthur de Leffe. Identifying with a group, speaking the same language, sharing the same values, these key things have a strong impact on a teenager's self-confidence. But what kind of friends are we talking about?
There are degrees in friendship — from simple acquaintance to intimate friend. In order to encourage this distinction, before adolescence parents should introduce the criteria for good friendships: respect for others, mutual admiration, the pursuit of good things, etc. Friendship can be a place of creation and growth, but it can also be a place of destruction. "I tell teenagers: on the day after an evening out with friends, if you are not proud of yourself, you know that this friendship is not good," says Fr. Arthur de Leffe. "It's up to parents to put young people very early on in places where they will develop beautiful friendships that will free them from unhealthy relationships."
Finding the balance between meddling and over-permissiveness
Parents must get involved and remain vigilant, while making sure to strike a balance between intrusion and being totally hands-off, because you don't supervise an adolescent like you would a 7- or 10-year-old. However, the adolescent does not yet have full rights, and the rules set out in childhood—such as respect for others, participation in household chores, politeness—still stand. "It's an art to create flexible, adjustable limits for this age group that take into account the individuality of each person," says psychotherapist Virginie Tesson.
If good habits of trust, dialogue and prayer are established from childhood, parents will have fewer difficulties in adolescence. A child who is happy in the family will be less tempted by risky behavior. "The bond is built before adolescence," says Virginie Aubry, family and marriage counselor.
As a group of friends forms a part of the teenager's life, the delicate question of permission to go out very quickly arises. Anne systematically calls the parents of friends who invite her daughter, Claire, 14, over to their house, even when she doesn't know them. "I want to know if they will be there during the activity, otherwise she won't go." Keeping dialogue open allows parents to know who is in the group and where the activity is happening, and what time they should return home.
Very often teens who go to parties ask to sleep over at the house. For Camille, it's out of the question: "Too bad, I get up at 3 a.m. if I have to, but I pick them up. It's important that if my daughter feels uncomfortable, she knows she can count on us." Isabelle, who has four teenage daughters, often says, "You can't assume they are stronger than they are. It's not the time to leave them to their own devices." These situations are often an opportunity for an in-depth exchange on the emotional and sexual life and relationships between boys and girls.
So take an interest in where they go. "Not like an interrogation," continues Isabelle, "but to make them think about what makes an evening good: How did you feel there? What did you think of the atmosphere, the attitude of your friends? This allows them to sharpen their perception."
As for total prohibition, it is to be used with moderation. "For me, a ban is similar to the safety rails on the highway," continues Virginie Tesson. "It's not a mode of education, it's a last resort when you feel your child is in danger. If the ban is systematic, there is a risk that they will be isolated from the group, that they will rebel, or that they will secretly do as they please."
Give your trust, even in difference
Laying out a framework is essential, but it is not enough. A welcoming and caring attitude on the part of the parents is necessary to keep the bond and trust. This is the choice made by Anne, a mother of three children who is a fan of an open house. "Fostering the bonds between us makes it possible to keep an eye on what they are doing better than a harsh word or visible mistrust. They see that we don't dislike their friends." For some teens who are more confrontational, choosing different friends is sometimes a way to test parents, to see if they can upset them with, for example, being best friends with someone their parents find hard to take. "There's a message that needs to be deciphered. The young person implicitly asks their parents if they will trust them even if they have chosen to be different," suggests Virginie Aubry.
Once the parents are alone with their offspring, systematic criticism should be avoided at all costs. It will only reinforce bonds with the friends, according to Maryse Vaillant, a specialist in adolescents. On the other hand, you can ask questions about what they share with you about their friends, and bring up ideas to make them think. "The secret," says Camille, "is to pay a little visit to their room after dinner, to take an interest in them, in their life. Often, it is the moment when they will confide a little about their fears, about something that happened. I also take the opportunity to say what I think, very discreetly of course, about one or another of their friends, so that they know where we stand."
"Listening to them and keeping the connection no matter what happens is an art," advises Virginie Tesson. "Parents should nurture the relationship with their child through their whole being, not in terms of how the child is a reflection on them, by getting good grades and having good manners, but as a person who has both pain and joy. If they have a good sense of self-esteem, they won't be tempted by dangerous friendships, and that's what they need to develop through a loving relationship, based on trust and mutual respect. "Building the relationship is an uphill battle," insists Virginie Aubry: "When a feeling of closeness has been established in childhood, it is rarely lost in adolescence." It's up to the parents to make their child understand that they want to be involved, not to control them, but to make them happy.
Florence Brière-Loth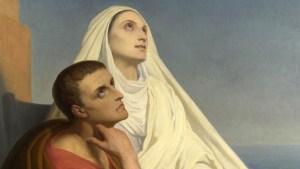 Read more:
Difficult teens? Look to St. Monica for inspiration