The signs of God's presence are not so difficult to decipher if we know how to look.
What can God do in your life with one Bible verse a day?
Subscribe to Aleteia's new service and bring Scripture into your morning:
Just one verse each day.
Click to bring God's word to your inbox
A sign is always a sign "of something." The work of intelligence and faith therefore consists of working back from the sign to the reality revealed by the sign. Thus Creation refers us back to the Creator. The Imitation of Christ specifies that "there is no creature, however small, however humble, that does not reveal the goodness of God." Indeed, the signs of this love are everywhere! You just have to know how to recognize them.
The absence of a "sign" is a sign speaking loudly
The events of life are also "signs" of divine Providence. The philosopher Simone Weil said that God establishes a "conventional language" with his friends. Every event in life is a word of this language. The common meaning of all these words is: "I love you." Weil offers this example: a man drinks a glass of water; water is God's "I love you." He spends two days in the desert without finding anything to drink; the dryness in his throat is God's "I love you." God has no words to say to his creature: "I hate you." But it is certainly easier to hear God's "I love you" in that providential glass of water than to decipher it in his hidden tenderness when you are parched.
Sometimes, in the monotony of everyday life, we may feel like a driver desperately looking for an exit sign on the highway. "I opened the Bible and came across these words …" "I did a novena to find out what Jesus wanted from me and I received this sign …" But the absence of any "sign" is itself a "sign" that speaks loudly! It is in this way that God confirms to us that we must persevere in carrying out our obligations and not try to follow imaginary signs. By living the "sign" of the repetitive reality of life, we will surely find the kingdom of God — Christ, with the peace and joy of his presence (Rom 14:17).
To properly recognize a sign, it is necessary to become indifferent
Our modest daily life is marked by "winks" from God, "signs" of his personal, delicate and attentive love for us. These signs evoke gratitude and praise: the smile of a child, the joy of a husband or wife, a reading. The most striking "sign" is that of the Eucharist, which communicates divine life and contains, under the poverty of appearances, the Source of grace: Jesus himself!
The highway sign may also appear. These signs usually have a double aspect: a call from the heart and an external confirmation in reality. To properly perceive the sign, it is necessary to attain what St. Ignatius calls "indifference": an interior freedom that then becomes the will to serve the glory of God, in his way and not according to our own preferences. It is also wise to seek advice from an enlightened person. Finally, it is necessary to know, through prayer, how to wait for God's time to act. The Lord guides us with signs that are simple to decipher … for simple hearts!
Father Nicolas Buttet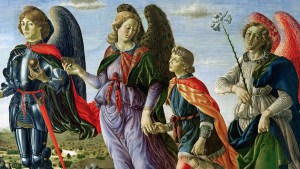 Read more:
Why the archangels are more than just messengers from God