Hardships can be occasions for discouragement or even revolt against God -- but they don't have to be.
Need an idea for Lenten almsgiving?
Help us spread faith on the internet. Would you consider donating just $10, so we can continue creating free, uplifting content?
Make a Lenten donation here
When we suffer, is there still something we can give to the Lord? No matter what the nature of our suffering –an illness, a psychological ordeal — you can first of all offer yourself. And then, offer to God the effort you make to heal, the pill you take for your headache, the medical treatment you have just undergone.
But how can we turn to God when anger and discouragement take over? These 3 prayers help: 
My God, my God, why have you forsaken me? (Ps 22:1)
God loves this fight against evil with the help of the doctors and the family, because God, as the Bible says, is angry with evil in all its forms. That is why we have the right to say to him, as Jesus himself did on Calvary: "Why, my God, why?," "Why is there so much suffering on this Earth?" This feeling of indignation — which can last a long time — is not a sin, since it participates in a certain way in the revolt of God himself against evil.
Thy will be done!
We can also recall what the saints experienced when they underwent their own surrender to God's holy will. If God allows this trial, it is for a good that, for the most part, one would only know in Heaven. When little Bernadette de Lourdes, who became Sister Marie-Bernard, suffered terribly from asthma in her convent in Nevers, she got through it by repeating the "yes" that the Blessed Virgin taught her to say to God's will. This acceptance is beyond our strength. It is not natural, but supernatural. This is what the priest recalls when he introduces the Our Father. It is "formed by divine teaching, we dare to say": "Father … your will be done!" When we suffer, we should not forget to beseech Jesus immediately to let his Spirit pass through us so that we too can say, like him: "Father, not what I will, but what you will! "(Mk 14:36).
I am glad when I suffer for you in my body, for I am participating in the sufferings of Christ that continue for his body, the church." (Col 1:24)
Above all, this acceptance contributes to the salvation of the world. In his immense mercy, God wants to associate humanity with the sacrifice that Jesus offered him on the cross. "Through him, and with him, and in him," we can offer to God all the acts of love that we are led to make in our hours of suffering. For it is obvious that it is not our suffering in itself that pleases God, but this sort of inner smile that we continue to offer Him at the heart of our suffering, when we would prefer to groan, to run away, to withdraw into ourselves. This smile repairs all the mumblings of men against God.
The Apostle Paul expressed this mystery of redemptive suffering in a powerful statement in his Letter to the Colossians: "I am glad when I suffer for you in my body, for I am participating in the sufferings of Christ that continue for his body, the church" (1:24). For centuries this conviction has allowed thousands of sick Christians to live their trials of health, if not in joy, then at least in peace — the peace that comes from the certainty of not experiencing something useless when one's body or heart is overwhelmed by suffering.
Father Pierre Descouvemont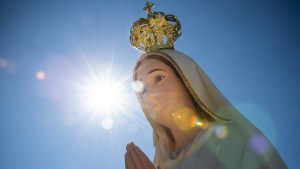 Read more:
Are you suffering? Our Lady of Fatima has these words for you