In a Christian marriage, Christ is invited to the wedding feast.
What can God do in your life with one Bible verse a day?
Subscribe to Aleteia's new service and bring Scripture into your morning:
Just one verse each day.
Click to bring God's word to your inbox
"By the sacrament of marriage the love of spouses is raised to the level of divine love," the Second Vatican Council affirms. And the Ritual of Marriage says: "Marriage will be an efficacious sign of Christ's presence." How can we fulfill our marriage so that these magnificent promises do not remain empty words?
"What does it mean to rely on the sacrament of marriage?" a Christian couple asked me one day. I do not like the word "rely." I think it sends the message that the sacrament of marriage can be considered a crutch for love, an "all-risk insurance policy" against the hazards of life.
Having said that, the Sacrament of Marriage is a fabulous sacrament: well understood, it is a considerable contribution to love. Why is this? In a Catholic marriage, Christ is invited to the wedding feast just as He was at Cana. He is present at the heart of the spouses' relationship. He is part of their consent; the sacramental word is not that of the priest, but that of the spouses. Their fragile and fallible "yes" is at the same time the "yes" of Christ who commits himself to be present behind every gesture of love between the spouses.
"Let Christ love in you"
The love of one spouse for the other is more than a sign of God's tenderness, it is the very tenderness of God. Each can say to the other: "The more I love you (with an oblative, holy love), the more I give you God." But when God loves us, He transforms us. Just as at Cana, where He changed water into wine, in the sacrament He transforms nascent love into generous and fruitful adult love. To married couples, I say: "Let Christ love in you: his Spirit of love teaches you to love as He does with a love that tends towards generosity, a love that first asks for forgiveness, that is never taken back."
In the sacrament, the couple is immersed in the hearth of Christ's Love for his Church: each spouse is traversed by this tremendous Love and also by the Church's grateful love for her Spouse, Christ. Marriage, to the Church, is therefore no small blessing of security. Through it we participate in the great mystery of divine love, which loves before being loved, never disappearing, forever-lasting.
In the sacrament, the spouses who live it fully become the signs of the matrimony that Christ sealed on the cross with humanity. They will be celebrated with great splendor in the afterlife, in the Eternal Wedding. God gives the spouses this capacity to be signs: the graces of fidelity they are entitled to count on (I prefer this to "rely on"), the graces that give us "the capacity for the impossible."
Denis Sonet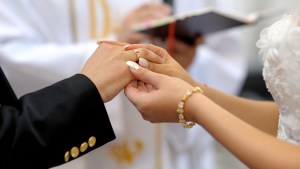 Read more:
The 2 ways a sacramental wedding changes your marriage