If your children fight a lot, keep this in mind ...
What can God do in your life with one Bible verse a day?
Subscribe to Aleteia's new service and bring Scripture into your morning:
Just one verse each day.
Click to bring God's word to your inbox
While it's no surprise to see siblings bickering, it's still a wearisome strain on parents' nerves. When it reaches a certain degree of intensity and, above all, regularity, it may be a sign that it has become an ingrained habit, a certain mode of functioning from which there will soon be no way out. But don't be discouraged; solutions for breaking this vicious cycle do exist.
A diagnosis to reflect on everyday conflicts
There are certainly many reasons for these squabbles, and we shouldn't necessarily overdramatize them. Also, it's good to let the children manage things and find ways out of the crisis. However, it is also true that a "laissez faire" attitude is not the same as indifference. With an attentive eye you can seize the right opportunity to intervene, the right moment to make children reflect on these everyday conflicts, this little war of attrition which, seemingly insignificant, can, in the long run, weaken relationships and deeply wound hearts.
At the right moment, the peaceful words of the adult will be able to express the sadness of the adversaries who will then recognize that all this is making them unhappy. This sadness is a sign that they are stuck in a dynamic that has settled into this mode of expression for lack of knowing any other way to act. This first diagnosis is invaluable, because it allows us to express the fact that, basically, we love each other—it's always good to say it and to hear it—and that we would like things to be different.
Love, more of a commandment than a feeling
Then, we can take the opportunity to explain to the children that if human bonds—especially those that we have not chosen (we do not choose our family)—can improve if everyone tries, we see that love is a commandment and not primarily a feeling. This means that as a family, it is given to us by God to love each other in a divine way, and not only in a human way. Experience shows that loving each other on a human level is difficult. We see this at a very early age—humans are fundamentally voracious and jealous, bickering and fighting, alternately dominating and dominated. So we must learn to love from Jesus. And He can command us to love because He has given us the gift of being able to love each other.
This awareness starting at the age of reason is healthy. With it comes a valid reason to pray for one another. God did not put us together to instantly form a "Christian family that is good in every way." He has entrusted us to one another so that we can then learn to love our neighbor. Thus, our family is the place where we learn to practice charity, and love according to God: a love that ultimately extends beyond our family. But this step will be possible only if we realize that our love at the level of flesh and blood is easily exhaustible and exhausting. Happy are the siblings who learn to look at each other with the eyes of faith!
Abbot Vincent de Mello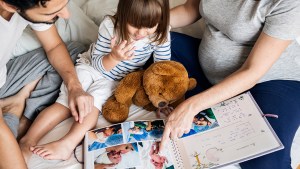 Read more:
9 Ways to prepare your child for a new sibling