After a while, the spark can fade ... what can be done to keep it burning?
What can God do in your life with one Bible verse a day?
Subscribe to Aleteia's new service and bring Scripture into your morning:
Just one verse each day.
Click to bring God's word to your inbox
There is something touching when we see two lovers gazing at each other, without saying a word, contemplating each other, captivated and happy. The face is the part of the body that most reveals who we are and accentuates our uniqueness. While it doesn't reveal everything, it is the screen through which we try to discern the heart of our beloved, to pierce their mystery, the sincerity of their feelings, their most hidden emotions.
So understandably there is sadness when you see indifference in your spouse's eyes. You cannot stop wondering if there is still love there, if they're still interested in you, since they no longer try to read the feelings on your face. Your suffering makes sense because indifference kills — even more than hatred, which is often nothing more than frustrated love. But then what can you do to arouse more desire and affection in your spouse's eyes?
Recreating the right conditions
The solution to your frustration is to first find out why your spouse has lost the habit of looking at you. If it is because of a dwindling or total loss of affection, it is important to recreate the conditions in which that can be reborn. But do not overdo it with too much attention — do not become a puppy dog begging for love that generates pity more than affection. Do not be, as Nietzsche said, "a dragon guarding its treasure," trying to force love, for love only blossoms in freedom. It is better to regain your self-confidence, become attractive in your own right, not first and foremost to regain lost affection.
Remember, too, that other reasons can explain remoteness. For example, it may be that your spouse's daily concerns or the overload of family tasks, have become a priority for him or her. Routine can gradually take hold in your relationship. It might also be due to a recurring fundamental grievance, typically marked by a continuing aggressive attitude.
The astonishing power of the gaze
Finally, it is possible that if you doubt your spouse's love you will earnestly be waiting for that special look and the more you watch for it, the more they avoid your gaze. "He keeps scrutinizing me," said one woman. When this happens, the other begins to wonder if they are losing your interest and tries to guess what is happening and starts to look more.
We should avoid complaining — we can say how much we would like to relive the moments of yesteryear when each one read in the other's gaze that little light of adoration, that sparkle in their eyes. The power of a glance is astonishing. The Gospel shows it marvelously when the loving gaze of Christ fell on the rich young man, or on Peter at the moment of his denial.
Denis Sonet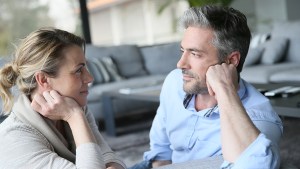 Read more:
What are the best tools for communicating well in marriage?