Priest, prophet or king? Answer a few questions to quickly discover which "role" comes more naturally to you.
We are all called by our baptism to be "priest, prophet and king," but our personality and history often point us towards one role more than another. For each question, indicate what you would say or do first and most spontaneously.
1. Confronted with a bill threatening the right to life, you:
A) Pray the Rosary in intercession for political leaders.
B) Organize a petition on the internet.
C) Increase your attention to your family and loved ones, to make charity grow in the world.
2. Your office colleague is Muslim. You:
A) Get to know his faith.
B) Talk to him about Jesus.
C) Make sure that he is not discriminated against in the company.
3. For you, a good parent is:
A) Someone who forgives their children.
B) Someone who sets an example of a certain simplicity of life.
C) Someone who knows how to be there for everyone.
4. Your predominant image of sanctity is:
A) St. Francis of Assisi strippingoff his garments.
B) St. Therese of the Child Jesus praying for sinners.
C) St. Vincent de Paul working for the poor.
5. You are recognized for your talent as a:
A) Peace-maker.
B) Communicator.
C) Decision-maker.
6. You admire a new religious community. It is probably:
A)The Community of Sant'Egidio.
B) The Little Sisters of the Lamb.
C) Opus Dei.
7. The Gospel story that moves you most is:
A) The healing of the blind man.
B) Jesus and the temple merchants.
C) Jesus washing his disciples' feet.
8. Your main involvement in the parish is (or would be):
A) Leading a worship group.
B) Conducting door-to-door evangelization.
C) Participating in the pastoral team.
9. At a dinner party where someone is being harshly slandered, you:
A) Strongly express your disagreement.
B) Pray for the guests and the person.
C) Temper the discussion with a positive remark about the person.
10. Your prayer:
A) "Forgive us our trespasses."
B) "Thy kingdom come."
C) "Give us this day our daily bread."
RESULTS
If your answers were mostly As:
You are naturally more of a priest. Soothing and magnanimous, you like to defend the underdog. But in order to avoid going overboard, do not forget to emphasize the other responsibilities: mercy is not possible without truth and justice.
If your answers were mostly Bs:
You are naturally more of a prophet. Brave and wholehearted, you stand up for your convictions and are ready to suffer for the truth. But in order not to become too "hardened," don't forget to develop the other aspects: know how to see what is going well and keep your words in check in your daily life.
If your answers were mostly Cs:
You are naturally more like a king. You are responsible and helpful, and your righteousness can be counted on. But in order not to become overly authoritative or routine, don't forget to develop other traits: learn to be conciliatory in your decisions and to think outside the box.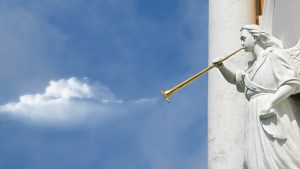 Read more:
Take this quiz from the pope to test your relationship with your guardian angel