A grudge can build up slowly and sometimes grow out of proportion, but this method can help.
What can God do in your life with one Bible verse a day?
Subscribe to Aleteia's new service and bring Scripture into your morning:
Just one verse each day.
Click to bring God's word to your inbox
Perhaps you can't get what your spouse said or did out of your head. A hurtful behavior or a painful word can make you obsess to the point of making you feel uncomfortable, even resentful, and may even provoke the desire for revenge: "He (she) is going to pay for that!" Embarrassment is followed by anger—and the desire to strike back, blow for blow.
This is what happened to Claire after her husband John criticized her several times in front of his friends. She felt resentful and even hostile towards him, endlessly chastising him for his outrageous behavior. She feels trapped and wishes with all her heart to get out of the situation. And, at the same time, she cannot get over these unfair attacks without some form of retribution.
Expressing your feelings as a couple
Resentment is a fearsome feeling in that it sets up a wall in the relationship, which grows strongerthe more we continue to mull it over in our mind. It distorts interactions and destroys deep communication, and can even bring out full rejection. Claire is not there yet, but she can see that their entire relationship is already affected by it including, of course, the sexual dimension. She resents her husband too much.
"Let all bitterness and wrath and anger and harsh words and slander be put away from you, along with all malice" (Eph. 4:31)
It will therefore be necessary for this couple to open up to each other. Why did John need to express his criticism in front of others? Couldn't he talk to his wife about it? Is he aware of the humiliation and resentment he caused? Claire will not only have to communicate directly to John how she feels, but also to deepen the resonance of these events for herself. Such behavior is certainly unpleasant and undignified, but is it enough to provoke such resentment, such acrimony? Why is she so affected?
An exercise that makes it easier to talk about your hurt feelings
A small exercise to do as a couple can help you express expectations and needs: Each person draws three columns on a sheet of paper: what I like about your behavior, what bothers me, what I need. The sheets are exchanged and shared. Knowing your partner and letting them know who you are is a key to intimacy, which is itself the founding base of the couple.
If intimacy is cultivated and lived sincerely, it will be easier to talk about hurt feelings before they become infected and spoil the relationship — or pull the sap out of it. All the while knowing that such a step will require, prior to the marital discussion, turning your gaze inward for some serious self-reflection on your attitude and your behaviors, like the prodigal son.
Marie-Noël Florant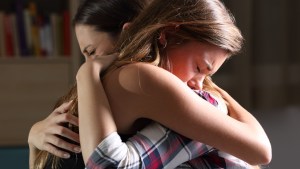 Read more:
If you are burdened with resentment, say this forgiving prayer