Here are some personal testimonials and advice from those who have dared to take the plunge and do not regret it. 
What can God do in your life with one Bible verse a day?
Subscribe to Aleteia's new service and bring Scripture into your morning:
Just one verse each day.
Click to bring God's word to your inbox
At 32, Emily could be described as a "professional juggler." Mother of two young children, she's a student during the day and a stay-at-home mother in the evening, masterfully guiding the activities, the homework to be done, the private lessons and the nanny's schedule. "The rhythm is intense, but I find this year intellectually exciting," says the young woman, who has just passed her exam to become a French teacher. Emily confides that, even if she hadn't passed the exam, she would see this year, overloaded with work, as "a real success … I've met some great people, and I'm sure I'll get my master's degree, which is a real asset!"
Many people feel that training for something new is a good thing. But it is not without difficulties: the fear of leaving a secure job, concerns about getting financing, the fear of upsetting the family balance, and the fear of returning to school, sometimes after a long absence, can all be obstacles to a professional change.
A change that demands sacrifices
Bertrand did not hesitate for long when the opportunity to change his career path came up. As a management controller in a large company, he was tired of "repetitive, routine work in front of a computer. I soon felt I had been there, done that," he says. "When I started 10 years ago, I didn't see myself ending up doing the same job as my bosses at all." Taking advantage of a drop in activity, he decided to leave it all behind and begin training as a carpenter, financed by the company's training plan. "I love wood, the world of real estate, construction and public works."
The young man, married and father of a little girl, asked for information from carpenters and cabinetmakers to refine his plan. "This step is essential," says Béatrice de Montabert, psychologist and coach: "When you want to change direction, you have to make sure that your commitment makes sense. You need to be sure that you are making the right choice and not regret your conversion three years down the road." Coaching is important—deep questioning can be accompanied by skill assessment, a job survey, possibly an internship, a reflection on the possibilities of evolution and remuneration within this very attractive job. However, "what counts is not the job itself," says Montabert, "but to be fulfilled."
Like Bertrand, it was the desire to grow that motivated Marie to return to school. After getting a degree in art history and a master's in communication, the young woman settled down with her husband in the south of France. She launched her own design and birth announcement company. "We were volunteers for the inner-city support group Association du Rocher and one day, while we were on vacation with a family from the city, I had a revelation: I didn't want to create birth announcements all my life." Encouraged by her husband, she went back to the university to study psychology. She was able to do some of it by correspondence because, as a young mother, she was not required to participate in the small group discussions.
Although her schedule was a little lighter, the first few years were intense. Especially since the family was growing rapidly. Marie hired baby-sitters to care for her children in the evenings since it was difficult to work when her children were at home, and during exams she had to double the household help—and the budget. And her little boys had a hard time understanding the change in pace. "In addition to the pressure of exams, I felt I was asking my husband to make a financial sacrifice, since he brings home the only paycheck in the house and significant expenses were incurred. I didn't want to put off finishing classes." However, she did take one year off and obtained her two-year degree: "This allowed me to put things into perspective. It's not possible to do everything perfectly! I am a mother and my children are my priority. Now, I keep my class schedule down to part-time."
The importance of family support
"Returning to school is a risk, and you have to have a certain capacity for questioning and openness. It's important to have confidence in yourself and your choices," says Montabert. All the more so when those around you doubt this change of direction.
Veronica, a mother of five children, resumed her studies when her last daughter was 9 years old, after a 20-year hiatus. At first, her husband questioned her, surprised: "Are you sure this is what you want to do? It's an obligation to work, to get up in the morning, and can be stressful." But once his wife's mind was made up, he supported her without fail.
For his part, Bertrand is amused when he thinks of his father, who took a long time to understand his choice to change direction. "At first, he smirked, he thought it was a strange idea. Now, when he talks about me, he says that before I was a carpenter, I went to business school! But he can see that I'm happy, so he's happy too!"
For Montabert, "the support of family and friends facilitates things, it allows us to share our projects and new discoveries. It's a promising and rewarding experience. But the fear of those around you shouldn't slow you down in your decision to take a new class." Like a springboard, studying something new is stimulating, enriching and opens up self-discovery.
"If I had to do it all over again, I would do it without hesitation," says Veronica, who has proven to her children that "yes, it is possible to get good grades, even if the classes are difficult." Like her, Bertrand and Marie also say that they have no regrets about changing their professional orientation, substantiated by their personal growth and inspiration.
Ariane Lecointre-Cloix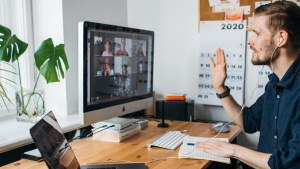 Read more:
5 Strategies for a successful job interview over video call