The Christian life consists of ongoing conversion ... but what does that really mean?
St. Paul's conversion on the road to Damascus is exemplary. This is one of the reasons why it's the only conversion we celebrate with a specific feast day on the liturgical calendar, on January 25. We don't celebrate the famous conversions of St. Augustine or St. Francis or Blessed Charles de Foucauld, but we do celebrate the conversion of St. Paul, because it is, in a certain sense, the archetype of every Christian conversion. We should therefore understand what it is.
Conversion, for St. Paul, was not exclusively a question of renouncing his opinions and changing his behavior, but of renouncing the image he had of himself, of dying to himself in order to assume Christ. He did not only go from being a Pharisee to becoming a practicing and right-thinking Christian; he became a "new creation in Christ" (2 Corinthians 5:17).
So it is with each one of us. Christ's call to conversion is an invitation to enter into communion with Him to the point of being able to say with St. Paul: "It is no longer I who live, but Christ who lives in me" (Gal 2:20). From the moment of his conversion, that is the only thing that really mattered. No longer circumcision, nor the law, nor daily upkeep — but Christ.
Conversion to become evangelical
Our Christian life is essentially a process of conversion. It is a question of freeing ourselves from all forms of bondage in order to become more and more like God Himself, who creates us in his image and likeness. If we do not convert, if we do not become more like Christ after years of "Christian" life, then we may well be nothing but caricatures of God in this world, and let's admit it, a disgrace to the Church and those who only know the Gospel by hearsay. As the ancients used to say: Corruptio optimi, pessima — "the corruption of the best is the worst of all."
We often hear people who are scandalized by "Sunday Catholics" remark: "You say you are Christians yet you spend your time doing this, or not doing that." True Christian life does not consist of just going to Mass on Sundays and memorizing the Catechism (although this is obviously excellent). A Christian life means being converted to the point of being progressively more evangelical, living in this world "in the image and likeness of God." The essence of Christian conversion can thus be expressed in two words: divinization and liberation. To convert is to unite with God, freeing yourself from what is contrary to him.
God unites us to his own life
Eastern Christianity does not hesitate to speak of "divinization" to express this Christian vocation. "God became man so that man might be made God," as St. Irenaeus of Lyons liked to say, "This is why the Word became man, and the Son of God became the Son of man: so that man, by entering into communion with the Word and thus receiving divine affiliation, might become a Son of God." St. Athanasius of Alexandria (4th century) added: "the Son of God became man to make us God." And St. Thomas Aquinas (c. 1225-1274) says: "The only Son of God, wanting us to share in his divinity, assumed our nature so that he, made man, would make men God."
There is some hesitation about using such language today. And yet, nothing is more classical and more true than this: Ever since He created mankind, God has had no other purpose than to make man like Himself. The sin of Adam and Eve damaged this original plan, but Christ's obedience to the Cross restored it. In Christ we have been made "partakers of the divine nature" (2 Pet 1:4).
We are certainly not divine from the point of view of nature — we remain human — but we are divine from the point of view of the divine life that has been flowing in our souls since our baptism. God has united us to his own life. The grace that flows in our soul is participation. But if this is true, how is it that we change so little? Why is it so difficult for us to be truly converted? It is partly because we do not make this truth our own. We believe too loosely that we are children of God, so we don't enter into the mystery of living in the here and now.
Since what we are, at the deepest level, is not yet very visible to us here on Earth, we are inclined to debase the mystery of our Christian life. The Devil, who understands very well what this is all about, tests us (and hates us!) in the same way that he tested (and hated) Jesus in the desert, trying to make us doubt our deepest dimension of being: "If you are the Son of God", in other words: "If you are what you claim to be, you should be able to see it a little more!" The Devil wants to blind us to our true identity (God in us and we in God). And this is the trap we fall into every time we try to build our personality on something other than God. We then mistake this superficial quality for our deeper self, and it is ultimately a subtle form of idolatry. But we love to worship that cherished "I" that we think is us; and as we feel that conversion will tear us away from it, we resist, we put off until tomorrow the Hour of God, and our own as well.
Conversion is liberation
Every conversion is a Paschal mystery: a mystery of crucifixion and resurrection, because becoming a "new creation" can only happen at the price of killing "who we used to be" (indeed, often the "new" man or woman we believe we are!). If there is one thing we are all very attached to, it is the image we have of ourselves (whether positive or negative, for that matter). Saul, who thought he would proudly arrive in Damascus to bring back Christ's disciples captive, had to enter the city blinded and led by the hand after his encounter with Jesus. His "ego" had to be broken so that his "deepest self" could emerge. The Pharisee that he was had to be "crucified" with Christ in order to be able to resurrect as a Christian.
In the third account of his conversion, in chapter 26 of the Acts of the Apostles, there is a detail that tells us how hard the struggle with God must have been for Saul. Having become a Christian, he recalls this sentence that Christ said to him on the road: "Saul, Saul, why do you persecute me? It is hard for you to resist my prodding." Resisting the prod is what an ox does when it refuses to go forward. Jesus compares Saul to an ox that resists and hurts itself in resisting. It is telling, moreover, to see that Jesus does not say to him: "You disrespect me by resisting me"; or: "You are cruel and you will see my wrath if you continue." He doesn't even say, "It's hard for me to bear this." Instead he says, "It's difficult for you." It's as if he were saying, "As for the harm you are doing to me, that's one thing, but look at the harm you are doing to yourself!"
Christian conversion is not only a moral conversion, a liberation from sin (Paul does not tell us: "I used to act badly; now I do good things"); it is a conversion that touches our personal being in its deepest depths, a liberation from all that, in our person, resists God.
Brother Thomas Joachim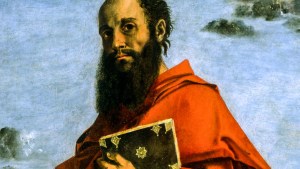 Read more:
St. Paul's guide to using social media