For catechist Anne-Marie Le Bourhis, a teacher and a member of the Institut Notre-Dame de Vie, the answer is "yes."
What can God do in your life with one Bible verse a day?
Subscribe to Aleteia's new service and bring Scripture into your morning:
Just one verse each day.
Click to bring God's word to your inbox
Can young children pray in silence? For Anne-Marie Le Bourhis, a catechism teacher and a member of the Institut Notre-Dame de Vie, the answer is "yes." She explains below.
You propose to teach children how to pray silently during their religious education. Why is that?
The goal of religious education is to help a person establish an intimate connection with Our Lord Jesus Christ:"… only He can lead us to the love of the Father in the Spirit and make us share in the life of the Holy Trinity." states John-Paul II in his Catechesi Tradendae. Silent prayer allows us to commune with God. In the 1960s, several kindergarten teachers asked father Marie-Eugène de l'Enfant-Jesus, the founder of the Institut Notre-Dame de Vie, how to make little ones to pray with them. The latter said encouragingly: "Children are capable of learning about God … teaching them how to love him is the fundamental experience we must offer them." And despite the hurdles the long experiment of teaching children this loving communion with God has begun.
Hasn't this knowledge on how to lead a spiritual life become a real challenge nowadays?
It has become more difficult to pass on this silent prayer today. Our society is attracted by material things, which don't facilitate the spiritual life. Distracted, little children are often agitated and lack focus. Another reason is that children are influenced by the faith of their parents. They obviously begin with vocal prayers and gestures (giving the crucifix a kiss, for example), because they have seen their elders do it.
Why do children have such hard time with silence?
For young children, silence is often synonymous with absence. Sometimes, young children have gone through hard experiences, they have fears and worries. What we must do is have them gradually discover that silence is inhabited by Someone who loves them, understands them and wishes them to be happy. Perhaps, we also often forget that prayer concerns the whole of our being. Doesn't it seem crucial that today we develop a Christian theology showing the beauty of a human being and a loving God who presents his project for the world in all its grandeur? The question is not merely "Who am I?" but "Why am I here?"
How early can we introduce a child to silent prayer?
This process is based on the spiritual and mental maturity of a child. It's possible to experiment with silent prayer when they are 5 or 6 years old. But generally, the turning point is when they've reached their age of reason and began to ask existential questions. For example: "You said that God made everything. But who made God?" The child must be guided to learn how to trust in God that they can't see or hear and be introduced to the mystery of faith: "It's normal that with God you can't explain everything. The further you progress the more questions on God you will have, and that's a good thing! But eventually, God will ask you to make a leap of faith, to believe in Him. He will reveal himself to you and will make you realize who He is and how much He loves you."
Can all children do this?
All children who were baptized have received the "necessary tools": faith, hope, love and capacity to receive the gifts of the Holy Spirit.This gift of baptism allows us to freely enter into a real communion with the Lord. Of course, God is free to intervene outside the sacraments. His desire is to give of himself, to convert the heart of every single person, so it resembles more and more to that of Jesus Christ.
What are the challenges of finding God?
Finding God allows us to feel His love in our hearts. Firstly, it transforms our very being and our life. Some children have survived tragedies. I remember one such child telling me: "My mother hates me. She says so every morning." If a child discovers the free and infinite love that God bears for them, it will bring hope! We can find the Lord anywhere, on vacations, and in the company of others. Like one child I saw sitting in the middle of the school yard —  I approached and asked: "You're not playing, are you feeling all right?" And the answer was: "Please, don't bother me. I am talking with God!" These encounters can be seen throughout time and human experience.
How to prepare for silent prayer?
It's important that the setting is beautiful, calm, simple and includes a few beautiful images, but not too many or the child will only pay attention to these details. The body position is important during prayer. By following the example, the child will learn the significance of every gesture and the reason why they are sacred. It's inadvisable to demand the child to assume one static posture. Silent prayer requires a personal approach. You must never force children to pray, this deprives them of any possibility to express their love freely. The child also must want to pray. Otherwise, how will they pray if their mind is elsewhere, if they can't say what it is that worries them? Once they settle down, you can cultivate their intelligence with the Word of God that will foster the communion with the Lord.
Spirituality is not something that one can acquire, it's something we must all work on and renew in the course of our life. Our relationship with God is constantly evolving, so it's important we plant the grains of spirituality very early on.On June 28, 2019, Pope Francis said: "Teach children to pray, because they arrive immediately to the Heart of Jesus. Jesus loves them. And I say to young people, teach others that prayer is a great way to move forward in life."
Interview by Bénédicte de Saint-Germain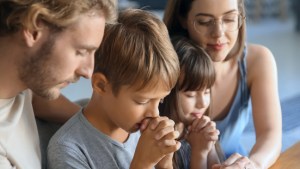 Read more:
How to manage morning prayer with your children