Birth order impacts personality and relationships. How can parents help each child to thrive?
What can God do in your life with one Bible verse a day?
Subscribe to Aleteia's new service and bring Scripture into your morning:
Just one verse each day.
Click to bring God's word to your inbox
The firstborn, the second child, the only child, or the middle child … What impact does birth order have on children, and how can we avoid the big mistakes? Françoise Peille, a clinical psychologist specialized in children and adolescents, weighs in.
Do the firstborns always get the royal treatment?
Françoise Peille: The firstborn occupies a special place.This is the child that transforms a couple into parents. Together they discover a new life before them and begin to love each other in a new family. Most firstborns are naturally assertive, perfectionist, task-oriented and supporters of authority. Studies also link them with higher academic achievements and possibly higher intellectual performance than their later-born siblings. Because they get experience in leading and mentoring, they often rise to leadership positions as adults. Nearly half of all U.S. presidents were firstborns. But at the time when other children follow, the firstborns may feel frustrated and unwilling to share their parents' affection. It's quite a dramatic change for them. The biggest mistake often concerns the oldest daughters (boys are often spared this) who complain about being forced to perform various domestic chores and assume the care of their younger siblings. Some of them are actually transformed into little "moms." They must be allowed to have their childhood. It's the only one they'll get. But in general, parents often tend to saddle their firstborns with too much responsibility.This may raise their self-esteem, or discourage them if they don't feel they are living up to the parental expectations.
Is the second-born child always competition?
FP: The second child often competes for the privileged place held by the firstborn. If the age difference between them is insignificant (barely two years), it's the oldest child that risks feeling jealous, because both of them need the same amount of attention.When the age difference is greater, the firstborn can assume his or her role of big brother or sister, which is not without its perks. The place of the second child largely depends on their gender. If it's different from that of the firstborn, the experience is novelty for the parents. They will tend to treat this child the same way as their first one, show them the same kind of consideration while demanding less in return.
What about the middle child and the one that comes before the last-born?
FP: The place of a middle child in a big family has its advantages and disadvantages.The middle child is not pampered like the last-born, nor are they treated with the same attention as their older siblings. If they are well-adjusted, they will find the advantages in being included among the older kids at some times and with the younger at others.
For the child who comes before the last-born, it's not so much about that their birth position as about how their parents treat them. Each child must be accorded their special place within the family or they may rebel and misbehave to draw attention to themselves.At the same time, parents must not feel guilty that they don't love all their children the same way. They don't love them less, just differently. We never parent each of our children the same way, because they are different and each comes at different stages in our lives. Equal treatment doesn't work because they all have different needs.
Is the last-born always the most pampered?
FP: Last-borns are usually treated as their family's "baby," and it stays this way throughout their lives.It's frequent to hear the older siblings tell the last-born: "We had it much harder than you." Often, the youngest child is the center of everyone's attention, pampered and spoiled.The last-borns of large families tend to develop great coping and social skills inspired by their siblings' example. On the whole they are quite successful and have the highest self-esteem of all the birth positions — unless they arrive in a far less ideal context. For example, if they are bullied by their older siblings or their parents have grown too old and don't have the same energy for parenting and allow them too much freedom. This perhaps, may explain the last-borns' dreamy and fantastical natures. But the flexibility that children need must never become synonymous with disinvestment.
Do all twins copy each other's behavior?
If twins have no other siblings, they often show a lot of empathy for each other. But one of them is always dominating the other in the relationship. Parents must avoid exacerbating this tendency. They must allow their children to deal with their rivalry and resolve their conflicts on their own, unless they become too serious. Parental involvement in such matters is never a good thing. Often the great relationship these two will enjoy later on in life stems from these rivalry and conflicts.
What about the only child?
They are as adored as the firstborns and as pampered as the last-borns. Generally the only child grows up surrounded by loving adults. They are achievement-oriented, often creative and open to the world around them. As of early childhood they quickly learn how to relate to adults, but often have hard time doing the same with their peers. Some parents may even become overprotective and refuse to let them freely interact with other children. On a whole, only children are pretty confident, because they have the monopoly over their parents' affections. They can either thrive and achieve success or become hypercritical and totally waste their lives if they can't live up to what their parents have dreamed up for them.
Interview by Clémence Barral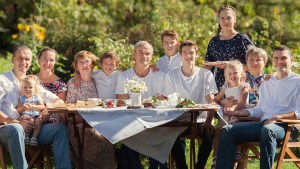 Read more:
5 Things I loved about growing up in a big family