Coping with the expectations of well-meaning family and friends can be tough.
What can God do in your life with one Bible verse a day?
Subscribe to Aleteia's new service and bring Scripture into your morning:
Just one verse each day.
Click to bring God's word to your inbox
Pauline remembers what her mother said to her two years ago on her birthday: "Happy Birthday! Since you're 25 now I guess its time for your St. Catherine's day hat!" In France, the tradition of St. Catherine's Day goes back to the Middle Ages, when all the unmarried young ladies would parade through the streets wearing unusual hats in order to get the attention of potential future husbands. Even though Pauline's career as a childcare assistant was off to a flying start, her schedule was full of parties and time with friends, her mother's comment conveyed that these weren't good enough — she should already be married.
Coping with small pressures
Pauline acknowledges that her 25th birthday marked the first day she felt "pressure." Now 27, says, "I'm not the kind of person who wants a husband no matter what it takes. But my sister's wedding this summer did bring up a little loneliness."
The pressure of being single comes later for today's young women, "around 28-29, when marriages are more common," says Charlotte, 29, a doctor in Paris. "As I approach 30, I see my friends getting married one after the other, having babies. I'm afraid I'll be the last of my group of friends to take the leap.
"Being single eventually weighs heavily, especially for females." says Claire-Marie, 29. "Seeing my 30s coming makes me aware of my biological clock. I'd like to have several children, but not in my 40s."
A 30-year-old Filipina woman carries a heavier personal story: "My parents divorced when I was 8 years old. Deeply Catholic, I would like to find someone who shares my values, but it has to be the right one, because I don't want to repeat what my parents went through." Torn between a deep desire to get involved and a fear of making the wrong choice, some single people feel like they're stagnating. As time goes on, the pressure builds.
While men are slightly better off in this situation, they are not spared the pressure. Philippe, 31, a wealth management consultant, confirms this: "My job is exciting, I have lots of friends, in short, I'm not bored. However, that's not the opinion of my grandmother, who keeps asking me when I'm going to bring her a granddaughter. In the long run, it's tiring." And Corey, a 31-year-old carpenter, says "I'd like to get married and start a family, but I'm afraid I'm not in a stable enough situation yet."
Brother Gaëtan Bonnasse, chaplain of the Saint John Youth group, offers support for bachelors during this pivotal period of their thirties, "the age of the first unfulfilled hopes, the first broken dreams." After seven years spent at their side, his observation is clear. "All of them bear a real suffering, buried deep inside or openly admitted. They often have the impression that they're useless, that they haven't yet found their place in society."
Being single does not exclude the gift of self
Paradoxically, modern society, by idealizing being single, has failed to eliminate the difficult side to it. In the eyes of the world, single thirty-somethings represent eternal youth, freedom, and unprecedented opportunity. Yet the suffering is there, which shows that "men and women are not meant to live alone. There is no vocation to be single per se, in the sense that we are not called to it. The aspiration to live with another person, the desire to be with others, is intimately linked to our nature," confirms Brother Gaëtan.
Being single becomes painful from the moment when, not chosen, it is suffered. However, the Brother, who regularly encounters single people, is enthusiastic: "They are great people to accompany: they are full of expectations and questions and are never jaded! They don't hesitate to get involved." He wants to reassure us that: "Singles are not useless, they do bear fruit. It is a fruitfulness that is not shared, certainly, but a fruitfulness in holiness." He specifies that "holiness, in the gift of self, is the final destination. Marriage and the priestly vocation are only the means." And being single does not exclude the gift of self, Claire-Marie confirms: "I note that being single makes me very available to my nephews and nieces: thanks to this, I have a relationship of trust that they do not have with other adults."
Deciding to stay single doesn't mean you have to be distressed by it
Claire Lesegretain, journalist and author of numerous works on the subject, gives two main words of advice: "On the one hand, it is essential to fight against the heady obsession with marriage, not to allow yourself to be overwhelmed by a frenetic search as this can bias relationships. On the other hand, you must continue to develop true friendships, without ulterior motives, because it is by loving friendship that one trains to love with love."
Marie-Liesse Malbrancke appropriately launched Sésame, a journey for young women that brings back the status of being single, "a non-choice that can become truly fruitful, if one gives one's life. Being single and being happy are not mutually exclusive." One of her workshops focuses on self-love. She encourages all the women to identify their own talents, to cultivate their femininity. She even has them do a unique exercise: write a letter to their bodies, because "How can you love another person when you don't love yourself for who you are?" Choirs, meet-ups with other young Catholics, evangelization groups are places for singles to socialize.
Brother Gaëtan has created a fraternity of men between 25 and 40 years old, "because the Church must accompany them in this dimension." He encourages single people who are afraid of making the wrong choice to lower their standards of expectation. "The husband or wife will be the one you choose and decide to love." But the key word is commitment. "Don't be afraid to leave your cave, to get out of your comfort zone, to welcome relationships. Be daring, go for it!"
Anne-Laure de Reviers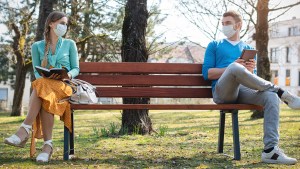 Read more:
Why social distance dating may just be the best way to date