It can be difficult to do, but is necessary for our spiritual growth and relationships.
What can God do in your life with one Bible verse a day?
Subscribe to Aleteia's new service and bring Scripture into your morning:
Just one verse each day.
Click to bring God's word to your inbox
Forgiveness is key to harmony in our families and being at peace with ourselves and others. So, it's important to learn the words and the path that will lead us to reconciliation, to forgive and also ask for forgiveness.
1
First, forgive yourself
It's neither simple nor the easy, but love thyself is a commandment, and there can be no love without forgiveness. We remember the part about loving God and our brothers and sisters, but we often forget about loving ourselves. Much too often we dwell on regrets and remorse: we hate ourselves for not living up to our own expectations, for not having kept our word, or for making a mistake with serious consequences. If the past prevents us from living in peace and being fulfilled, it's a sign that we need to forgive — ourselves and the others.
2
Don't confuse forgiveness and forgetfulness
The process of forgiveness does not consist in denying our pain, in keeping it buried deep inside us. On the contrary, the path of forgiveness is the path of truth, of openness. To forgive, we must begin by realizing that we've been hurt, and even identifying what this pain is, whether we have caused it or suffered from it.
3
Don't "exploit" forgiveness
Sometimes forgiveness can be used to oppress the other, to manipulate them, to have them forever in our debt. "Not only are you guilty of hurting me, but you also owe me the gratitude for having goodness to forgive you."This pseudo-forgiveness is a distortion of a truly compassionate attitude because it's dictated not by love but by pride or evil.
4
Make sure your intentions are pure
How can we distinguish pseudo-forgiveness from the real deal? There are several possible criteria. For example, we must ask ourselves the right sort of questions: Am I ready to forgive? Is the goal of my forgiveness to help the other grow – especially their self worth? Am I ready to forgive before being asked for forgiveness? Am I capable of forgiving silently if my forgiveness will humiliate the other? Am I ready to wait for as long as it takes, even if this time may never come, to express this forgiveness?
5
Don't distrust forgiveness
What's dangerous is not the forgiveness, but not forgiving! Let's distrust the mere appearances, because nothing resembles forgiveness more (or for that matter goodness and sanctity) than its opposite. As for spontaneity that this process represents, let us say that forgiveness (both asked and given) can manifest itself in a thousand and one ways, other than words.
6
Forgiving in words and (or) in deeds
Asking for forgiveness or giving it, can be done without a word, but it is so much better if we say something! As we open our lips to utter "I ask you to forgive me" or "I forgive you," our heart opens up as well. Of course, we can signal our forgiveness in another ways: by a kiss for example. Love – when forgiveness has been inspired by love, can take on the right form that allows it to be manifested with respect for the sensitivity of the other. A smile or a loving touch can be clear signs of forgiveness, even if they can't always be a substitute for words.
7
Forgiveness takes time (teaching this to our children requires patience)
This process can take a long time: parents must find the best way to guide their children on this path, without rushing them or becoming discouraged. Some of us have harder time to turn a page. We must respect their pace: the point is not that they forgive easily, but truly. Others may not perceive the gravity of their actions: we must help them to look into the past and measure the gravity of pain that was inflicted. To sum it up, we shouldn't rejoice too quickly that they appear to have forgotten all about it. Forgetting is not forgiving.
8
It's better to forgive late than never
Claiming that sometimes "it's just too late" is a fallacy. Our decision doesn't have to be final, and it's always possible to forgive or be forgiven. We only assume it's not so, because the unconditional love that God has for us may seem too good to be true. So, we refuse to believe that "for Him all things are possible".
9
Asking the Holy Spirit
The sense of peace that comes with forgiveness heals our mind. The memory of pain we suffered transforms our path from that of death and affliction into the one of joyful life. Forgiveness is resurrection: the passage from death to life. The resurrected Christ has shown us the way. He has asked us to forgive "not seven times but seventy-seven times" (Matt. 18:22), which means an infinite amount of times. Let us not be afraid to ask the Holy Spirit to remind us of all the pain we must forgive.
Luc Adrian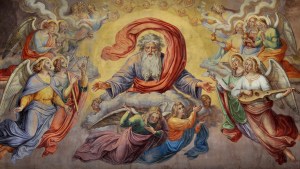 Read more:
8 Bible verses about God's forgiveness