No couple is safe from breakup, but being aware of false pretexts is a first step.
What can God do in your life with one Bible verse a day?
Subscribe to Aleteia's new service and bring Scripture into your morning:
Just one verse each day.
Click to bring God's word to your inbox
No couple is safe from breakup, be they a pair of young lovers in the early stages of their relationship, or two spouses long united by the bonds of marriage.
False pretexts and self-justifications
Because they still can't clearly see how they feel about each other in the early stages of their relationship, young lovers may resort to this ploy. For example, if one partner gets cold feet and doesn't wish to commit, they may say: "I really like you too, but right now I must focus on my career" or "I like you, but there is just too much going on in my life right now." These claims are not outright lies: no poor excuse is completely devoid of truth. But ambiguity can only lead to illusions that both partners may come to regret later on. So, it would be better if they were frank with one another: "I like you, but first we must get to know each other better".
A false pretext can become a part of everyday reality in a life of a married couple.An "I'm so tired" can justify unwillingness to participate in household chores, or deprive one of a much needed evening out or tenderness. It's not always easy to tell whether it's a calculated lie or a real thing.
The desire to avoid an outright confrontation and guilt for causing pain generally explains our tendency to moderate our language or hold our tongue. But when one spouse decides to leave the marriage and start a new life with someone else, the need for self-justification may become overwhelming. To absolve themselves, they may say: "You no longer have feelings for me. You've only stayed with me for the kids." Their soon-to-be-abandoned spouse, who already feels devastated, is then reproached for being a cold-hearted hypocrite.Being honest about the true reasons that compel one to leave the relationship may lessen the pain and lift the responsibility their partner feels for failing to save the marriage.
How to avoid separation and suspicions?
Ultimately, it's always important to build a relationship based on truth. It's not always possible to say all we think, but partners must strive to be honest with each other. This calls for faithfulness and trust. It's such a relief when conflicts are peacefully resolved in a calm discussion about what each partner needs and feels.Christ has taught us: "the truth will set you free" (Jn. 8:32).
Nothing great can be gained from lying: no person can be kept perpetually in the dark; sooner or later they become suspicious. As Carl Rogers wrote: "In a long term (and marriage is always long-term) it's not worth for me to act as if I were not myself."
Denis Sonet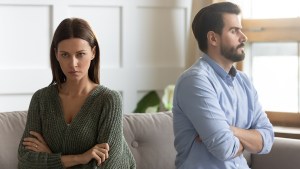 Read more:
6 "Viruses" that cause an unhealthy marriage