Begin with getting to know your personality, talents, and deepest desires.
What can God do in your life with one Bible verse a day?
Subscribe to Aleteia's new service and bring Scripture into your morning:
Just one verse each day.
Click to bring God's word to your inbox
What profession should you choose? What kind of studies should you pursue to achieve this? Like all students, you are asked to choose your orientation very early on. Here are a few tips to help you make the right choice.
"Know thyself"
To mull over a career idea, start by identifying your talents. Write down your strengths on a piece of paper, and ask friends and relatives what they see in you. Determine what attracts you spontaneously, what you would ideally like to achieve, and what prevents you from doing so: doubts, family incomprehension, etc. What would you regret not having done? More often than not, your dream, sometimes hidden deep down, guides you towards what is right for you.
Theoretical or practical skills?
Consider the way you work. You may be more comfortable with shorter studies and hands-on learning. Are you independent, indoorsy, creative, or do you give your best in repetitive tasks? Do you like ambitious and risky projects? Do you prefer contact, or precision work? Answers to these questions cannot be qualified as "+" or "-". It is simply a question of getting to know yourself in order to better figure out your place, which is unique.
Even if they are only indicators, personality tests can help to identify your profile. A good coach can also make a career assessment offering real perspectives. Each professional project is in fact part of a life project. Think about your values, your motivations, and what gives you a sense of balance. What are you ready to give up, and what are you unwilling to compromise on?
Learn about the profession you're interested in
Internships to avoid idealism
Seek information about the professional world. Read the job descriptions! If you're drawn to nature, you can become an agronomist, a landscaper, a gardener, a forestry technician, or a hydrogeologist. Look at what's possible. And then, a good way to escape idealism is to get practical. Internships give you a good idea about the daily reality of a profession. Meet professionals, ask them questions about their work, its different aspects, and the opportunities of growth.
Find out about the studies you need to pursue
See if you have the ability to make your dream come true. For instance, before you can treat patients and open your own practice, you need to complete many long years of medical school. Even Mother Teresa gave herself the means to achieve her ambitions, training as a nurse before helping leprosy patients. However, your dream is essential, because it will be your driving force.
Don't give up too quickly on your dream career
You would like to become a painter or a musician, you want to devote yourself to your art, but your parents want you to obtain a diploma first? Be patient, nurture this gift, you will not be ruining your career by doing so. Succeeding as a self-taught artist? That's possible. Even in cases where a diploma makes a difference, just remember that nothing is set in stone. Your willingness to learn, to succeed, your ability to adapt to a team or a project, will prove to be decisive.
Have confidence in your professional future
Fear of pursuing professions that offer few opportunities
Have confidence in yourself, look at your assets, your potential, your determination. Avoid comparing yourself to others, worrying about their failures or successes. Don't be discouraged by the bleak prospects of so-called "dead-end jobs". Only God knows what the future holds.
There are no wrong choices
Be positive and don't regret your choices. There is no ideal choice: the right choice is the one you make at the right time. There will be other crossroads. If a path suits you better, remember there are equivalences, short training programs, internal competitions, and accreditation of prior experiential learning. Make your talents bear fruit, and don't forget that your life's productivity does not depend on the value of your diplomas but on the love your put in it.
Stéphanie Combe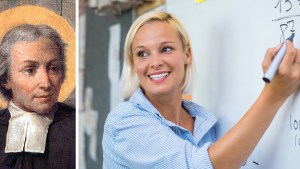 Read more:
10 Patron saints for professional careers